Cody Jon shares latest sentimental release 'STAGEFRIGHT'
Photo by Sean Higgins
December 7 2022
PRAISE FOR Cody Jon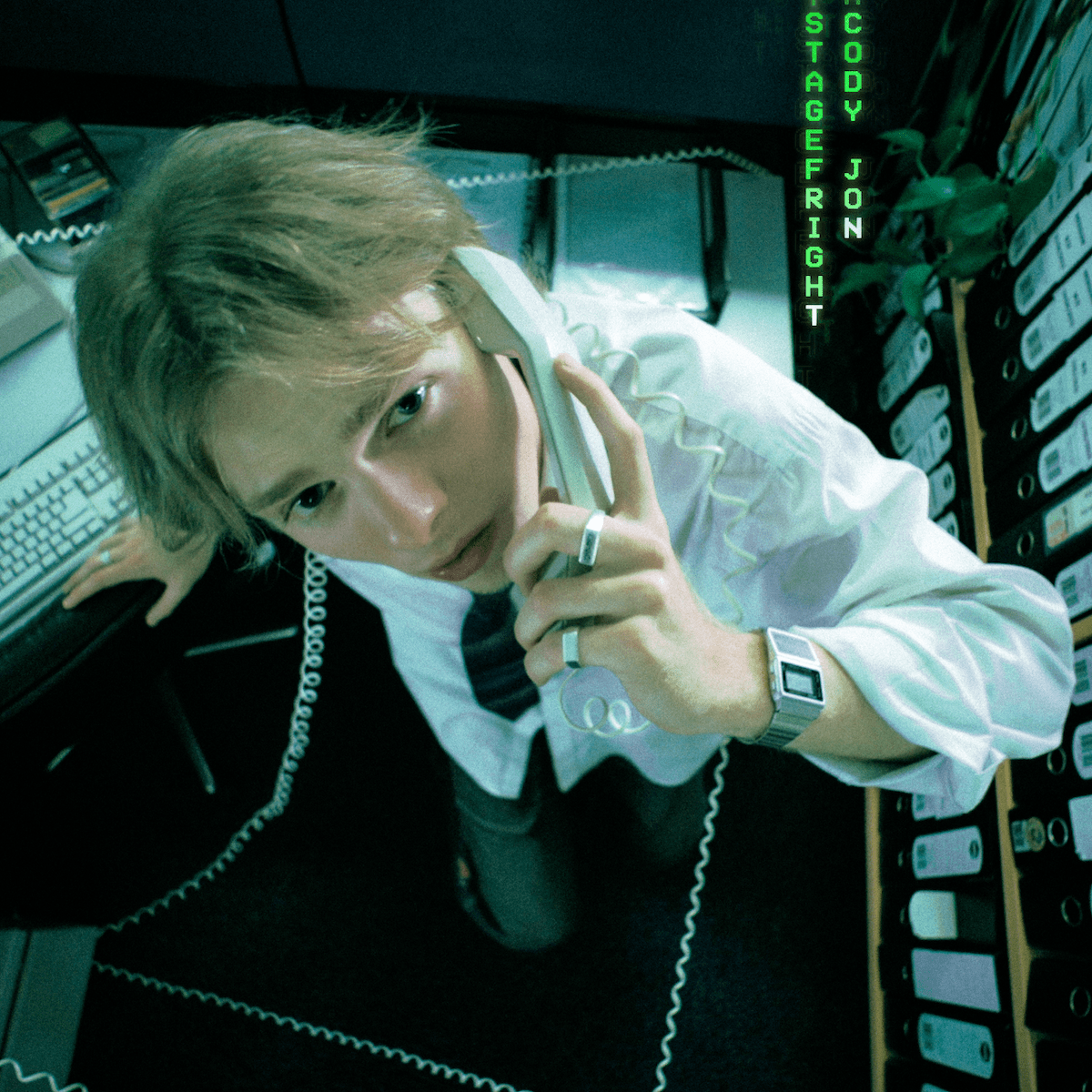 'STAGEFRIGHT' is out now, buy/stream it here.
Cody Jon, the proliferate bedroom-turned-big project of Lunatic Entertainment's Saint Lucky Records today shares his latest release, 'STAGEFRIGHT'. LISTEN + WATCH HERE.
A gently strummed ballad with buzzing dial tones, in Cody's words, "STAGEFRIGHT is about the social anxiety of initiating an important coversation with someone in your life. The fight between the part of you that knows conversation could solve the unresolved tension and the part that knows it could make everything end in flames. Feeling stuck in a situation that strangles you until you have no choice but to let go and release your bottled-up feelings or completely cut ties."
Visually reminiscent of the same dimly lit office cubicles Neo and Fight Club's Narrator find themselves in, 'STAGEFRIGHT' uses the metaphor of relationship tension to echo the latter's message of following through with difficult things to push ourselves out of our comfort zones. With Cody's bright and humorous creative visual direction again on display, here he finds himself in a similar, red or blue pill circumstance. "I took inspiration from The Matrix not only because it aesthetically depicted how I saw the song in my head, but also because the STAGEFRIGHT lyrics explore that same concept,"  Cody shares. "Learn the potentially unsettling truth or remain ignorant and unaware. It was a perfect pairing."
Guided by the gospel of the Magic Eight Ball, in 'STAGEFRIGHT's music video, Cody is at the behest of a "should I or shouldn't I?" moment in the midst of an ill-fated email. He continues, "Making my way around the space while the chord snags on different objects, resulting in the space being a web of wires, eventually releasing during the climax of the song. Let's just say I do not recommend working with 100 feet of curly telephone chord… This track is more personal than anything I've released but I hope people can relate to it and find some relief through listening. The trilogy of Becky's Plan, Dirty Dancing, and STAGEFRIGHT are all connected and are snapshots of my coming-of-age experience. Watch them back to back, each video references another." 
Since first debuting his temporal-mash with 'Becky's Plan' and 'dirty dancing' earlier this year, Cody Jon continues to amass praise across The Music, Purple Sneakers, Happy, Music Feeds, Early Rising, triple j and Unearthed, iHeart Radio, MTV and more in the wake of his BIGSOUND debut and Tai Verdes tour support. Later this month Cody will join Gretta Ray, Maddy Jane, Xavier Dunn, Egoism and more at Carla Wehbe and Charlie Collins' Holiday Hoedown at Oxford Art Factory – see all details BELOW.
Inspired by the hits of the 90s and the visual aesthetic of the 2000s, Cody's artistry is motivated by the communion of song and movement of dance, performing since age 5. Whether inside his bedroom or during time spent at his parents' South Sydney dance studio, his creative spirit is laced with Tamagotchi's, Nintendo DS', Avril's Sk8ter Boi, boy bands, and more. With his tasteful references akin to the 'new nostalgic' recently popularised by PinkPantheress, dig a little deeper and you find more than a gimmick.