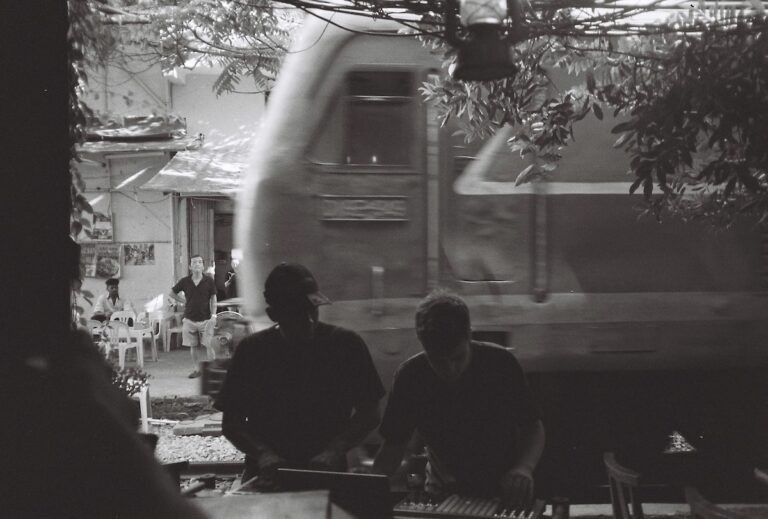 700 Feel share anthemic new single 'LESSONS GET LEARNT'
March 16 2023
PRAISE FOR 700 Feel
'LESSONS GET LEARNT' is out now, buy/stream here.
700 Feel, the cult electronic project of Jonny Hawkins and Juan Villamor returns today with their latest euphoric release, 'LESSONS GET LEARNT'. LISTEN + WATCH HERE.
Where their previous A/B Side '4 Ya Kiss / 4 Ya Bliss' illustrated a subtle enhancement in the group's varied tapestry of sound, today's new single continues 700 Feel's study of their creative margins. Capturing their consistent construction of emotionally led and resonant soundscapes, 'LESSONS GET LEARNT' is struck by propulsive horns and skiffling drums into a charging anthem on rolling with the punches. Here a footwork instrumental bed is as reflective of 700 Feel's production style, as it is of the way Jonny and Juan operate as a duo – meeting their melting pot of influences by picking each other up where the other left off.
Captivatingly symbolised through the visualiser's ceremonious desecration – poetically captured in its first filmed take – 700 Feel explain "'LESSONS GET LEARNT' is our ode to Ratking. So It Goes found us both in pivotal moments in our lives and through some dark times and was really instrumental in bringing us together. Just like that album, 'LESSONS GET LEARNT' is also heavily inspired by footwork. All those great producers (specifically people like Jlin) have always intrigued us through their constant innovation. Shoutout to Zaal and Michael for realising our vision for the visualiser." Juan elaborates, "The idea for it came to me in a dream. I saw a flag burning vividly and it jolted me awake. It felt fitting for this track."
Shot and edited in collaboration with Zaal Kaboli and Michael Naumoff, they continue, "The guys' flag-burning concept was strong already, we just breathed life into it. After listening to the track, the brief wrote itself. Shot at night, on a scarred landscape in Sydney, the mood felt right. The final edit of the looped reversed flame was thematic of not only the lyrical sentiment but of the structure of the track. Breathing and retracting, burning and learning"
700 Feel's most triumphant release yet, 'LESSONS GET LEARNT' marks a significant homecoming for the underground two-piece ready to stake their claim for the mainstream. Recent faces of Roland's unprecedented collaboration with Pseushi and Above The Clouds to launch their AIRA Compact, recipients of the latest round of the Powerhouse Museum's Generations Fellowship in partnership with Create NSW  and Astral People, to the talk of a packed out set at Oxford Art Factory for FBi Radio's SMAC Fest and the Art Gallery Of NSW, 700 Feel are only just getting started.
Recent releases, '4 Ya Kiss / 4 Ya Bliss'  found coverage across NTS, Radio Alhara, Amok Radio, Purple Sneakers and more, including support across Spotify's Reflections, xyz playlists and more. Their breakout, marked by key singles 'T1 Western' / 'Back 2 The Area' amassed praise across triple j, FBi Radio, Kaltblut Magazine, dublab, KEXP,  RAGE, Acclaim Magazine, RTR FM amongst others, remarking "electronic music that is equal parts infatuating as it is experimental," and their ability to"once again take you on a trip like very few others in the scene."
As purposeful with every careful step as they excitedly set ablaze their own, unique path forward, their visceral productions are reminiscent of Oneohtrix Point Never's glistening movements and the new-age experimentalism of Dean Blunt. Global in sound and influence but firmly rooted in the community and collectivism that surrounds them, 700 Feel are fast emerging as the next innovative offering in the electronic space, no doubt destined to exceed the lore that surrounds them locally and beyond.