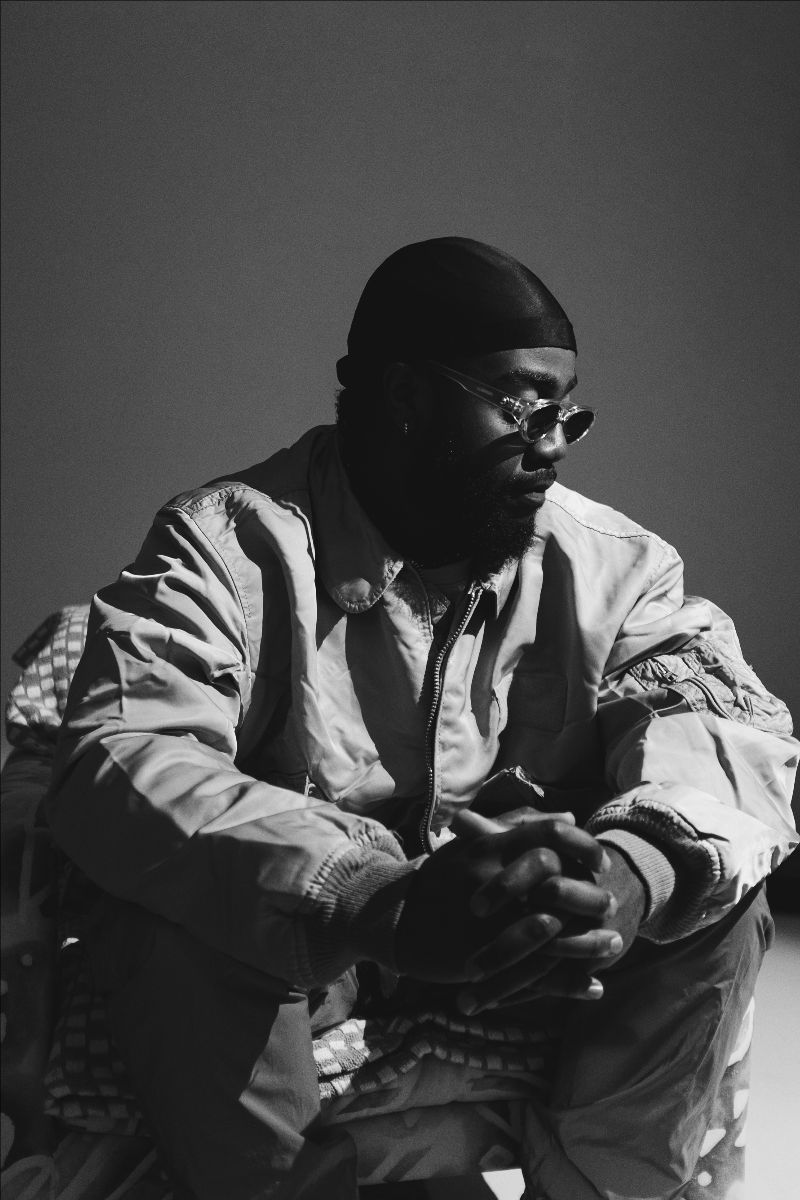 AUNDREY GUILLAUME. announces cold summer. EP out Feb 24 + new single 'zip.' out now
Photo by Brandon Black
February 6 2023
PRAISE FOR AUNDREY GUILLAUME.
COLD SUMMER. a playlist by AUNDREY GUILLAUME.
February 24 via drink sum wtr
PRE-SAVE HERE.
'zip.' is out now, buy/stream it here.
Tongva Land / California rapper-producer AUNDREY GUILLAUME. today shares his latest release 'zip.' with the announcement of his forthcoming EP COLD SUMMER. A playlist by AUNDREY GUILLAUME., due this February 24 via drink sum wtr, the new label endeavour lead by Nigil Mack (former VP of Urban A&R at Republic Records). LISTEN + WATCH 'ZIP.' HERE + PRE-SAVE COLD SUMMER. HERE.
AUNDREY GUILLAUME.'s introspective and emotionally intense music comes straight from the heart. Cautionary tales on the surface, intended to serve as reminders of hope and reassurance ahead. The youngest of nine children, AUNDREY fell in love with music early when his father put him on the drums at church where he would perform with his other siblings. These performances steeled him against criticism and turned him into a meticulous performer early on.
Today's release 'zip.', produced by LIA, Kimmo and featuring additional production from AUNDREY, is a mantra to the creative hustle, illustrating his ability to weave across multiple sonic spaces. Crossing a bridge with the flows pioneered by Migos and Playboi Carti and the enduring summer-scape of Soundcloud based rap, 'zip.' is up-ended with inventive production that delivers on the promise of AUNDREY's well-rounded ability over dumb luck or trends.
The high energy release hooks from start to finish, as AUNDREY GUILLAUME. notes, "zip. is a very fun and vibrant record that instantly captivates the listener with melodic chords and heavy drum patterns. Hopefully you all will love this record just as much as I loved making it." With the release comes a visualiser creative directed by Brandon Black.
Speaking to the visualiser's making, Brandon shares, "Something I love about AUNDREY's music is that it's so diverse but so uniquely 'him'. This is especially true with these new songs. With this sonic diversity in mind, my approach was to take his lead and really make each of these visuals a unique and direct representation of the music; a statement of art that stands on its own but also functions as a part of a collection. I truly hope people enjoy watching and am so grateful to my brother for his endless trust."
Following the jungle bass-led 'dungeon.', more serious and frenzied, 'zip.' is another reflection of GUILLAME's chamelonic sound, and his second release on the new imprint drink sum wtr founded by Nigil Mack (Kid Cudi and more), Sam Valenti IV, CEO and founder of storied label Ghostly International and Secretly Group co-founders Ben and Chris Swanson, Phil Waldorf and Darius Van Arman; he joins Aja Monet and Deem Spencer on the label roster.
Recently, AUNDREY earned attention from Pigeons and Planes, Hypebeast, FLOOD, Complex, Lyrical Lemonade, and more with the release of his debut EP Violet. Part of GUILLAUME.'s own "healing process", his debut documented the journey that brought him to today, grateful to his late older brothers and his formative years spent in the group Knowname, formed with friends after graduating high school. Both experiences taught AUNDREY essential skills in life and music.
Bringin inspiring lessons of growth, vulnerability and wisdown to his 2022 follow up, ENERGY, now we see the young rapper ripping off the bandages from old wounds and laying it all out there with the upcoming COLD SUMMER. EP, a colourful, experimental and impressive experience that cements AUNDREY GUILLAUME. as the real deal.