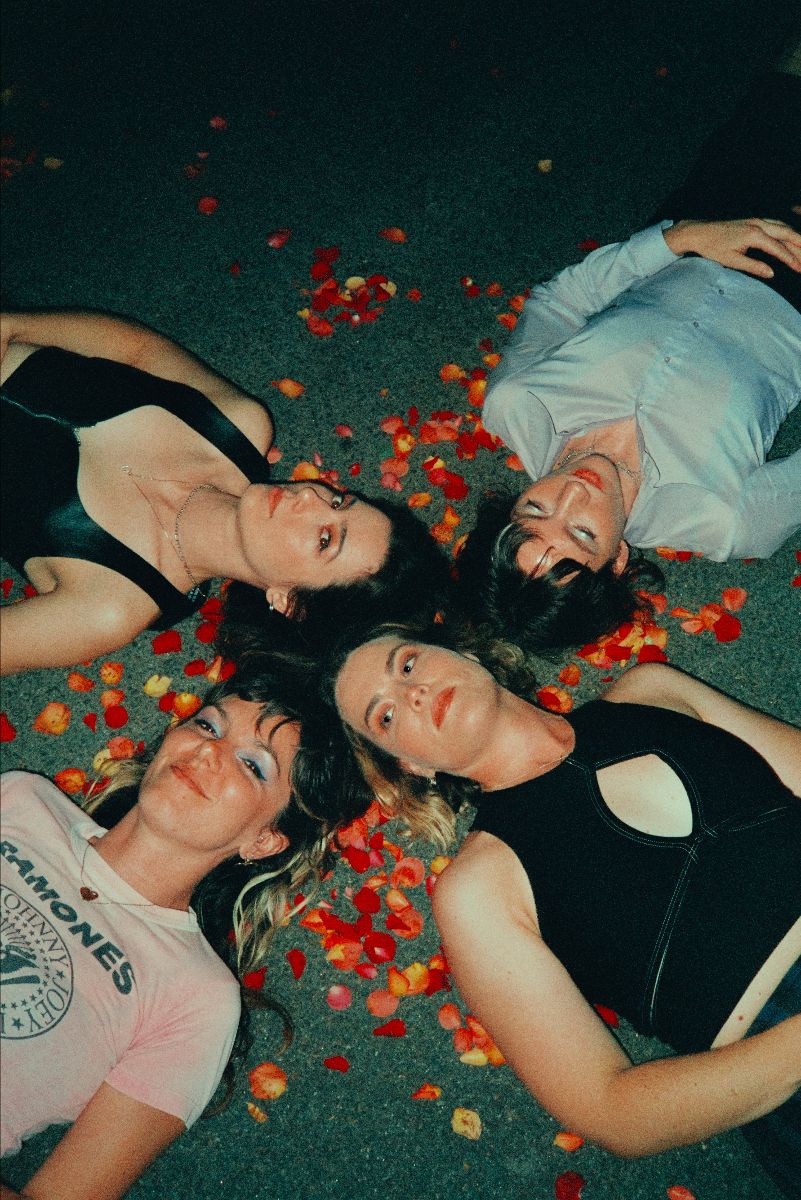 Body Type share 'Holding On' from forthcoming LP Expired Candy + announce UK/Europe tour dates
Photo by Nick Mckk
March 23 2023
PRAISE FOR Body Type
BODY TYPE
Expired Candy LP
June 2 via Poison City Records
PRE-ORDER HERE
TRACKLIST
Holding On
Summer Forever
Weekend
Tread Overhead
Sha La La
Creation Of Man
Miss The World
Anti-Romancer
Beat You Up
Albion Park
Expired Candy
Dream Girls
Shake Yer Memory
'Holding On' is out now, buy/stream it here.
Rock group Body Type today share 'Holding On', another cut from their forthcoming second LP Expired Candy, out June 2 via Poison City Records. This single also welcomes the news of their upcoming Europe / UK tour, including their addition to Rock Werchter Festival. LISTEN + WATCH HERE + PRE-ORDER EXPIRED CANDY LP HERE.
Written via shared voice memos passed back and forth across state borders, 'Holding On' is a soaring, rollicking track where the protagonist's longing and messy, "monsoon" emotions are kept afloat by friends and the aphorisms passed down by family members.
Lead vocalist and guitarist Sophie McComish says that "'Holding On' came from a particular time and space but it has evolved into a personal mantra of sorts. I'm a quadruple Virgo so I find it a challenge to relinquish control and embrace uncertainty. Sometimes the only thing that'll get you through though is the passing of time, and it's cool to just submit to that and trust that the outcome will be the right one." Bassist Georgia Wilkinson-Derums expands on this, sharing that "This song is a product of writing at a distance. Just like that time ends up passing very discreetly until what you're left with are quiet, hopeful memories that arm you for the future."
'Holding On' also comes with a new music video directed by Nick McKk (Julia Jacklin, Camp Cope) and filmed on the land of the Wurundejeri Woi-wurrung people. Inspired by the one-shot effect of Kylie Minogue's 'Come Into My World' visual, the passing of time and moments of elation as showcased in 'Holding On' is brought to life.
WATCH: 'Holding On' (Official Music Video)
Throughout Expired Candy, Body Type revel in the space they've carved out and assert that there's no time like the present. It's sweet, acidic, tough and undeniable all at once, and speaking to the forthcoming release they reveal that "Expired Candy is filled with hope, love, and danger, dancing with delicious uncertainty. In pursuit of joy we dreamed up songs about mothers, sisters, dogs, nans; family tantrums, forward motion, falling in love, platonic or romantic, with someone or self. Heart breaks, tooth will shatter, but she'll be there when it really matters. Flirty, feral and defiant, just how we like it. From our wild heart to yours, Body Type."
'Holding On' marks the next taste of new music from the band since their previous single 'Miss The World' and the release of their independently released, Australian Music Prize-nominated debut album Everything Is Dangerous But Nothing's Surprising. Featuring tracks like 'Buoyancy' 'The Charm' and 'Sex & Rage', the 11-track record is a sharp, and invigorating listen packed with gentle contemplation and righteous fury. The praise was far and wide, from Rolling Stone, The Guardian, NME, DIY, Frankie, Clash, Dork, The Line Of Best Fit and more, as well as radio support from all corners of the country landing Feature Album across 2Ser Radio, FBi Radio, SYN FM, Edge Radio and RTR FM.
Having just come off a string of support slots including Fontaines D.C, Wolf Alice and The Pixies, Body Type also announce their return to Europe and UK this June, including a spot on the Rock Werchter 2023 lineup alongside The 1975, RAYE, Arctic Monkeys, Lil Nas X and more.