Body Type unveil debut album Everything Is Dangerous But Nothing's Surprising
+ ANNOUNCE NATIONAL HEADLINE TOUR
LISTEN + WATCH 'A LINE'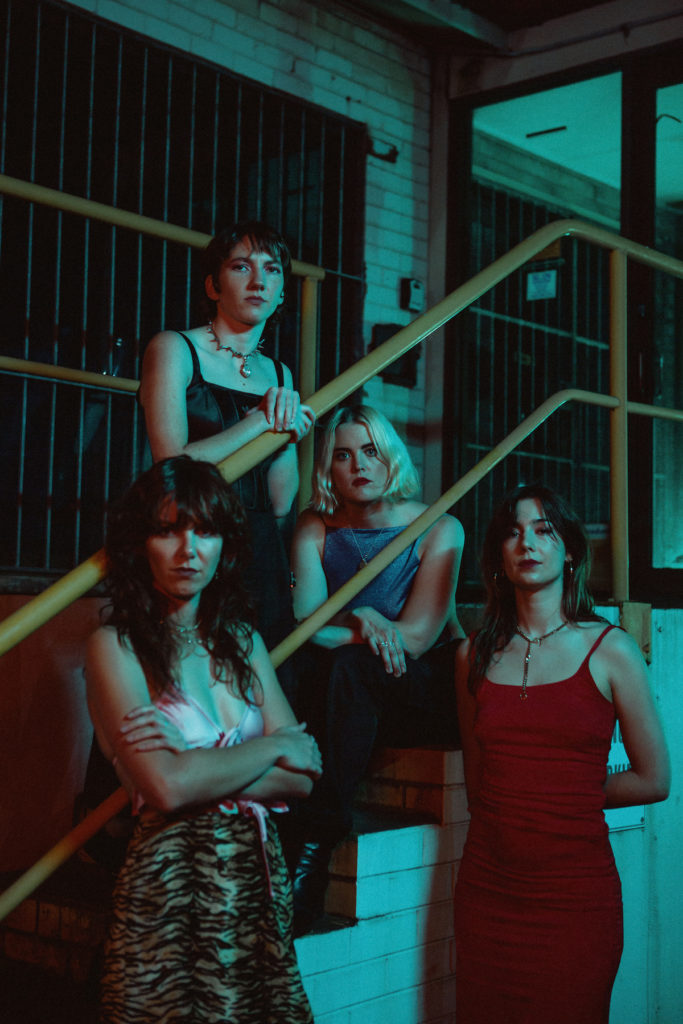 PRAISE FOR BODY TYPE
"One of the most consistently impressive, powerful, and exciting bands on the Australian scene"
Rolling Stone
"Sex & Rage [is] a blistering, sharp-toothed cut that oscillates between angular,
incendiary post-punk and the kaleidoscopic indie-pop of the band's earlier catalogue"
NME
"Sex & Rage crushes hard"
Clash
"Chock-full of angsty lyrics and post-punk riffs"
Frankie Magazine
"Refreshingly exciting and ridiculously good fun"
The Line of Best Fit
"It's impossible not to fall head over heels for them"
DIY
"All-female outfit spark a new era with indie-rock-punk euphoria"
Pilerats
"Explosive"
Lock Mag
Following feverish anticipation, release day has arrived for Body Type's debut album, Everything Is Dangerous But Nothing's Surprising, out now via Poison City Records. With the release, the band have announced a set of national headline shows to celebrate. LISTEN HERE + TICKETS AVAILABLE HERE.
In the wake of back-to-back tours and releases, Sophie McComish, Annabel Blackman, Cecil Coleman, and Georgia Wilkinson-Derums regrouped in early 2020, to record their debut album in eight days – shortly before they would become separated by the pandemic. Recorded and mastered by Jonathan Boulet, and entirely self-funded, the album is exultant, effusive, playful, cutting, and maybe most significantly, incandescent in its fury.
Born from a desire to bottle their restlessness that rose in wake of stifled creativity, of Everything Is Dangerous But Nothing's Surprising's making, the band reveal, "We were coming out of a period that felt quite suffocating and restrictive. We just kind of regrouped and re-energised and did it ourselves" says Sophie. Everything Is Dangerous But Nothing's Surprising sees the dawn of a new world for Body Type, regenerated through their sound, live show and sense of selves.
Everything Is Dangerous But Nothing's Surprisng is all about yanking back control, embracing abandon and purging despair, told through a boiling rock-punk hybrid. Joining the scorching 'Sex & Rage', peculiar jam 'Buoyancy' and stern 'The Charm', is the David Cronenberg inspired 'The Brood', a stimulant punk number about the depth of a woman's anger; 'Flight Path', a woozy ode to L.A. inspired by the Chateau Marmont and a run-in with Nick Cave, Susie Bick and one insufferable, greasy-haired egotist; the recount of one's great, gravitational pull on 'Futurism'; and the voyeuristic 'Couple Song', where the bedroom becomes the setting of a "night drama".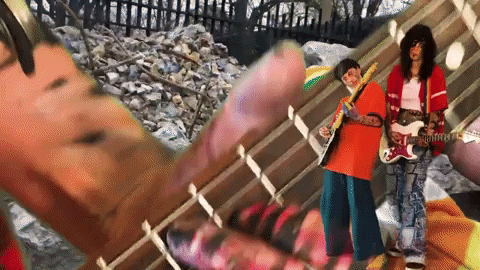 WATCH: 'A Line' (Official Music Video)
Highlighted today is the release 'A Line', of which Annabel Blackman shares "I had an idea of hands drawing across the screen, cutting through different scenes but tying them together with a constant 'line' being drawn – but that was way too literal and kind of boring. The visual image of the hand however reminded me of some work my wizard friend TV Moore had shown me of roving stick-hands on poles feeling their way around New York, where he lives half the time. He guided us through makeup and stylings over the phone, so it felt like a real collaboration with the band being hands-on slapping makeup on each other. My favourite part about making this video was the makeup and outfits – I felt like a baggy Simpsons bro and was very content flopping around, and I think Cecil's painted face cigarette might be the most smokin' thing I've ever seen. Sophie came alive as a pirate ska shredda and Georgia did her best lollypop bopping way out west."
Speaking to their visual collaboration, director TV Moore reveals "The 'A Line' video is a dreamed-up decentralised collaborative approach of "MAKING"… punk meets pantomime in a post-modern hologram shot on our phones in New York, Canberra & Port Kembla, in our bedrooms and our cities!! Moving through time and through minds, reversing frat boy aesthetics, tributing femme punk, 90's girl power & LSD, showing glimmers of colour and imagination in a frenzied world. 'A Line' goes on in all directions."
Across their album, Sophie, Annabel and Georgia continue to share singing duties, however, the group has never sounded so gleefully unruly. Teeming with yelps, yowls, screams, growls, whimpers, whispers, chants, deadpan delivery, laconic one-liners and elongated 'ahs' that sound like a demonic girls choir, elevated with liberatory, surging and spasming guitars that raise Body Type to new inventive heights. Regenerated through their sound and sense of selves, the record is reflective of the bands extensive live show resume, with each rehearsal, soundcheck, support slot, tour, and headline show flecked throughout.
What makes Everything Is Dangerous But Nothing's Surprising such a thrilling debut is its ability to experiment without forfeiting indelible hooks. Across rollicking guitar chords, and cathartic choruses, Body Type remain calm but sour, oozing with an inherent, subtle, 'don't fuck with us' cool that's plainly understood without uttering a word. Break-up songs are coated in understated humour, unsolicited advice thrown away, and rage takes strange, new shapes. Simply put, with Everything Is Dangerous But Nothing's Surprising, Body Type deliver.
Everything Is Dangerous But Nothing's Surprising LP is out now,
buy/stream it here.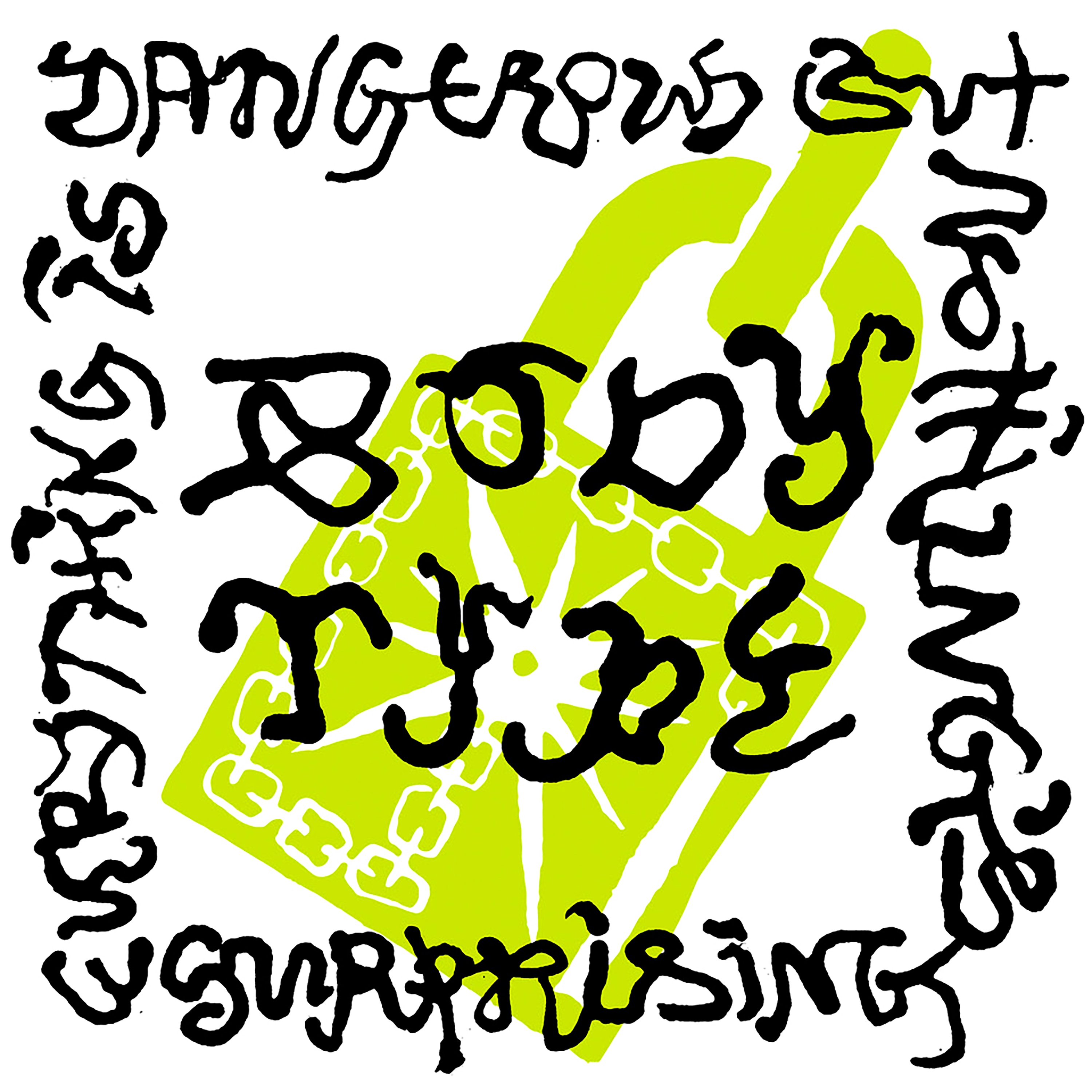 Artwork by Annabel Blackman.
TRACKLIST
A Line
The Brood
The Charm
Couple Song
Futurism
Hot Plastic Punishment
Flight Path
Buoyancy
Sex & Rage
An Animal
Everything's Dangerous But Nothing's Surprising
TOUR DATES
Wed 15 Jun – La La La's – Dhawawal Land / Wollongong, NSW (co-headline with Annie Hamilton)
Fri 17 Jun – Felon's Brewing Co – Meanjin / Bris, QLD w/ special guests
Sun 19 Jun – Eltham Hotel – Bundjalung / Eltham, NSW w/ special guests
Wed 29 Jun – Brunswick Ballroom – Naarm / Melbourne, VIC w/ Dianas + special guests
Thu 30 Jun – Oxford Arts Factory – Eora / Sydney, NSW w/ Chimers & The Carnations
Thu 7 Jul – The Lab – Kaurna Land / Adelaide, SA w/ Frankie Sunwagon
Tickets available HERE
Stay connected with Body Type:
Website | Facebook | Twitter | Instagram | Youtube
ABOUT BODY TYPE

Body Type formed in Sydney in 2016. Sophie was learning the guitar, and Cecil was picking up the drums for the first time, and the pair decided to jam together at a studio in Marrickville. Annabel and Georgia joined the fold through mutual acquaintances. The four-piece quickly began playing shows across Sydney every weekend and releasing a string of beloved singles (their debut track 'Ludlow' is always ebulliently sung by fans at live gigs).

Since first forming, the group have shared acclaimed EPs, EP1 and EP2 to global fever and critical acclaim from DIY, NME, Dork, The Line Of Best Fit, The FADER, Stereogum, KEXP, Apple Music's Matt Wilkinson, BBC Radio 1's Jack Saunders, triple j's Declan Byrne and many more. In between support stages with Fontaines D.C., Big Thief, Cate Le Bon, POND, Unknown Mortal Orchestra, Frankie Cosmos, Rolling Blackouts Coast Fever and more, the group have also performed across SXSW, The Great Escape, and headline tours in the US and UK, including a recorded session at the BBC's Maida Vale studios.