Bored Shorts release debut album Way Off!
LISTEN + WATCH 'SUTHERLAND ST', OUT NOW VIA SPUNK! RECORDS
PRAISE FOR BORED SHORTS
Independent Artist of the Week
FBi Radio
"Bored Shorts have delivered"
Noisey
"Neat guitar-led pop"
Life Without Andy
"Sun-drenched"
Control Zine
Beloved Sydney via Illawarra indie outfit Bored Shorts today share their latest track 'Sutherland St' lifted from their debut LP, Way Off!, out today through Spunk! Records. WATCH 'SUTHERLAND ST' HERE, LISTEN TO WAY OFF! HERE.
Born from a core duo of longtime friends Dom Hoban and Will Blackburn, the pair eventually recruited further members Charles Rushforth, Nicholas Griffith and Ash Bundang, metamorphosing Bored Shorts into a veritable supergroup of East Coast indie rock, sharing members with Big White, Flowertruck, The Ocean Party, Sunscreen and more. Since their emergence in 2017, the group have craftily built a cult-like following for their brand of 20-something-dom love, loss and malaise with the infectiously rousing 'Day & Age' and the existential anthem 'Figure 8'. Having released their debut EP, Looking Up, to critical acclaim in 2018, the band has spent the intervening three years prolifically but patiently writing, refining and recording an assortment of tracks that have now culminated in Way Off!.
In that time, Bored Shorts have grown into a regular fixture on the local circuit through their unforgettable live shows: spectacles of hook-laden indie rock catharsis where, eyes to the sky and lungs operating at full capacity, crowds belt choruses back to the band, drowning out their instruments in the process. This live prowess, combined with the passion of their fervent fanbase, has seen the fivesome share stages with the likes of Rolling Blackouts Coastal Fever, Alex Lahey, The Goon Sax, Body Type, Babitha and more. From their beginnings as that original duo to what is now their fourth year together as a complete group, Bored Shorts illustrate their ever-deepening cohesiveness and sense of strength in numbers on their debut full-length record, a well-worn collaborative effort that finds the individuals members of the band entirely in step with one another, each offering lead vocals to different tracks throughout the album.
Rather than looking solely to their own experiences, Hoban and Blackburn find lyrical inspiration in the unfamiliar, their storytelling throughout Way Off! wandering down some lesser trod, more idiosyncratic paths of pop lyricism, whether that's the impassioned final letters written by kamikaze pilots on 'Sortie', channelling the manifesto of an environmental extremist on 'Oxford Style' or the satirical internal monologue of a capricious but incompetent boss on lead single 'As The World Looks Down'. Ripe with playfulness, Way Off!evinces Bored Shorts' ability to not take themselves or each other overly seriously, a spirit that allows the group to be both shy and direct, polite and cheeky, charming and thought-provoking throughout their debut.
Speaking to the album's focus track, vocalist Will Blackburn shares "Sutherland St. is about breaking a long-standing promise that you've made to yourself, and learning to accept yourself and who you are after that point. Those somewhat misguided, grand scale promises you make to yourself, usually when you're younger, and the realisation that once you break them it's probably not as big a deal as you thought. There was a house on Sutherland St. where one of those big life promises was broken. Afterwards, I had to accept that maybe I wasn't going to end up being the exact pillar of moral strength I told myself I would be when I was 12. All I can do now is learn from the experience and keep moving forward, and that's kind of just fine. Instead, life just keeps going."
If Bored Shorts' storytelling worms its way into your mind space with an alluring peculiarity, so too does their music. With twists and turns abounding at an exhilarating pace, Way Off! offers up a snug-fitting collection of broad-chord jangle-pop, infectious riffs and jubilant, carefree melodies, a cross between the sunnied indie instrumentation of San Cisco, shadings of David Byrne's oddball sense of musical quirk, the suburbanite tales of The Go-Betweens and Gareth Liddiard's surreal Australiana. Recorded and produced in a makeshift Stanwell Park basement studio over the course of five intensive, kombucha-fueled days, listening to Bored Shorts' debut LP is like striking gold at your local op shop, their tracks flowering to life as though they were the soundtrack to each tucked-away, preloved treasure's life story. With Way Off!, the wallflowers sprout into pillars of their own making. 
Way Off! is out now via Spunk! Records, buy/stream it here.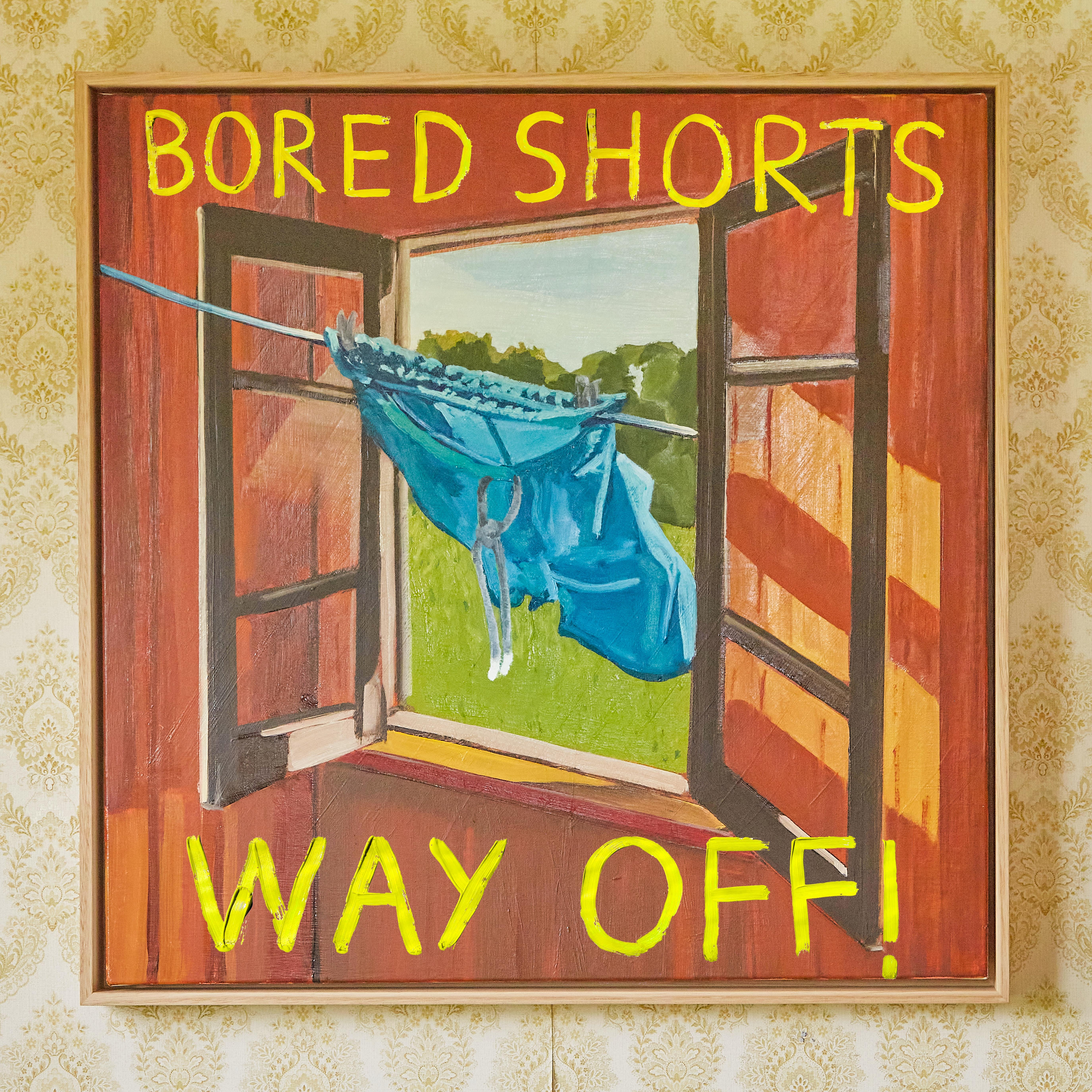 TRACKLIST
As The World Looks Down
Changes Up Ahead
Costly (I Can't Let You Down)
Growing Out
Sutherland St.
Sortie
Common Connections
Oxford Style
Starving
Hansel & Jasnel
Stay connected with Bored Shorts:
Facebook | Instagram | Youtube | Unearthed | Bandcamp