Camp Cope announce extended tour dates in lutruwita / Tasmania this June
LISTEN TO RUNNING WITH THE HURRICANE OUT NOW VIA POISON CITY RECORDS
PRAISE FOR CAMP COPE
"Camp Cope have always been loud, fearless, and sincere
but on their tender third album, they're more confessional than confrontational"
triple j
"As receptive and unflinching as ever"
The New York Times
"Fearless, minimalist punk…
But beyond the bombast, in the band's quieter moments,
singer Georgia Maq's honest introspection feels just as powerful"
NPR
"Shifting away from the gnawing, emo-inflected power-pop of their first two albums,
Camp Cope ask: Can softness be as invigorating as fury?"
Pitchfork (7.8/10)
"Maq's singing, always powerful, is more beautiful than it has ever been before…
a wonderful return, and well worth the four year wait"
NARC (5/5)
"It's heart and soul that shines through… They've never been better"
Upset (5/5)
"Distinct, crooning and softly beautiful"
DIY Mag (4/5)
"In spite of its softness, this is music that knows its own power
yet wields it graciously, both sonically and lyrically"
Kerrang! (4/5)
"An intimate collection of tender-hearted indie rock"
Rolling Stone (3.5/5)
"Running With the Hurricane is golden and soulful, tender and huge-hearted"
The Guardian
"If there's a Morrissey-esque lilt in Maq's vocals, there's also an echo of his famous plea,
that it "takes guts to be gentle and kind", in the album's spirit"
Sydney Morning Herald
"Running With the Hurricane offers enticing glimpses of a more settled band,
one teeming with soft hope and resolute joy"
Under The Radar
"An early contender for album of the year"
STACK Magazine
Camp Cope, the emo-power trio today announce extended dates of their national album tour in support of their latest album, Running With The Hurricane across lutruwita / Tasmania in late June. Tickets are on sale now. BUY HERE.

The news follows a stream of shows across so-called Australia's east coast, to riotous reviews of their performances at Meanjin / Brisbane's Tivoli: "The fact that Camp Cope have remained the same at their core means their fans have stayed loyal"; Eora / Sydney's Enmore Theatre: "honest, brave and dedicated"; and Naarm / Melbourne's The Forum: "It's hard to believe Camp Cope have only been together for little over half a decade." This June, Georgia Maq, Kelly Hellmrich and Sarah Thompson will take to kanamaluka / Launceston and nipaluna / Hobart for intimate performances of their acclaimed third album. Joining the trio on-stage to perform their recent hits 'Blue', 'Jealous', 'Running With The Hurricane' and more, is highly sought after and award-winning multi-instrumentalist Jennifer Aslett (Julia Jacklin, Stella Donnelly, San Cisco).

Following their critically acclaimed album How to Socialise & Make Friends (2018), Camp Cope's third LP Running With The Hurricane breathes growth for the trio, both personally and professionally, and sees the band older, wiser, and more at peace with the world. Reflecting on faltered romances, secret crushes and vibrating with the confidence that makes you feel like you're on fire. It's about taking comfort in knowing who you are, feeling yourself and returning, always, to the city of Naarm / Melbourne. If Camp Cope's self-titled debut (2016) was the spark, and How to Socialise & Make Friends (2018) was the fire, Running With The Hurricane is Camp Cope in the calm after the storm.

Its release has been met with a stream of praise across tastemakers globally, revelling in the band's empowering embrace of new sonic and lyrical ground. Across their recording and first live show performances in four years, Camp Cope trades searing vocals and fierce riffs for pianos, multi-instruments, harmonies and more. Previewed through their US television debut on CBS Saturday Mornings and their recent unhesitant cover of Sam Fender's 'Seventeen Going Under' for triple j's Like A Version. Camp Cope's shows across lutruwita / Tasmania will precede their upcoming North American tour in July, for all remaining tour routing details and purchase links, SEE BELOW.
 
Running With The Hurricane LP is out now, buy/stream it here.
TRACKLIST
Caroline
Running with the Hurricane
One Wink at a Time
Blue
The Screaming Planet
Love Like You Do
Jealous
The Mountain
Say the Line
Sing Your Heart Out

TOUR DATES
Fri 24 Jun – Royal Oak – kanamaluka / Launceston
Sat 25 Jun – Republic Bar – nipaluna / Hobart
Tickets available HERE
Stay connected with Camp Cope:
Website | Facebook | Instagram | Bandcamp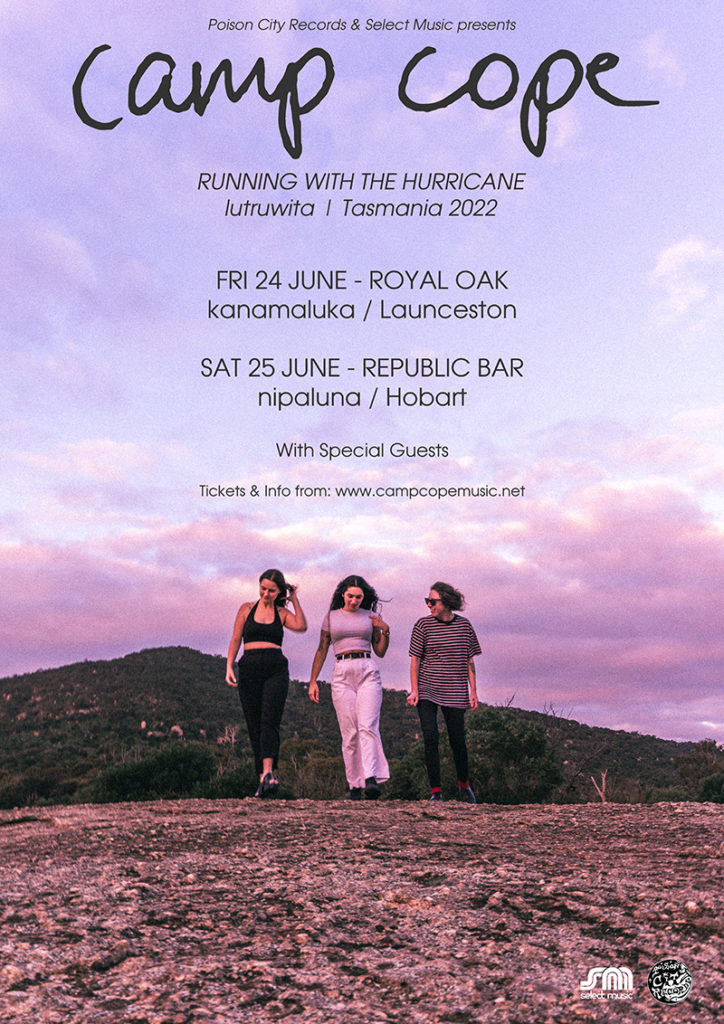 ABOUT CAMP COPE

Founded in Melbourne over home job tattoos, Camp Cope – Georgia Maq (songwriter, vocals, piano, acoustic & electric guitar), Kelly-Dawn Hellmrich (lead bass guitar) and Sarah Thompson (drums & percussion) – have been a force since the release of their self-titled debut album Camp Cope (2016). Their critically-acclaimed follow-up How to Socialise & Make Friends (2018) debuted at #6 on the ARIA Charts with incredible international acclaim including NPR ("Every unpolished moment stuns with turn-of-age earnestness"), The New Yorker ("The words, as raw as the band's nervy energy, spill out as though she's been holding them in forever") and The Guardian ("In 20 years, young women especially will approach her and thank Camp Cope for encouraging them to pick up a guitar and tell their own stories"). Widely loved both in Australia and abroad and the album's galvanising lead single, 'The Opener', shook up the Australian music industry.

Both global and personal circumstances prompted Camp Cope's change of perspective when work on Running With The Hurricane began in late 2019 – but when the pandemic struck a few months later, it forced a hiatus. The world had stopped and suddenly, there was no rush to get an album out and head back on the road. The trio got to just create art for art's sake, without worrying about how it would perform. But it wasn't just time Camp Cope had on their side.

Running With The Hurricane finds the trio more confident and more skilled than ever before. Making the album the band knew their instruments like the backs of their hands; they were assured enough to ask for what they wanted in the studio. After years of fierce friendship and often relentless tour schedules, they had become innately comfortable as collaborators. Together they levelled up their skills, approach and sound. The resulting sound is still recognisably Camp Cope, just a little softer, a bit more relaxed and much more refined. Running With The Hurricane is an album concerned more with creating beauty than noise and, undoubtedly, is their strongest work yet.