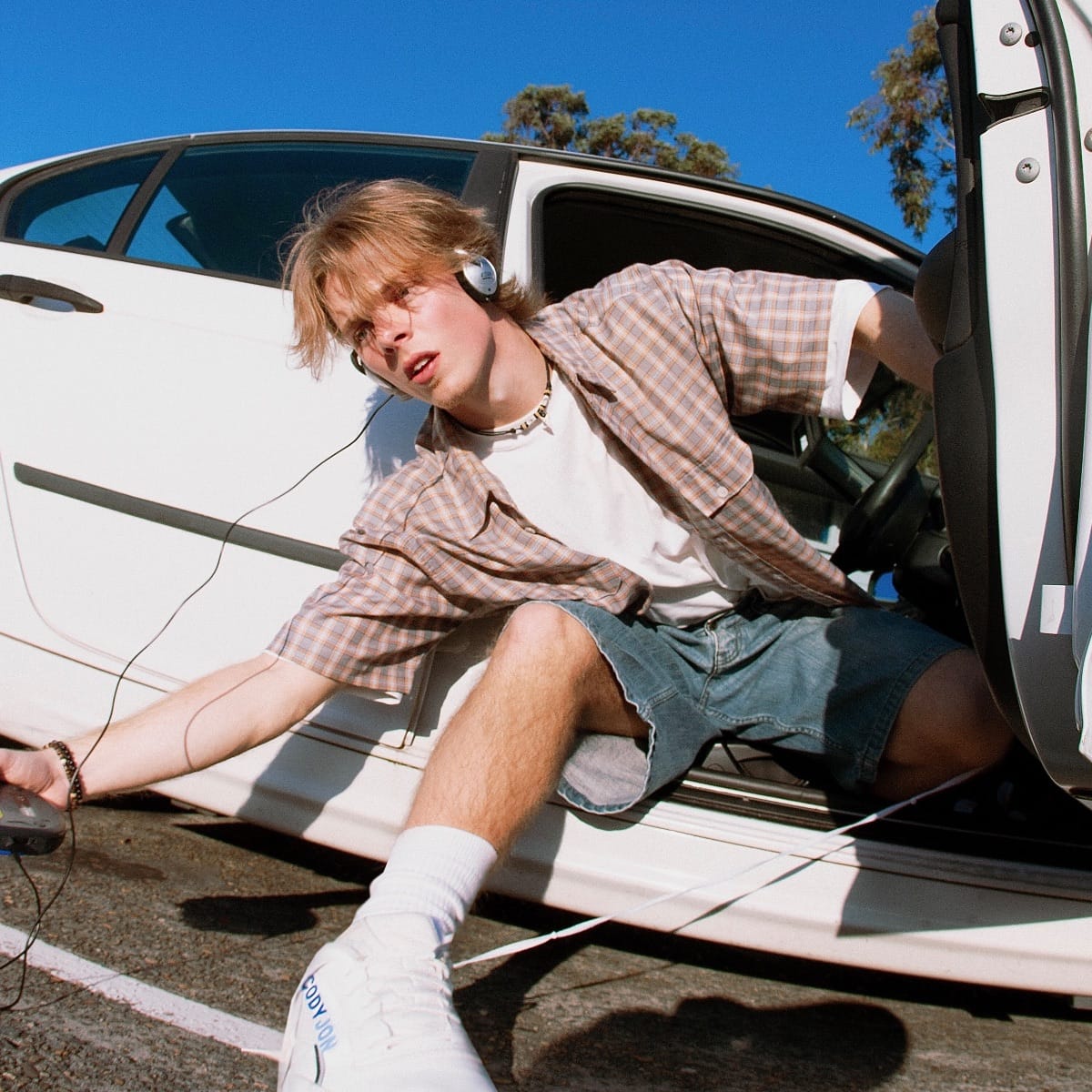 Cody Jon shares heartfelt debut EP untied shoes out today via Saint Lucky
Photo by CODY JON
February 14 2023
PRAISE FOR Cody Jon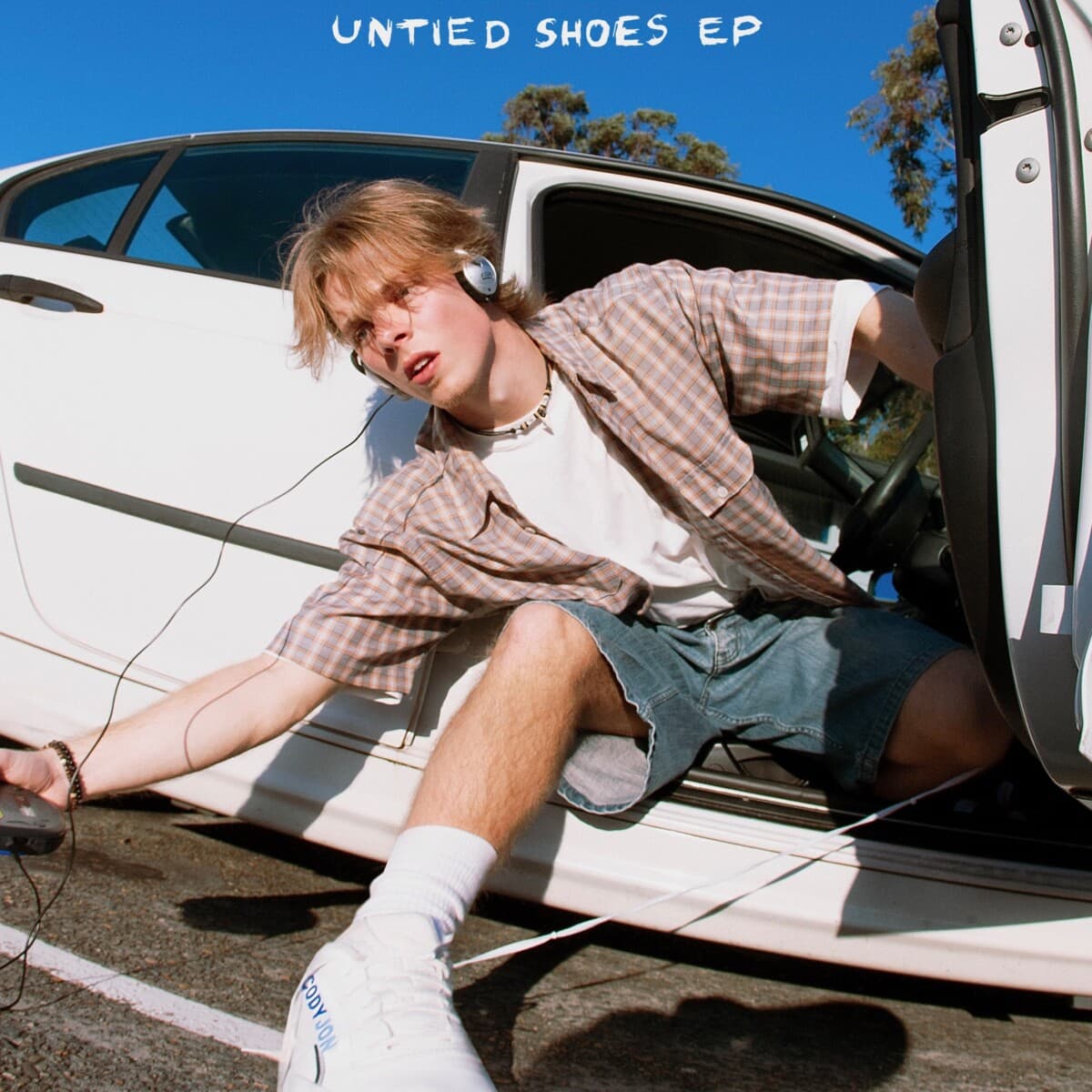 untied shoes EP by Cody Jon is out now, buy/stream it here.
Burgeoning bedroom-turned-big indie-pop vocalist and producer Cody Jon shares his debut EP, untied shoes out today via Saint Lucky. LISTEN HERE.
Aptly offered on Valentine's Day, the seven-track EP bridges stories of his own throws in love and growing pains told through the seemingly ordinary. Featuring previously released singles 'dirty dancing', 'Becky's Plan' and 'STAGEFRIGHT', the record features four more unreleased tracks including 'car spider', 'Bubble', 'It's not me…' and 'flowergirl'.
Of the release Cody explains, "untied shoes is my coming-of-age project. I wrote this EP when I was 18/19, the title encapsulates that timeframe in my life perfectly. Graduating high school and working out what on earth I'm doing, technically an adult but with the life experience of a kid. Acting like a grown-up while tripping on my untied shoelaces. I wrote each track based on different people/types of people I saw in my world."
Living adolescence in action, 'Bubble' drips in youthful charm capturing that moment a friendship moves into something more. Speaking to that shift, Cody shares, "It's about living in that bubble of bliss before it's time to make any serious decisions. The intensity increases as the relationship develops as you know the bubble could burst at any moment, and your relationship and friendship are both damaged in the process. You've gone too far to go back to how things were."
Conversely, where 'Bubble' focuses on the early whispers of a relationship, 'flowergirl' fast-forwards to the growth and joy found in healthy relationships described by Cody "like a warm golden hour in the park." He continues, "It's like dancing in a sun shower. The moment you realise things are getting better and you can look back and see how much you've changed and how far you've come. The trilogy of Becky's Plan, Dirty Dancing, and STAGEFRIGHT are all connected snapshots of my coming-of-age experience and flowergirl is the perfect track to finish off the untied shoes quadrilogy."
Shifting the lens within, the Gwen-Stefani-Rich-Girl-inspired 'It's not me…' reflects on the dangers of the ego, sharing, "The hook "It's not mE, Gee… Oh!" spells out EGO without actually saying it, furthering my inability to acknowledge that my decisions were ego-driven." Bouncing in the EP's playfulness and contagious warmth lies 'car spider', the light-hearted tune dedicated to the huntsman living rent-free in Cody's car. Exploring a more lo-fi and less engineered style than previous tracks, the self-produced 'car spider' features recorded samples of basketball bouncing, car revving, and spider-man web-slinger sounds hidden and layered within for the listener's pleasure."
Since first debuting his temporal mash with 'dirty dancing', and 'Becky's Plan' in 2022, Cody Jon continues to amass praise across triple j and Unearthed, iHeart Radio, MTV, Early Rising, and more. He rounded out the year with his dazzling live show with his BIGSOUND debut, Tai Verdes and Clinton Kane tour support, and performances alongside the likes of Gretta Ray, Xavier Dunn, Peach PRC, and more.