Daine shares new Danny L Harle produced track 'Angel Numbers', completing double A-side with 'Ascension'
Teenage emo-pop icon in waiting Daine today shares the second part of double a-side 'Ascension / Angel Numbers'. Following the destructive 'Ascension', listen and watch 'Angel Numbers' HERE.
As a whole piece, the two releases are brought together with the interlude '4444', transporting the brash and corrosive 'Ascension' to the Danny L Harle produced come down counterpart 'Angel Numbers'. Where 'Ascension' references Daine's midwestern emo influences at their highest, Daine's voice for the disillusioned generation is in full effect on 'Angel Numbers'.
"Fading out fading out," she sings, "perpetual sinking feeling always on my back / Counting all the dreams i wish were real growing up / Give me a few reasons to glow up and then I'll snap."
With this release Daine soars, completing the widescreen vision for this chapter of her story. Visually paired with warm hues, daylight imagery and nature in its lushest capacity, 'Angel Numbers' is reflective and transportive, quickly shifting from a restrained acoustic guitar to warped out bass and piercing synths. Now together with 'Ascension', her ability to pair the light and dark in life with nature's blessings against the unpredictable evil that can be just around the corner. 
On debut singles 'Picking Flowers' and 'My Way Out', Daine emerged as an artist that wears her emotions on her sleeve as visibly as her influences. Each track is like an entry in her own modern diary, chronicling the life of an artist in a disillusioned generation navigating life in an unforgiving world. Open that diary, and watch Daine subvert expectations even further in the future.
'Ascension / Angel Numbers' by daine is out now, buy/stream it here.
LOVE FOR DAINE
"Teen angst's freshest voice"
V Magazine
"A nihilistically detached voice"
The FADER
"Daine's tracks echo Midwestern emo greats, while simultaneously providing a dark-pop twist"
PAPER
"The Filipino-Australian is a voice for the digital generation"
NME Magazine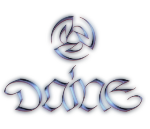 Instagram | Twitter | Youtube | Tiktok | Soundcloud