Donna Missal shares "(to me) your face is love)" produced by Sega Bodega ahead of CHVRCHES tour
Donna Missal today partners again with UK producer Sega Bodega (Lapsley, ShyGirl) on new single, "(to me) your face is love," via Harvest Records (Capitol). Dropping just ahead of her US tour supporting CHVRCHES (all dates below), listen HERE and watch HERE.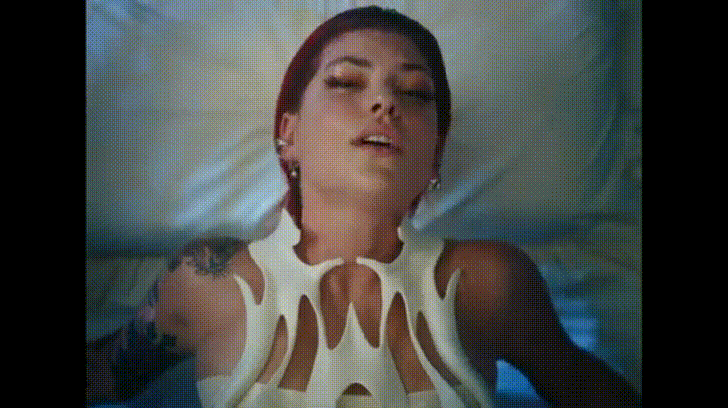 This is the first song Donna Missal wrote in person & in the studio with Salvador (aka Bodega) post lockdown era of the pandemic, and it's a total moment of release, an extended breath of left-of-center pop elation. It's a song you put on and dance to after being forced to sit still and reflect for so long; it's a pure love song turned into melancholic yearning by Bodega's haunting, driving beats.

Of the track, Missal explains, "I went to London to finish songs I had started virtually with Sega Bodega. We made this song there in studio, working together in person for the first time. It's a love letter. I was dancing around alone a lot during this time, wanting to be around people, I wanted to make what I could dance to. I was very inspired by the change in environment after so much time stationary, a time of anxiety and longing. When I got back to my flat from the studio that night, I danced around to our demo and felt so excited for the first time in a long time. I want to share that feeling."

Missal grew up homeschooled in a house with five siblings and a ton of musical instruments. She was raised on traditional rock & country music – her grandmother a songwriter in the 1950s; her dad an 80s musician, but this song finds its very own place in time, with hints of 00s-tinged melodies lying underneath her gorgeous vocals. It's almost like if a Spice Girls-era slow song were run through a modern club mix and washed with the crystal clear toner of Missal's voice – all packaged pristinely in the glossy production.

Fader, Paper, I-D, SPIN, Interview, and more, have recently offered their high praise for Missal's warm presence, commanding voice, and vulnerable, sensual lyrics. In her music, Missal is not afraid to challenge cultural norms, gender roles, or share even the most personal and intimate moments of her life. She has toured with the likes of King Princess, Lewis Capaldi, Samia, among others, and recently covered Cigarettes After Sex's viral track "Nothing's Gonna Hurt You Baby" to soundtrack the critically praised movie, Promising Young Woman.
"(to me) your face is love" by Donna Missal is out now, buy/stream it here.




DONNA MISSAL ON TOUR
*supporting CHVRCHES

Nov 9 – White Oak Music Hall – Houston, TX*
Nov 10 – ACL Live – Austin, TX*
Nov 11 – ACL Live – Austin, TX*
Nov 12 – ACL Live – Austin, TX*
Nov 14 – Southside Ballroom – Dallas, TX*
Nov 15 – Cain's Ballroom – Tulsa, OK*
Nov 17 – The Armory – Minneapolis, MN*
Nov 18 – Riverside Theatre – Milwaukee, WI*
Nov 19 – Aragon Ballroom – Chicago, IL*
Nov 20 – Express Live! – Columbus, OH*
Nov 22 – Stage AE – Pittsburgh, PA*
Nov 23 – Royal Oak Music Theatre – Royal Oak, MI*
Nov 24 – History – Toronto, ON*
Nov 26 – Terminal 5 – New York, NY*
Nov 27 – Terminal 5 – New York, NY*
Nov 28 – Terminal 5 – New York, NY*
Nov 30 – Anthem – Washington, DC*
Dec 1 – House of Blues Boston – Boston, MA*
Dec 2 – College Street Music Hall – New Haven, CT*
Dec 3 – Franklin Music Hall – Philadelphia, PA*
Dec 5 – Ovation – Cincinnati, OH*
Dec 6 – The Pageant – St. Louis, MO*
Dec 8 – Mission Ballroom – Denver, CO*
Dec 9 – Boulder Theater – Boulder, CO*
Dec 10 – The Union – Salt Lake City, UT*
Dec 11 – Brooklyn Bowl – Las Vegas, NC*
Dec 13 – The Observatory – San Diego, CA*
Dec 14 – The Observatory – San Diego, CA*
Dec 16 – Bill Graham Civic Auditorium – San Francisco, CA*
Dec 17 – Hollywood Palladium – Los Angeles*
Dec 18 – Hollywood Palladium – Los Angeles*

Stay connected with Donna Missal:
Instagram | Website | Facebook | Twitter | TikTok