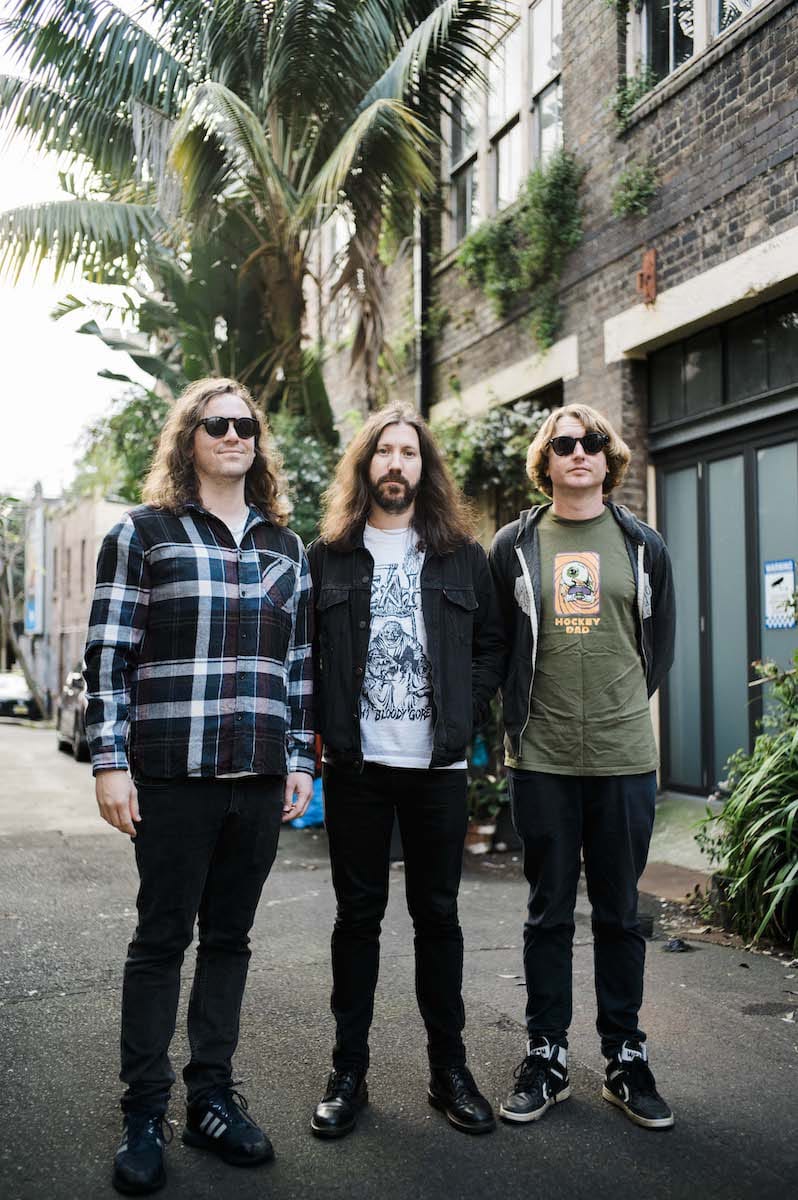 DZ Deathrays enter 2023 with experimental new epic 'King B'
Photo by David Herington
Award-winning punk-rock outfit DZ Deathrays today mark their entry into the new year with the marvel of 'King B', a thunderous epic complete with music video. LISTEN + WATCH HERE.
Blazing synths, acoustic guitars and sparse piano – 'King B' marks one of DZ Deathrays' biggest sonic departures yet, where the group balance their carnage-inducing instincts with radical experimentation. A production journey from beginning to end, 'King B' inspires an "epic force of motion," bridging the DZ we know and love with tasteful elements of glam, hardcore and prog. Equally at home alongside the playful rock opera of Flash Gordon to the road rage in Mad Max, DZ Deathrays' latest release is wholly reflective of the three-piece as an act: bred on the classics, students of their craft, and releases as inspired as School of Rock to the Hall of Fame.
Of the release, Shane Parsons shares, "King B was a riff that Lachlan sent me that has been manipulated to fit in some chords that I put together. We did about 17 versions of the demo before landing on this arrangement. I wanted a party song, I wanted a track that was about getting people together and feeling the energy of that. Then one day it all came flowing to me about 10 minutes. King B was the name of the riff and well, we celebrate it. It's one of the biggest departures for DZ, starting a song with big synths and acoustic guitars, then dropping into one of the biggest riffs we have written to date, quickly deviating to more grinding synths, then a piano section then it's riff to the end. Quite the adventure"

WATCH: 'King B' (Official Music Video)
'King B's cataclysmic visual arrives directed by Phoebe Faye. Of the process she reveals "Shane, Lachlan and Simon really wanted to smash up some things. So, why not build a whole set that would be reduced to near-rubble? I mulled on the idea of *why* we would destroy a set for a while before the concept settled properly into place – and one thing that we all seemed to like was an air of ambiguity. I have a big love for The X Files, and I wanted to lean into that uncertainty that would also allow the viewer to impart their own interpretation. Are they science experiments? Are they captives? Is it a government conspiracy? Although there are a couple hints in the set design to what might *really* be going on."
Today's release follows DZ Deathrays' recent, 'Paranoid', a reflection of their enduring thrashing legacy, was awarded playlisting on triple j and embraced by NME Magazine as "a fuzzed-out, riff-heavy cut that oscillates between tension and release," alongside praise from Tone Deaf, The Music and more, the multi-ARIA winning group have come a long way since the first house party gig they formed for, cultivating a global following for their addictive punk energy and sheer volume.
From their inception, DZ Deathrays remain one of the most recognisable acts in the contemporary Australian rock canon, most notably with the success of their debut album Bloodstreams which made DZ synonymous with thunderous. Quickly followed by their second album Black Rat signifying a maturer sound, they expanded beyond their garage roots into an award-winning machine, touring the world countless times over, supporting The Foo Fighters stadium tours, Ratatat, Biffy Clyro, Grinspoon and more, headline slots across The Tivoli, The Enmore and The Forum, to collaborating with a Wiggle.
Amongst DZ's enduring fanbase they remain festival favourites with performance tallies across multiple years at Splendour In The Grass, Falls Festival, St. Jerome's Laneway alongside international appearances at SXSW, Reading and Leeds Festival, and multiple entries in triple j's Hottest 100. Coupled with their more recent LPs Bloody Lovely and their critically-acclaimed twin concept albums, Positive Rising: Part 1 and Part 2, the project of Shane Parsons, Simon Ridley and Lachlan Ewbank has long cemented DZ Deathrays' staple status – it's not every day that a band gets stronger and more popular with time. Looking to the future they affirm that the party never dies.
'King B' is out now, buy/stream it here.