Georgia Maq gifts fans with new release 'Joe Rogan'
ACCLAIM FOR GEORGIA MAQ
"One of the year's most vital singles"
Rolling Stone
"She channels Robyn with her arena-sized hooks"
Consequence
"Capture the loneliness and release of the dancefloor"
NME
"At this point, it should be apparent that she can work deftly across any genre"
The Guardian
"Hooks that'll rattle around in your head for days"
triple j
"Where McDonald loosens her reservations and surrenders to the full impact of her voice,
the spark she's always nurtured shines through"
Pitchfork
"On Pleaser she gets to use that voice against an entirely different backdrop
than the incisive emo-rock of her main band"
Stereogum
"Maq sounds as powerful as she's ever been on Pleaser"
The FADER
A holiday treat for fans, today Georgia Maq has shared her second solo release of the year, 'Joe Rogan', premiered this morning by Rolling Stone. LISTEN HERE.
Empowering, self reflective and a little bit on the nose, 'Joe Rogan' is a cheeky examination of taste and boundaries in the dating world. An anthemic piece of self-produced pop the track is both a self-diss track and a celebration of asserting autonomy and upholding standards even when dating your everyday Joe Rogan fans. A live-stream fan favourite 'Joe Rogan' was recorded and produced by Georgia while stuck in quarantine, it's vocal layers are helped along by her friends who pepper the track with their own thoughts on her dating life as spoken word samples transposed atop the track's bustling synths.
Georgia reveals "I made this song alone in my house. It's a burn on myself because of my historically bad taste. It's a song about leaving a bad date because you realised you don't have to sit around while some guy defends joe rogan and smokes a gatorade bong, it's about a very… unique experience that isn't actually that unique – I think it's relatable."
'Joe Rogan' follows the soaring 'Someone Stranger', featuring Alice Ivy, premiered and lauded by triple j, the release garnered widespread acclaim across Rolling Stone, NME, Brooklyn Vegan, Consequence, Stereogum, The Music, Purple Sneakers, Music Feeds and much more across community radio and DSPs. Plus this January, Georgia will take to the Melbourne Museum stage to perform one of her only solo headline shows in 2022. As part of Melbourne Music Week, Georgia shared an exclusive insight into what can be expected from her live show repertoire. WATCH HERE + BUY TICKETS HERE.
Since debuting with 2019's Pleaser LP, Georgia Maq has chased a more genuine form of pop music in her solo career, a vision in the vein of that pioneered by the likes of Robyn, Charli XCX, Carly Rae Jepsen and others, that retains all of the glamour and universality but feels unburdened from capitalist underpinnings. Full of DIY electro-pop that mined evergreen themes of romantic, sexual and self-love, Maq's solo debut was not so much a transformation as it was a revelation, opening up on her vulnerabilities and heartbreaks, finding strength in this self-exposure and revealing the multitudes to herself beyond the Camp Cope project. Stay tuned as Georgia Maq continues to paint new corners in her animated pop world.
'Joe Rogan' is out now, buy/stream it here.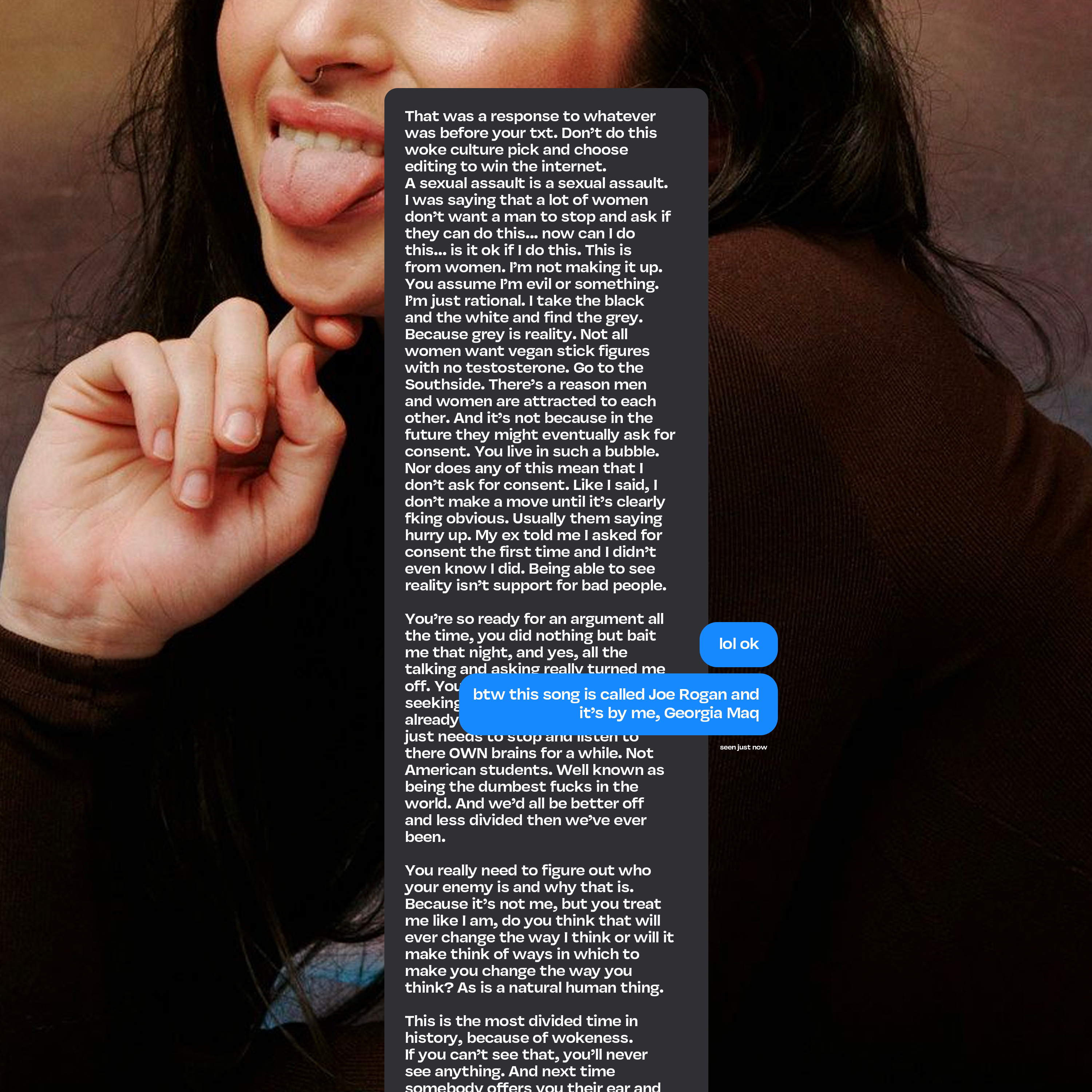 TOUR DATES
Thu 27 Jan – Melbourne Museum – Naarm / Melbourne
Tickets available here.
Stay connected with Georgia Maq:
Instagram | Soundcloud | Bandcamp | Youtube