Goya Gumbani & Subculture partner on soulful, vibey "Valley of Def (feat. Pearl de Luna)"
London-via-Brooklyn rapper, Goya Gumbani, and London-based producer/artist, Subculture, today share "Valley of Def (feat. Pearl de Luna)," the first single from their forthcoming collaborative EP, KRYSTIN, due out October 29, 2021 via Twisted Hearts Records & GGWav Records. Listen/watch HERE.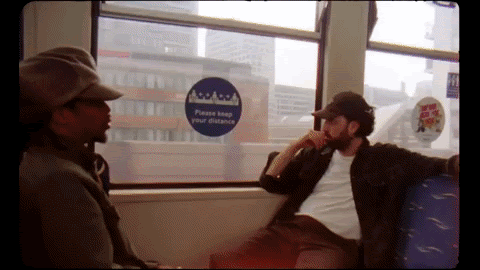 Suffused with trumpet runs, wandering keys and Subculture's languid backbeat, "Valley of Def feat. Pearl De Luna" is a smokey journey into London's jazz scene backed by a lo-fi hip hop beat. Goya Gumbani's mellow flow is complimented by the soulful vocals of Pearl de Luna with Subculture's evocative production narrating stories of loss and learning. The overall effect is introspective and meditative; hip hop but free-form, taking you out of the club and into a low-lit corner deep in the subconscious.
Over years of producing, songwriting and DJ'ing, Subculture has honed a penchant for marrying organic, soulful instrumentation from the past with production and sonics of the present, always searching for points of connection between seemingly disparate genres. His ability to maneuver between worlds so seamlessly has nurtured a collage-style of production, almost as though you're flicking through a box of dusty LPs in real-time. From his debut 2019 mixtape I DREAM OF EVERYTHING to his more recent 2021 EP ACiiiD DRIPPED FLYING BUTT€R GUNS, he's won praise from the likes of the New York Times, Fader, WNYC, BBC Radio 1, Line of Best Fit, COLORS, Jamz Supernova and more.
Lining up collaborations with many of the UK's most promising emerging artists including Rachel Chinouriri, Tertia May, Chelou, Hak Baker, and more, Subculture is committed to lifting up a new generation of artists producing experimental hip hop and soul. With "Valley of Def feat. Pearl De Luna" and the forthcoming KRYSTIN EP, Subculture now brings Goya Gumbani into his ever-expanding fold. Gumbani, recognized for his recent COLORS performance and acclaimed collaborations within various electronic and jazz circles (Joy Orbison, Joe Armon-Jones, Rago Foot), contributes his always recognizable Brooklyn-tinted delivery while navigating his own learnings, losses and lived experiences. Pitchfork, Fader, Dazed, NME, I-D, and more are fans of Gumbani, with legendary Virgil Abloh even asking him to walk in a recent runway show.
Created only a couple of months after the passing of his sister, Gumbani reflects on the process: "Working on this project I went through a transition of making tracks to making songs and felt like I could be a lot more experimental. After my sister's passing, I felt there were no bounds or limitations I'd put on myself creatively. It was a whirlwind of grief at the time with the loss of many things in my life and a big awakening… with a lot of new things happening. Trying to understand my emotions, I didn't know if I was coming or going, but the music was an outlet." Subculture elaborates, "I loved the world Goya had already created, his voice and his approach to music. To me, his wordplay and rhythm is a smokey Jazz club. I wanted to make that 3D. Like putting gloss over something, or colour grading a movie. I wanted the music to sparkle."
"Valley of Def (ft. Pearl de Luna)" by Subculture & Goya Gumbani is out now, buy/stream it here.
KRYSTIN by Subculture & Goya Gumbani is out October 29th, 2021 via Twisted Hearts Records & GGWav Records.
Tracklisting:
1. Intro Hymn
2. Angels & Fire (Feat. Tertia May)
3. Letter to Pooh
4. Valley of Def (Feat. Pearl de Luna)
5. Only Time Will Tell
6. The Little Reasons (Feat. Pearl de Luna)
7. Fish Out of Water
Stay connected with Goya Gumbani:
Instagram | Facebook | YouTube | Soundcloud | Bandcamp
Stay connected with Subculture:
Instagram | Twitter | Soundcloud | Bandcamp | Facebook