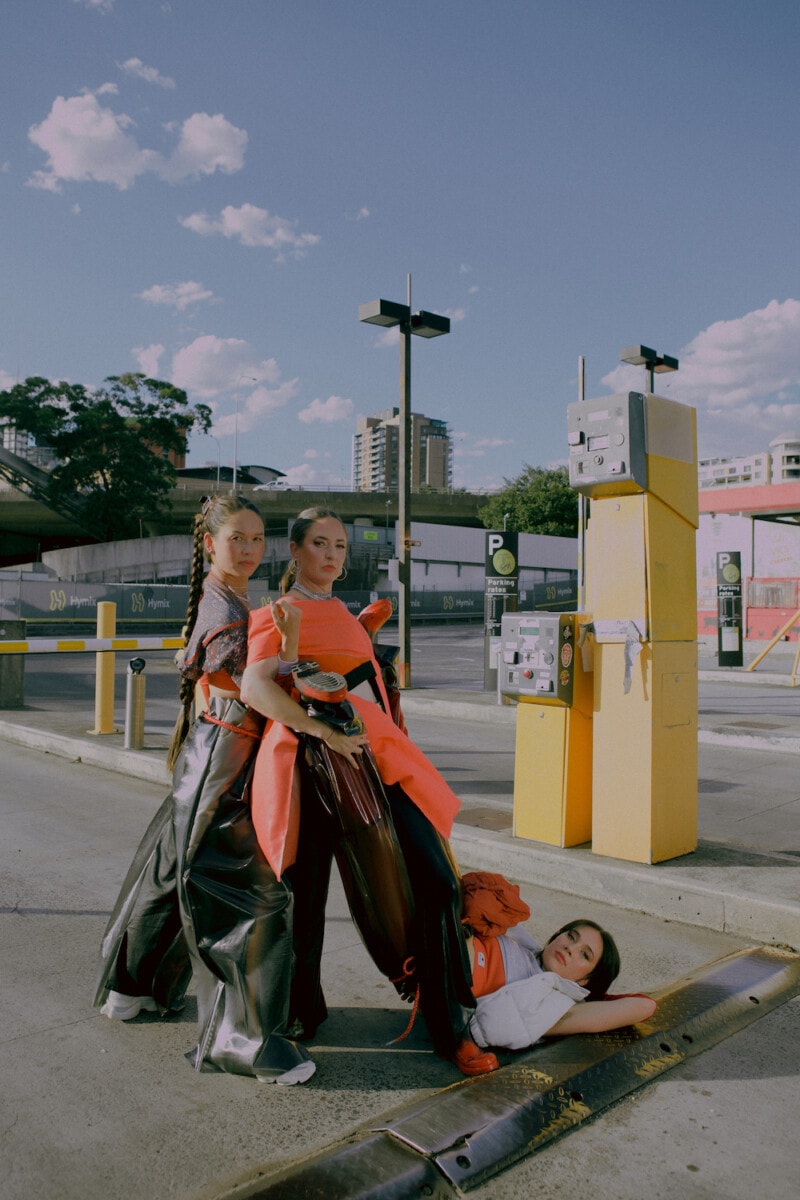 Haiku Hands share epic dance track "Ma Ruler"
Photo by Bronte Godden
June 1 2023
"Ma Ruler" is out now, listen here.
Today, Australian alt-dance trio Haiku Hands (Claire Nakazawa, Beatrice Lewis, and Mie Nakazawa) return with another adrenaline-fueled, leave-it-all-on-the-dance-floor hit "Ma Ruler," available now via Spinning Top Records (an offshoot of the management company behind Tame Impala). This release is right ahead of a string of US tour dates starting in June including Gov Ball in NYC, Los Angeles, Chicago, and more. More info on tour HERE, Listen/watch "Ma Ruler" HERE. 
Chanting, "All day I think about the night," it's clear that this is pure party anthem that takes not taking yourself too seriously… very seriously. The relentless percussion is produced in a way that makes you feel like you're deep in the belly of an underground warehouse banger even if you're dancing alone in your home, or in the park on a sunny Saturday, or in the cereal isle on a routine grocery run. It's an instant mood-booster no matter where you are.
Of the track, the band say, "Ma Ruler smacks you in the face like your best friend's just arrived at the party. The one you've been waiting for who'll drive the dance floor into the ground and no one will leave once they've arrived."
"Ma Ruler" will be the second new track after their recent electronic-punk track "Nunchucka" (watch the feverishly fun basement banger HERE) to enter the band's live set in the US this June. When you watch the video for "Nunchucka," you get confirmation that their live show will be as much of an all-encompassing experience as ever. There will be matching costumes, there will be choreography, there will be nonstop bouncing with the beat. Each show will be a unique experience, as the group connects with the crowd and plays off of your energy to bring their absolute best.
Haiku Hand's critically acclaimed self-titled 2020 debut record won fans across the globe at NME, Rolling Stone, DIY, Paste, and more, and was hailed as an "unapologetic blast of gleeful rebellion." Their previous singles, from 2017 debut "Not About You" and 2019's "Dare You Not To Dance" captured fans worldwide for their no-holds barred attitude and infectious melodies.
Haiku Hands will make their much-anticipated return to North America in June to perform at New York's Governor's Ball alongside Pride and festival appearances throughout the US. They've toured extensively throughout Australia, Europe, and the UK., with their choreography and high-energy production winning festival crowds over at Vivid Sydney, Splendour in the Grass, Pitch Festival, Laneway Festival, and most recently, Sydney World Pride. They have recent love from Sirius XMU, KUTX, both Spotify and Apple editorial playlists, and more. See below for the next energizing live experience from Haiku Hands near you, and keep the party going that they started with their previous single, "Nunchucka," with today's "Ma Ruler."