Haviah Mighty determines the worth of pursuit on 'Coulda Been U' ft. Astrokidjay
STOCK EXCHANGE MIXTAPE OUT NOV 12
PRAISE FOR HAVIAH MIGHTY

"Her flow is fantastic, but the sound of her voice – it's so dark and so deep too"
Richard Kingsmill, triple j

"After having a breakout 2020, Haviah's unapologetic hooks
are bound to travel even further in 2021″
GQ

"Mighty's flow is slick and her tone wary"
FLOOD

"Straightforward and urgent…piercing"
The FADER

"Ominous, bass-heavy beats and hard-nosed bars
that could go toe-to-toe with any challenger"
Pitchfork

"Haviah Mighty's 'Protest' keeps 2020's BLM demonstrations alive"
Rolling Stone

2019 Polaris Prize Winner
Following the triumphant 'Tesla', Polaris Prize-winning artist Haviah Mighty returns with the introspective 'Coulda Been U' featuring Astrokidjay, lifted from her anticipated Stock Exchange mixtape out on November 12. LISTEN HERE.
Where 'Tesla' celebrated the type of success one could only ever dream of, 'Coulda Been U' considers life in the fast lane, flaws and all. In her own words, Haviah says"It's inspired by the new and different types of encounters that I find myself having with people – whether fans, strangers, existing friends – and realising that some fo those people's investments in me weren't coming from the right place. Maybe they were excited about perceived income, profile, lifestyle etc. but I don't have time to waste, so I'm getting better at determining early on who / what is worth investing my time into. This song focuses on the fact that I know I'm a prize, so act right, or you'll miss out."
'Coulda Been U' takes those encounters and amplifies them, specifically speaking to those in pursuit of Haviah Mighty the headline. It's no secret with fame and success, relationships and lifestyles change – with 'Coulda Been U' the Tkaronto / Toronto rapper considers which to pursue, foster, and to cherish. Joining her is fellow hometown artist and buzzy one-to-watch Astrokidjay, who reached out to collab over Instagram. Cosigned by the likes of Murda Beatz for his laidback flow, Astrokidjay adds a dynamic substantiation of the perceptions that come when artists prosper, with lines like "I feel like I made it, I ain't even rich, when you go up and make it, they say you switch" over a moody, muted trap beat produced by Haviah, Denise De'ion and Mighty Prynce.
The release is the latest to be lifted from Haviah's hotly-anticipated Stock Exchange mixtape, the first full-length statement from Mighty since becoming the first hip hop artist and first Black woman to win the Polaris Music Prize for her critically acclaimed, breakthrough 2019 record, 13th Floor. 'Coulda Been U ft. Astrokidjay' is the latest in a string of singles previewed from the forthcoming mixtape over the course of the past year, garnering praise from Rolling Stone, Pitchfork, GQ, The FADER, The Source, Complex, triple j, Consequence, Bandcamp, UPROXX, Hot New Hip Hop, Acclaim, Sniffers and more. Stock Exchange once again evinces Haviah's vast set of globe-trotting influences, pulling together collaborations with Latin Grammy Award-winning artist Mala Rodríguez ('Flamenco'), JUNOAward-winning rapper TOBi ('Good On My Own Tonight'), London grime emcee Yizzy ('Protest'), Toronto DJ and producer Grandtheft ('Avocado'), US rappers Jalen Santony ('Way Too Fast'), Old Man Saxon ('Antisocial') and the Young Dreadz produced 'Tesla'.
The title – Stock Exchange – refers to an internal reckoning Haviah underwent across the past year in regards to how artists are these days forced to validate their value as creators and the merit of their work based on (a nauseating set of) random data metrics (follower counts, views, streams, etc. etc.), losing the authentic, universal human-to-human experience of art in the process. Carrying the themes of 'Coulda Been U', 'Tesla' and more across the whole project, she adds that "these statistics that we use to compare ourselves to others and to define our successes have become proof of our worth. It's all perception. These ideas around perceived value got me thinking about the Stock Exchange. Seeing parallels between the way it flows – the constant rising and falling – all dictated by the general public's perception of an entity's value, and ultimately how that influences the moves that we make as individuals."
'Coulda Been U ft. Astrokidjay'is out now, buy/stream it here.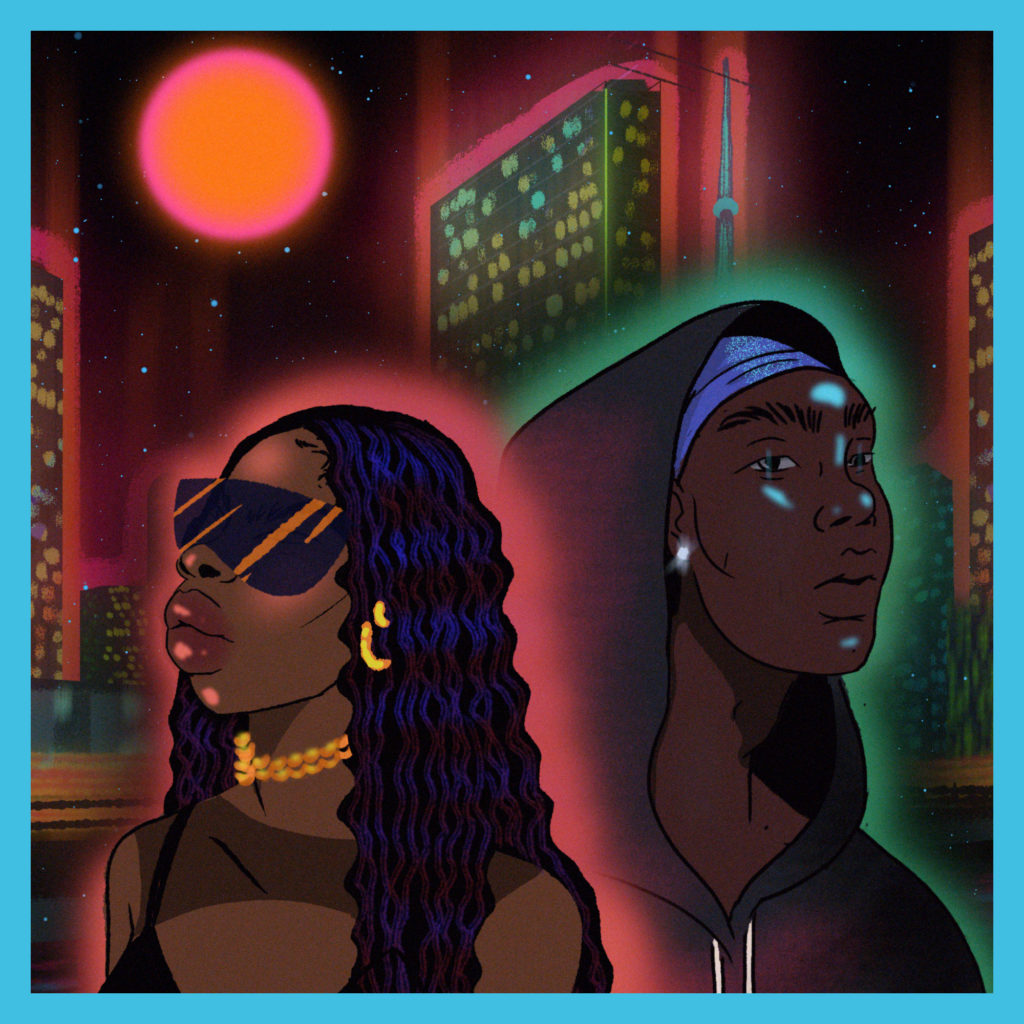 Stay connected with Haviah Mighty:
Website | Facebook | Instagram | YouTube | Soundcloud | Bandcamp
ABOUT HAVIAH MIGHTY

Haviah Mighty became the first Hip-Hop artist, as well as the first Black woman, to win the Polaris Music Prize for her breakthrough 2019 album, 13th Floor. The project and the hard-hitting singles that followed highlight her vast sonic influences ranging from classic Rap/Hip-Hop elements to Caribbean rhythms, frenetic electro and diverse instrumentation, while tackling marginalisation, racism, the Atlantic slave trade, loneliness, self-worth, and more. Stay tuned for more Haviah music and Stock Exchange news coming soon.