Introducing Orion Sun
LISTEN TO STRIKING NEW TRACK 'CONCRETE'
PRAISE FOR ORION SUN
"Orion Sun's wide-eyed innocence and grounding timbre in her tone have always given her lyrics a sense of closeness, like you're right on her bedroom floor with her trying to make sense of all the conflicting signs"
NPR
"she's stark, frank, and lightly poetic"
Pitchfork
"Her songs are pensive, thoughtful in theme and structure. They're soulful scenes that are often both haunting and hopeful"
Hypebeast
"A song with an explicitly autobiographical meaning, its opaque soul vision has a subdued but deeply moving quality"
Clash
Magazine
Brooklyn-based Orion Sun returns as one of today's most essential artists. The critically acclaimed singer, songwriter and producer shares her striking new song 'Concrete' produced by Rostam Batmanglij (VampireWeekend, HAIM), along with a striking companion video. LISTEN HERE + WATCH HERE.
Directed by Morian Thomas, the visual beautifully captures Orion Sun nurtured by nature as she toils on a California farm, an image not often reflected in mainstream media but one that was important for Orion Sun to provide. In doing so, she also honours her ancestors and her lineage, which "is long filled with strength and knowledge, overflowing with resilience and beauty". The release ushers in a new chapter for Orion Sun sonically and personally, one that is shaped by her own journey of self-discovery and healing and finding freedom in the deeply uncomfortable things in life.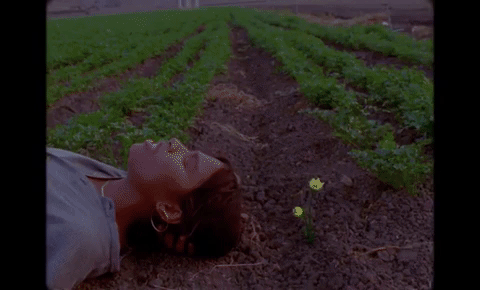 Orion Sun – Concrete (Official Video)
24-year-old Philly-via-Jersey Orion Sun is firmly carving out her own lane. Unapologetically complex, her music defies the confines of genres as it features her signature style of soul R&B that speaks deeply to her generation but is also inspired by the greats that shaped her such as Billie Holiday, StevieWonder, Bill Withers, John P. Kee Fred Hammond, Lauryn Hill and others. Her latest album, Hold Space For Me, amassed over 36 million global streams and cemented Orion Sun as an artist to watch with her transformative, intimate soul. It solidified her as a critical press darling by garnering large acclaim from outlets such as NPR, BBC Radio, Pitchfork, i-D, Fader, Billboard, NYLON, Hypebeast, Stereogum and many more. Additionally, Orion Sun is now a two time 2021 Libera Awards Nominee for Breakthrough Artist/Release + Best R&B Record.
"When I think about the song 'Concrete,' there's a lot that comes to mind. There are so many emotions that come to the surface when I respond to the thought train of all the moments that lead me to this point. The warm hands of my ancestors have guided me through such tough terrain. I am comforted by them and in turn, given the strength to keep going," she says of the track.
"Sometimes the negativity can be loud and overbearing- both internally and externally. When I remember everything that I have done to get me here, the good and the bad, I am grateful for the lessons I have learned and I know that I make my family (dead or alive) proud. At the very least, I have not given up. Every time I walk out my door or see an airplane in the sky, I am reminded how small we are. It's moments like these that remind me that my life is beautiful because it is still happening. I'm still here. All I want to do with my time left on this earth is make a positive mark on the world and continue to make my loved ones and myself proud."
'Concrete' is out now via Mom+Pop, buy/stream it here.
Stay connected with Orion Sun:
Website | Soundcloud | Instagram | Facebook | YouTube