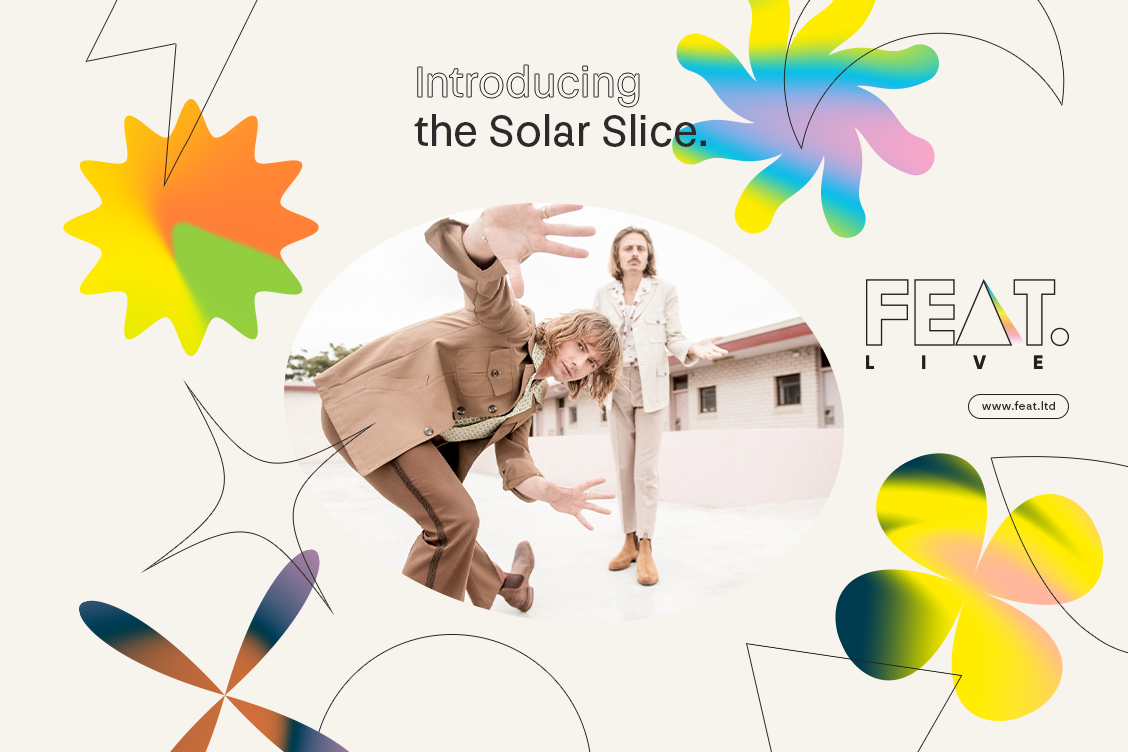 Introducing the 'Solar Slice' by FEAT. Live
FEAT. Live is spearheading a new climate action strategy designed to reduce the emissions of live entertainment by unlocking sustainability funding through ticket sales.
The 'Solar Slice' is the name of a ticketing surcharge that is built into the booking fee of partner events as an industry commitment to prioritising sustainability. 1.5% is the suggested (but negotiable) surcharge price point to symbolically reinforce the 1.5 degree warming target of the Paris Climate Agreement.
Hot on the heels of their for 'Best Live Act' at this year's ARIA Awards, Lime Cordiale and Chugg Music will be leading the charge as the first partner of Solar Slice in their upcoming national touring festival, The Squeeze which was announced earlier today. Members Oliver and Louis Liembach are proudly putting the environmentally driven principles that guide the way they do business upfront at the festival that they created with their managers Michael Chugg and Andrew Stone. Across the tour, The Squeeze will take $1 from each ticket and fund a carbon reduction program designed to reduce the tour footprint.
Oliver Leimbach of Lime Cordiale shares, "We know that putting on a festival of this size has an impact on the environment and there's no reason for us to ignore this in 2022. Musicians have always been the best at pushing for change and we're glad we have the opportunity to team up with FEAT. Live to change the way we look at touring and festivals. I know our fans won't have a problem with paying an extra dollar when they know how much difference it can make."
"The Solar Slice ticket is about baking sustainability into the DNA of live events. Oli and Louis and I have been chatting about this since before Covid, so it's super satisfying to be able to roll out the next evolution of the FEAT. mission together" shares FEAT. founder Heidi Lenffer (Cloud Control). She continues, "It's a pretty bold move, but we know for a lot of people this will be a no-brainer because so many of us are on the same page about climate urgency. We have about 8 years left to slash global emissions by 50% so this is the time to go hard."
Chugg Music's Michael Chugg adds,"The team at Chugg Music and I are so proud of our association with Oliver, Louis, and Lime Cordiale and what we've created with The Squeeze.  Taking this positive step forward with FEAT. Live to help the environment is something that we are equally proud of".
In preparation for the dates, the team from The Squeeze and FEAT. Live have been working together as a first step to estimate the tour's carbon footprint and identify emission hotspots and levers for reduction. This has come in at 15,800 tonnes CO2 for the entire tour, or 2,460 tonnes CO2 per show, which is roughly equivalent to the annual emissions of 1000 Australian households.
Using that information, Solar Slice revenue will then be used to drive carbon reduction measures, fund Lime Cordiale's sustainability priorities in collaboration with the FEAT. Live advisory board, and invest in critical industry solutions needed for long-term low-carbon live event operations.
FEAT. Live is developing a two-year investment pipeline that includes projects like mobile solar + battery power pilot solutions for festival sites, renewables power purchase agreements for venues, and audience travel emissions reduction programs.
Dependent on the total budget allocated from The Squeeze ticket sales, the Solar Slice program will target the following outcomes:
•Calculate a robust carbon footprint for the entire tour in order to identify emissions hotspots, and levers for reduction. Externally validate this footprint data.
•Incorporate a mobile solar array at a selected venue to capture energy-use data and partially power the event operations with clean energy.
•Purchase quality offsets to further minimise the tour footprint where it is not possible to reduce.
•Provide funding to Green Music Australia to assist on best practices for waste management, ethical merchandise, and plastic-free event operations.
•Direct a percentage of the Solar Slice to Pay The Rent initiatives to transfer touring wealth towards the sovereignty of the Indigenous community.
•At the end of The Squeeze tour, FEAT. Live will share how the Solar Slice revenue was spent.
FEAT. Live is delivering this program in partnership with carbon accounting experts Ndevr Environmental, who are registered to provide Carbon Neutral certification in line with international standards, via the Australian government's Climate Active program. The sustainability priorities have been identified in consultation with the live entertainment sector, First Nation leaders, climate scientists, and clean energy business leaders.
This pilot program with The Squeeze and Lime Cordiale is the first of many live event partnerships that FEAT. Live has in the works for 2022.
FEAT. Live is the sister company to FEAT. (Future Energy Artists) and a joint venture between Heidi Lenffer from Cloud Control (FEAT. founder), and James Clarke, Managing Director of entertainment and culture marketing specialists, Bolster.