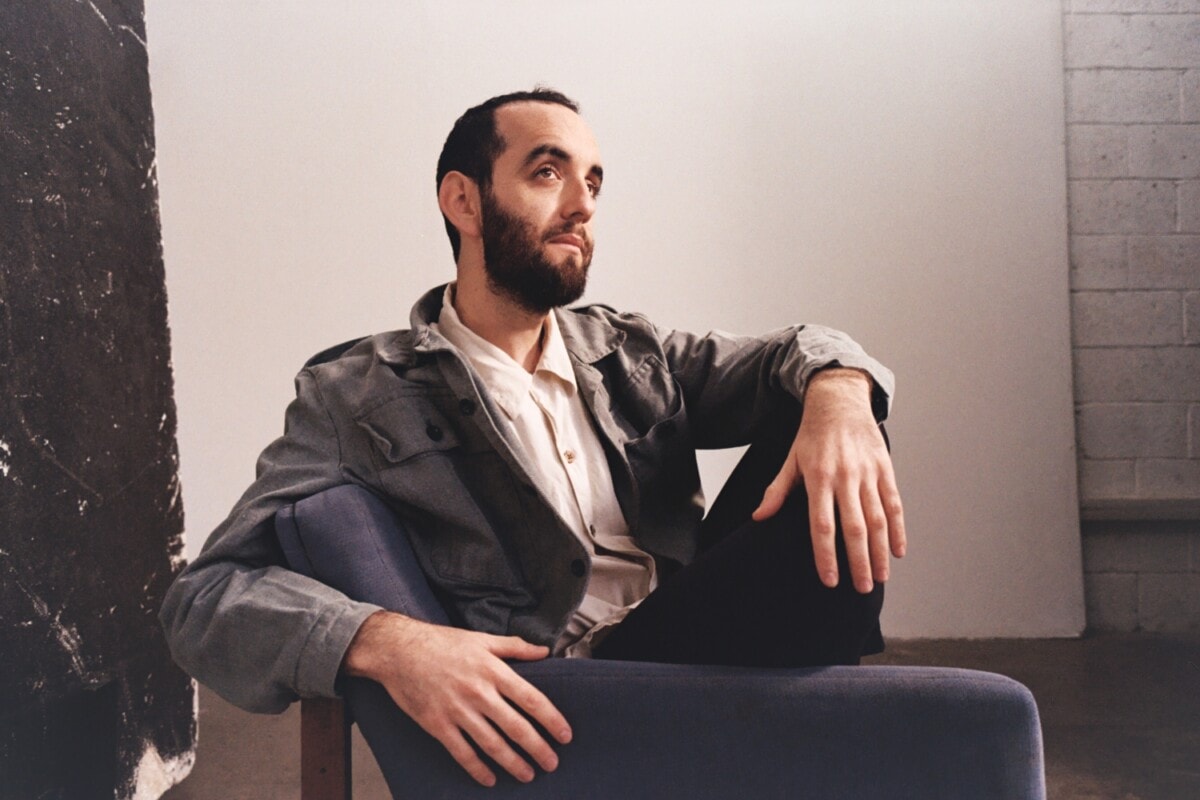 iogi's Playful "slow step on quality wood"
Photo by Michael Topyol
August 8 2023
PRAISE FOR iogi
1. eyes open (intro)
2. we can be friends
3. regular visitor
4. 6am
5. slow step on quality wood
6. dumbo
7. step in mind
8. walking on the air
9. p.i.o.t.s
10. wake up on time
11. she
12. i got just what i need (bonus track)
Stream "slow step on quality wood" by iogi here.
Tel Aviv-based singer, songwriter, and producer iogi today follows up on the title track off his forthcoming record, we can be friends with "slow step on quality wood." The album is out this October via Raw Tapes Records (Rejoicer of Stones Throw's label). Listen/watch "slow step on quality wood" HERE, and pre-save the album we can be friends HERE.
"slow step on quality wood" lives up to his self proclaimed title of being a "musical Swiss army knife." Where his previous single "we can be friends" explores man's relationship with nature behind a groovy, funky, synth led track, "slow step on quality wood" delves into his own perspective on new, fleeting relationships, showing that he can lay down fun, explorative, minimalist arrangements where every instrument (all of which iogi plays himself) can shine.
Of the track, iogi says, "'slow step on quality wood' talks about the random encounters with the life that surrounds us, whether it's another person, a plant or an animal. These encounters can be awakening if we manage to notice them amidst the chaos of human experience, and can fill us with insight and a kind of liveliness. I wonder about the connection between all of us on this planet, and I see a special link between people and animals. Sometimes I look at a plant or an animal and they'll remind me of a person I love and it makes me love them even more; it makes me see them in a different light and connect with them on a deeper level. Getting out of the crowded city is important to me. It reminds me of our interconnectedness in a way that makes our world feel a bit less dark and hopeless."
In the video, we see a continuation of the alien narrative told in his recent "We Can Be Friends," where iogi quite hyperbolically and humorously explores what our relationships with other beings can look like. Inside the suit is Max Oleartchik of Big Thief, for those wondering.

Watch "Slow Step on Quality Wood" HERE
iogi's indelible 2018 debut the ceiling garnered 8.7 million Spotify streams and 1.9 million plays on Bandcamp, and 2021's dreamy everything's worth it contributed to the culmination of an impressive career that's already included over 17 million Spotify streams, as well as extensive touring. iogi's signed with Raw Tapes Records, founded by Yuvi Havkin, who himself is signed to the influential L.A.-based label Stones Throw under the name Rejoicer. Raw Tapes can be viewed as Tel Aviv's answer to Stones Throw—an uncompromising, genre-defying label that houses a cosmically vast array of artists at which iogi fits right at home.
There's an inherent playfulness in iogi's songwriting—reminiscent of Harry Nilsson's seemingly effortless songwriting and Steely Dan's smooth elegance, as well as psych-pop contemporaries like Peel Dream Magazine and Unknown Mortal Orchestra. The ease with which these melodies flow can be a bit disarming; upon first contact, it sounds like music you've already been living with for years. The lush collection of chamber-pop songs that make up we can be friends embody his generous and easygoing spirit—a result of Iogi's ability to make music that radiates with empathy and thoughtfulness. This is music for afternoons where the sunlight perfectly touches the windowsill, as Iogi has returned with an album that is straightforward in its loveliness. The trip he takes you on is one you won't regret joining.
A reflectiveness permeates we can be friends, carrying a simple but important message: We're all in this together, so let's act with as much kindness as we can muster.