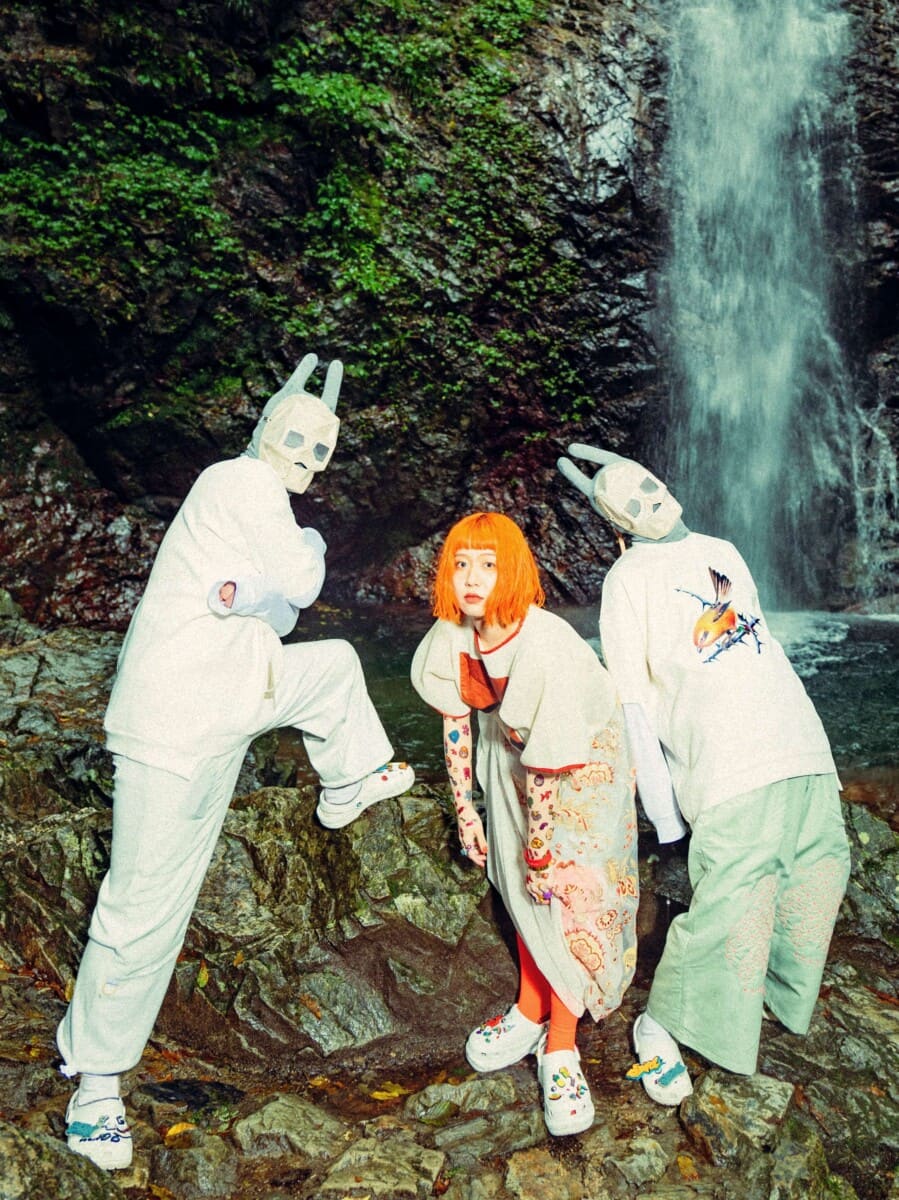 Japan's CHAMELEON LIME WHOOPIEPIE releases genre-bending album, 'Orange'
Masato Yokoyama
May 18 2023
Tracklist:
1. Chameleon Lime Whoopie Pie's Theme
2. Stand Out Chameleon
3. Mushroom Beats
4. Dear Idiot
5. Burn Out
6. LaLaLa
7. Dislike
8. Love You!!!!!!
9. Where Is The Storm
10. Skeleton Wedding
11. scrap
12. Wonderful
13. Unplastic Girl
14. MANabUUUU
15. Indie Slime
16. Crush Style
17. Whoopie Is A Punkrocker (feat. Stephen Harrison of FEVER 333)
The album Orange is out now, listen here.
CHAMELEON LIME WHOOPIEPIE today shares their new 90s-alternative-inspired, electronic/pop/rock album, Orange. With the release of their record, they also share the music video for "Burn Out," an upbeat track that defies the boundaries of genre, along with the rest of the 16 other song on this staggeringly impressive record. "Burn Out" is an immaculate reflection of CHAMELEON LIME WHOOPIEPIE's playful desire to take inspiration and run far and wide with it. Watch "Burn Out" HERE and listen/save Orange HERE.
CHAMELEON LIME WHOOPIEPIE's "Burn Out" is a little bit like a fever dream, but one where you wake up wishing you could go back in, not really sure what you just saw. Even though Chi- is literally sat atop piles of trash, the sky is raining gummy worms, and a swarm of balloon animals are tethered to her, keeping things optimistic.
Of "Burn Out" Chi- says, "I'm just tired of all the worrying and all the gloom. I don't care anymore about all that. I don't care about what happens next. "Burn Out" is a pop song that starts out negative and turns out positive."
CHAMELEON LIME WHOOPIEPIE is led fearlessly by Chi- – who wears her hair in a daring trademark orange French bob – and backed by Whoopies No.1 + Whoopies No.2. Drawing inspiration from artists like Beastie Boys and Beck and steering it in the direction of hyperpop, CHAMELEON LIME WHOOPIEPIE has been tapped by Spotify Japan as a "RADAR: Early Noise" artists, and have since garnered 7 million streams on Spotify alone. Every aspect of the creative direction is shared between the three members of the group, from the visuals, the styling, the production, and the writing process. The creativity of CHAMELEON LIME WHOOPIEPIE and the energy they put into the music is unmatched. With one of a kind eclectic taste, CHAMELEON LIME WHOOPIEPIE creates a chaotic, upbeat, almost cartoonish world, while delving into our darkest human emotions. CHAMELEON LIME WHOOPIEPIE is the next-gen artist who is going to sublimate the hyperpop genre with their double-sided creations.
CHAMELEON LIME WHOOPIEPIE recently wowed US crowds at SXSW with the immaculate party atmosphere of their live set. In Japan, they've already made their TV debut on CDTV (a late night show on TBS Japan), have been synced on Uber Eats Japan, Featured in NYLON Japan, and have collaborated with Grammy-nominated rock band FEVER 333 guitarist Stephen Harrison (Harrison DM-ed the band himself, asking to collaborate), UK techno producer (and Kelis, Ed Sheeran collaborator) TCTS and Tokyo Experimental beatmaker PARKGOLF. Additionally, NYLON JAPAN invited them to perform at the NYLON JAPAN 19th anniversary event at the end of April, VIBE just recently dubbed them one of the Best at SXSW, and they have even more exciting announcements coming up following the exciting release of this epic album, Orange.