LÂLKA flourishes on rousing debut EP The Way Music Looks
Today producer-vocalist LÂLKA unveils her debut EP, The Way Music Looks. Premiered overnight via Germany's leading art, fashion and music magazine Kaltblut, listen + watch HERE.
Speaking to the meaning of her debut, LÂLKA shares: "I have recently come to understand that the thing I've always wanted most, even when I was a child, was to be seen. An introvert in nature but absolutely bursting with the desire to express, I coveted the casual self-assurance I saw in others and the influence they exerted as I waited, invisibly, to be seen. Now here I am, after years of absorbing skills and coping mechanisms. Ready to show a facet of my psyche. Proud to show it. Here it is."
This force pieces each moment across The Way Music Looks, an inexplicable sense of confidence, assurance and strength that sees LÂLKA push the depths of sonic contortion, empowered and speaking candidly on her life experiences. Rounding out recent singles 'Angel/Jezebel' and 'Atomic Blonde' includes a candour take down against the naysayers on focus single 'Gold Lies' made collaboratively with Ninajirachiand Donatachi; her own diss track in the form of 'XOXO Kiss Kiss Kiss', against the arrogance from mediocre personalities; and speaking again to her drive to achieve and feeling underestimated on the Oh Boy co-produced 'Make U Nervous'.
The result is a carefully crafted whole, a passionate display of unbridled self expression that sees LÂLKAarrive as a didactic musician and artist at the helm of her own making, ushering herself into pop music's new era. Its electro-pop make-up traces its undercurrent of proving one's self worth with resolute commentary on trying to belong, while performing and living as an artist of colour in so called Australia. This weekend LÂLKA will launch her debut EP via Bandcamp Livestream at 8 PM AEDT on Saturday 20th March, incorporating virtual graphics mixed with real-time footage.
Completing the release is a set of visualisers for its five song track list, produced entirely by LÂLKA, plus a limited edition lipstick made with Dunkle Authentic. Handmade in Australia using ethically sourced mineral pigments, the 'LÂLKA shade' is made of nourishing plant oils and mango seed butter designed to naturally elevate your look. Sustainable, ethically sourced and vegan. The artist will also release a photo book (digital and physical) that deep dives in the EP's making, including behind the scenes photos and collage of Ableton stems, lyrics and more available via her website lalka.online.
The Way Music Looks is out now, buy/stream it here.
TRACKLIST
Angel/Jezebel
XOXO Kiss Kiss
Atomic Blonde
Make U Nervous
Gold Lies
PRAISE FOR LÂLKA
Unearthed Feature Artist
triple j
"Bass driven PC flavours that HIT!"
Andy Garvey, triple j
"Hyperpop brilliance"
NME
"For fans of Why!, M.I.A. and the Internet (not the band)"
The Guardian
"Has time and time again proven her place in the upper echelon of
Australia's underground pop scene"
Pilerats
"PC pop leader of the future"
Tone Deaf
"A colourful collage of contemporary self expression"
Sniffers
Stay connected with LÂLKA:
Website | Facebook | Twitter | Instagram | Youtube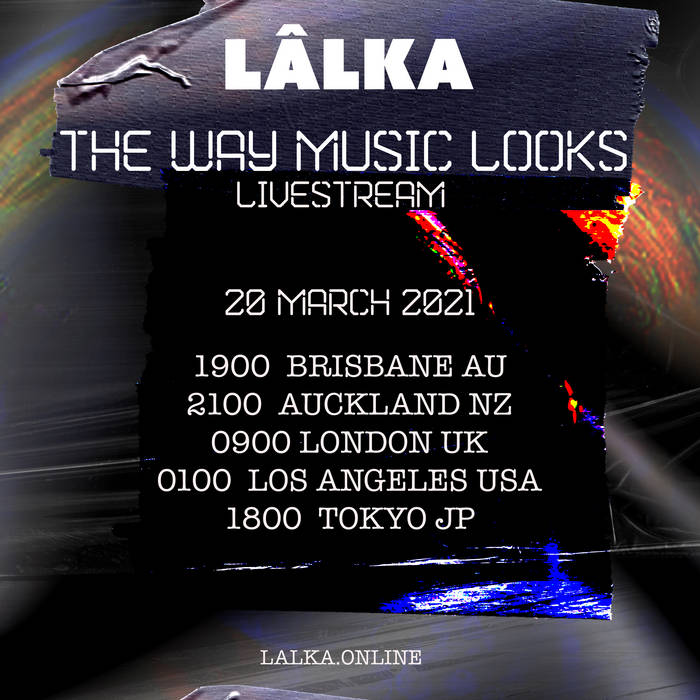 ABOUT LÂLKA
Producer, vocalist and musician creating glitchy hyperpop + high-octane aesthetics. With her unique vocal style and punk energy, reflected in her online presence and manifesting in her live performances, LÂLKA forms a niche musical sphere that is entirely her own. Herbrazen take on pop experimentalism has been called many things: "the future" by Tone Deaf, "attitude-filled organised chaos" by Stoney Road, "too cool for this world" by Fashion Journal and many more. Since first emerging with her debut 'Dare You To Love Me', LÂLKA has steadily worked and built her portfolio to include supporting Charli XCX, Alice Ivy, Genesis Owusu, Miss Blanks and more alongside appearances at BIGSOUND, Laneway and FOMO festivals in recent years. Her contortion of glitchy hyperpop through the lens of her own experiences is palatial and ferocious with plenty of tongue-in-cheek energy. Her dynamism comes to life through dance, real-time sample triggering and live instrumentation as a classically trained musician.