Lewis CanCut shares debut mixtape Magic Circle
LISTEN TO NEW SINGLE 'FREAK' WITH THAI CHI ROSE OUT VIA NLV RECORDS
PRAISE FOR LEWIS CANCUT

"Masterfully produced, genre-defying sounds"
DJ Mag

"Lewis CanCut is the perfect ode to pop, making him one of the most prolific
electronic producers in the country"
Purple Sneakers

"A rewarding exercise in music consumption"
Stoney Roads

"Percussive, progressive and party-starting worldbeat"
The Music
Naarm-based producer, sound designer, composer and DJ, Lewis Cancut, is today releasing his debut mixtape, Magic Circle via his long-time home at NLV Records. Featuring the previously released track 'The Wizard', the mixtape also features his new single 'Freak' featuring London MC Thai Chi Rosé. Both singles are due to be released together on a limited-edition split 7". LISTEN HERE + ORDER VINYL HERE
'Freak' takes things deeper into the club, with the London MC offering up the driving vocal sample throughout. Though the pair live on opposite ends of the earth, the collaboration came to be through NLV Records' label head, Nina Las Vegas, who previously worked with Thai Chi Rosé on her 2020 single 'Impossible'.
"There was no conversation at all about where she was going to take it, she just sent back some ideas,"Lewis said of the collaboration. "I've always loved a lot of the electro that came out of LA during the 80s from artists such as Egyptian Lover and The Unknown DJ (music with a lot of references to 'Freaks'), so I was really surprised when she sent back the vocals. It's like she picked up on the influences straight away."
Lewis is no stranger to the NLV Records roster, with his debut release on the label featuring on their inaugural Sampler back in 2015. He has since released two EP's (2016's Indoor Rainforest and 2019's Air Condition) and a bunch of singles, with his new mixtape Magic Circle being his biggest and most ambitious project with the label to date.
The mixtape aptly kicks off with the title track, throwing us headfirst into this pliant sonic world that Lewis has crafted over the course of the project's eight tracks.
The opening title track, 'Magic Circle' is striking without percussion, instead of using the breath of an undulating sound design to keep time. This ambient opener is soon contrasted by 'Ghost Track', which instead offers up punchy electro; splicing together haunting arps, a punchy 101 and crisp percussion to make for a hypnotic blend of spooky sounds. It's a sonic pallet that's drawn straight from Lewis's love of electro's founding artists. 
"Having so much time during lockdown without the pressure of doing shows, I ended up listening to records for hours and hours each day," he said. "Especially – heaps of electro, synth-pop, and boogie, all very synthetic styles of music that have heavily influenced me over the years. The way electronic music can be made almost from nothing like conjured out of thin air is a kind of magic, and these records each became like magic circles,"
On 'Labyrinth', Lewis expands on some of the previous sounds from his 2019 EP, Air Condition; breathing new life into the fizzle and pop of his previously carbonated sonics. Contrasting the saccharine sweetness of the track's bounce with a heavy-set, pitched-down vocal sample, the track is tied together via a dynamic sweep of carefully-modulated pads. The sound design truly makes you feel as though you're lost in a labyrinth, turning corners and cycling through sounds faster than you can find the exit.
But before long, you find the 'Hidden Fortress', where the mixtape's electro influence feels most prominent. Stormy samples dot the ominous soundscape, whilst a revolving arp breathes in and out of the foreground. Squelchy acid and a panned laser add to the chaos, causing the storm to come to a head. On 'Soft Machines', Lewis blends breakbeat with softer pads, contrasting the hurricane we previously heard. A pulsing acid-line rips through the false softness, tearing any sense of security to shreds. As with the rest of the mixtape, he doesn't allow you to settle into any one particular mood before he rips the carpet out from under you.
Rounding out the mixtape is 'Royal Court', a slower-paced call-and-response between two differed vocals. A muddy, pitched-down vocal chases a pitched-up high, telling a story of push-and-pull against this careful tapestry of blended 90's rave stabs.
To celebrate the release of Magic Circle, Lewis CanCut will be having a launch party at Capers Thornbury on Saturday 5th of March from 4pm – 9pm. He will also be joined by special guests Nina Las Vegas, FOURA, Paz, Swick and Ransom. Tickets are available HERE.
Magic Circle by Lewis Cancutis out now via NLV Records
buy/stream it here.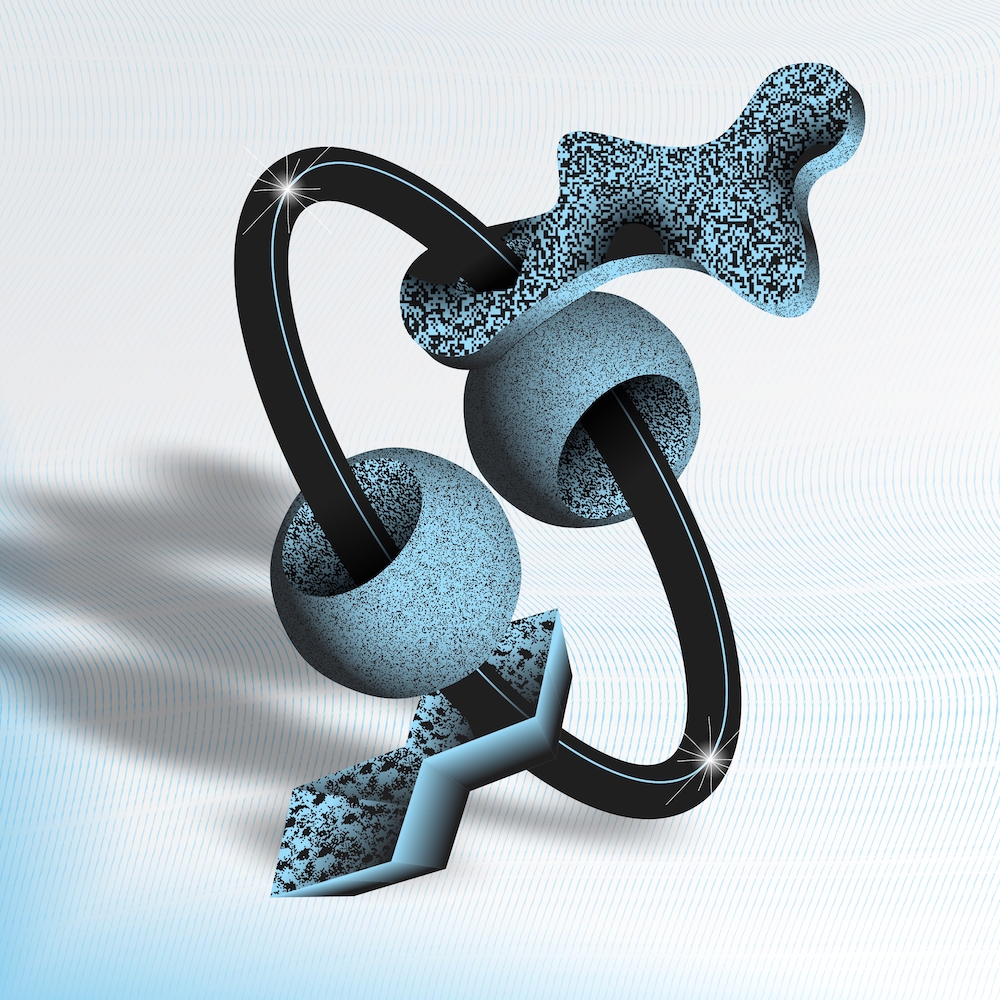 Artwork by Paz
TRACKLIST
Magic Circle
Ghost Track
Freak (feat. Thai Chi Rosé)
The Wizard
Labyrinth
Hidden Fortress
Soft Machines
Royal Court
Stay connected with Lewis CanCut:
Bandcamp | Facebook | Instagram | YouTube | Twitter | SoundCloud
ABOUT LEWIS CANCUT
Lewis Cancut's last long-form release via NLV Records was his Air Condition EP back in 2019. In the three years that have passed, he's been busy completing his Master of Fine Art by coursework at the Naarm-based RMIT University. Lewis has previously released a range of club-ready works with the label that has seen him collaborate with the likes of Tigarah, Jordan Variant, Hatsune Miku, and more.

Including his work with NLV Records, Lewis has over fifty compositions released with labels around the globe. He's toured both locally and internationally, and has produced works for a range of artists including Jennifer Lopez, Tkay Maidza, Haiku Hands, and Branko, among others.

On the sound design and composition front, Lewis has previously been commissioned to compose audio for video installations at ACMI Melbourne, a range of textured VR environments for the Miller Design Lab, Snapchat lenses, & more.