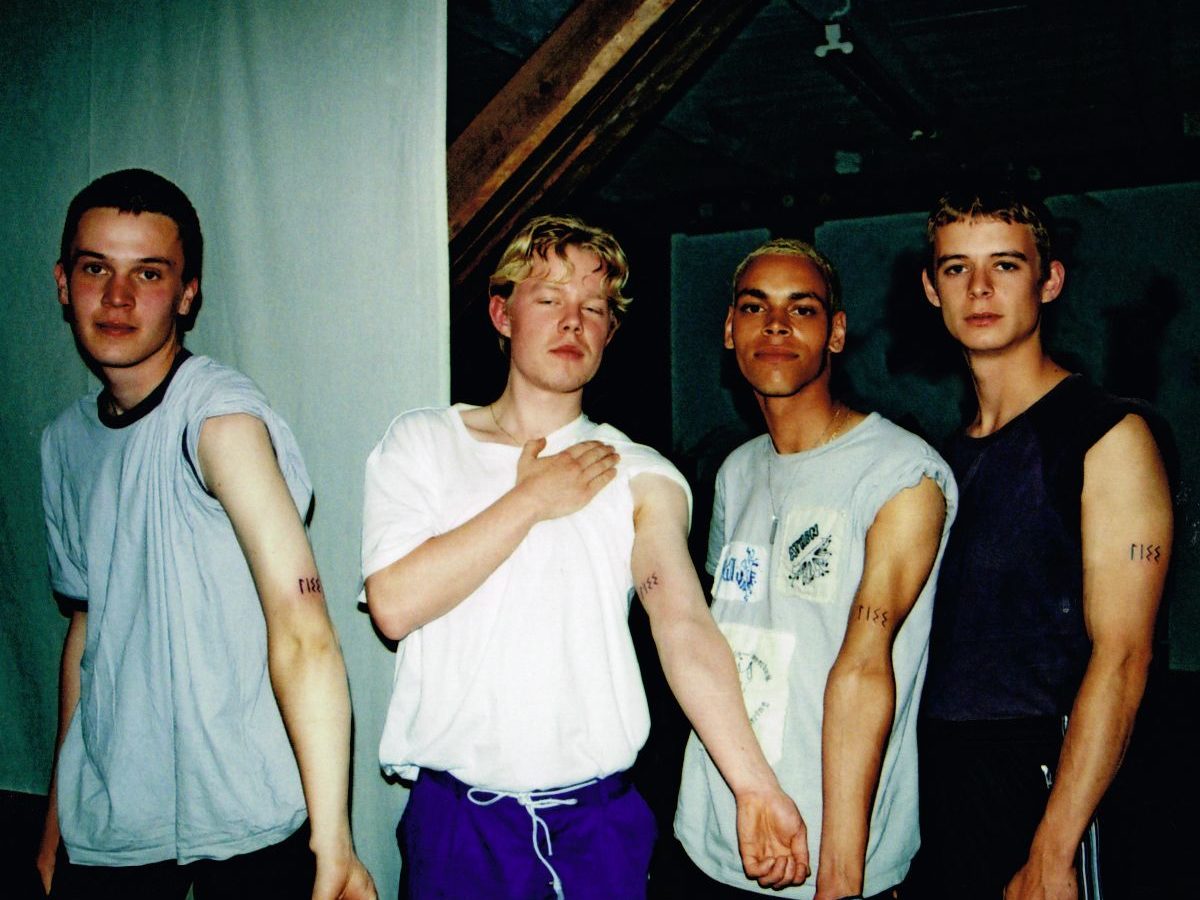 Liss honor late lead singer with debut album, 'I Guess Nothing Will Be The Same'
LISTEN/WATCH 'NOBODY REALLY CARES'
PRAISE FOR LISS

"Rejoicing and elated: a respectful commemoration of a lost talent"
DIY

"a remarkable debut album…clever and witty songs, which draw from grunge and pop, Balearic and guitar-funk"
The Face

"a dreamy guitar groove"
FADER

"a cozy, deeply catchy indie-pop song that harkens back to the age of iconic folk-rock bands"
PAPER

"had me hooked the moment I pressed play"
NYLON

"the boy band for people who don't like boy bands"
i-D

"an undeniable tinge of Prince in Holm's pitch-bending vocals and the occasional pluck of Villads Tyrrestrup's bass"
Interview
Danish four piece, Liss, today share their debut album in the hopes of creating a lasting legacy for late lead singer Søren Holm"s life, love and talent. Listen to I Guess Nothing Will Be The Same digitally HERE (+ order on vinyl HERE) via In Real Life / Escho.
Although recording began many years prior, the album was only finished shortly before Holm tragically passed away in May 2021. From the most recent release "Boys In Movies ft. Nilüfer Yanya", which oscillates gorgeously between dark, grungy guitar chords and a sunny, optimistic ear worm of a chorus, to "Exist", an ethereal plea with hints of a hymn in the vocal stacks, the record shows all the transfixing sides of Liss with extraordinary heart.
With today's release comes a new video for 'Nobody Really Cares' filmed in Western Denmark, the area where Holm was raised. Shot by his two dear friends Albert Hildebrand and Yasmina Derradj, this video embraces the Western Danish wilds with portraits of Holm's friends blended with clips of natural elements as the visual become more + more surreal. Watch HERE.
Of the debut album's release today, Liss share, "Today our album 'I Guess Nothing Will Be The Same' is released. We have spent an important part of our life together since we started the band seven years ago. It has been amazing to be able to make music with your best friends and share so many great experiences, almost nonstop. Søren was always the one who made us understand each other better. He was extremely generous with his creativity and as a human being. We would like to thank Søren's parents, Leonida and Niels, for supporting us in releasing this album. All the amazing people we've worked with over the years, you know who you are. And to all of you who have listened to the music and shown up at the concerts over time — this album is for you."
The project's title, I Guess Nothing Will Be The Same, is a line from, "Text Me Back," a song about a break-up with someone you love that closes out the new album. Shares the band,"The title has taken on a new meaning since we lost Søren, but we don't feel that the album can be called anything else. Even though we feel confident in releasing the music, it is still difficult to do. Working with the material is a constant reminder of Søren's absence." They continue, "It is important to break the taboo that is connected to suicide, and as we choose to release the music and speak openly about what has happened, it is with the hope that others who may be in a difficult place in their lives or who experience suicidal thoughts will find the courage to talk to someone about it. Losing Søren is the hardest thing we have ever experienced, and we wish with everything in the world that it had never happened. We will never stop missing him."
The world was first introduced to Holm's off-kilter charm and mesmerizing voice in the video for Liss' debut video, "Try", in 2015, which lingers on an extreme yet beautiful close-up of his face. In the pursuing years, Søren and his fellow band members Villads, Vilhelm, and Tobias navigated Liss' rise in popularity and everything it brought with it. Co-signed by the likes of Pharrell Williams, they soon followed up with the widely praised First EP (2016) released via legendary label XL Recordings. After an enforced hiatus, they returned with their EPs, Second (2019) and Third (2020). Combining Holm's captivating voice with their grungy take on r&b, soul and alternative pop, stints on the road with artists like Vampire Weekend, MO and Jungle soon followed, all of this winning them fans at FADER, i-D, NYLON, Interview, DIY, and many more along the way.
I Guess Nothing Will Be The Same is out now via Escho / In Real Life,
listen/buy it digitally HERE + on vinyl HERE

Tracklisting:
Country Fuckboy
Nobody Really Cares
Sure
We're Toxic
Boys In Movies (feat. Nilüfer Yanya)
We Made It
Exist
Dead Flower
Ice Melting
Turn Your Back On Me
Text Me Back
Stay connected with Liss
Instagram | Twitter | Facebook
If you have suicidal thoughts, tell someone. If you think that someone you know has suicidal thoughts, ask them about it. Suicide prevention lifelines: US 1-800-273-8255 / UK 116123 /DK 70201201
General guideline on suicide reporting here and resource for media professionals about suicide prevention via WHO