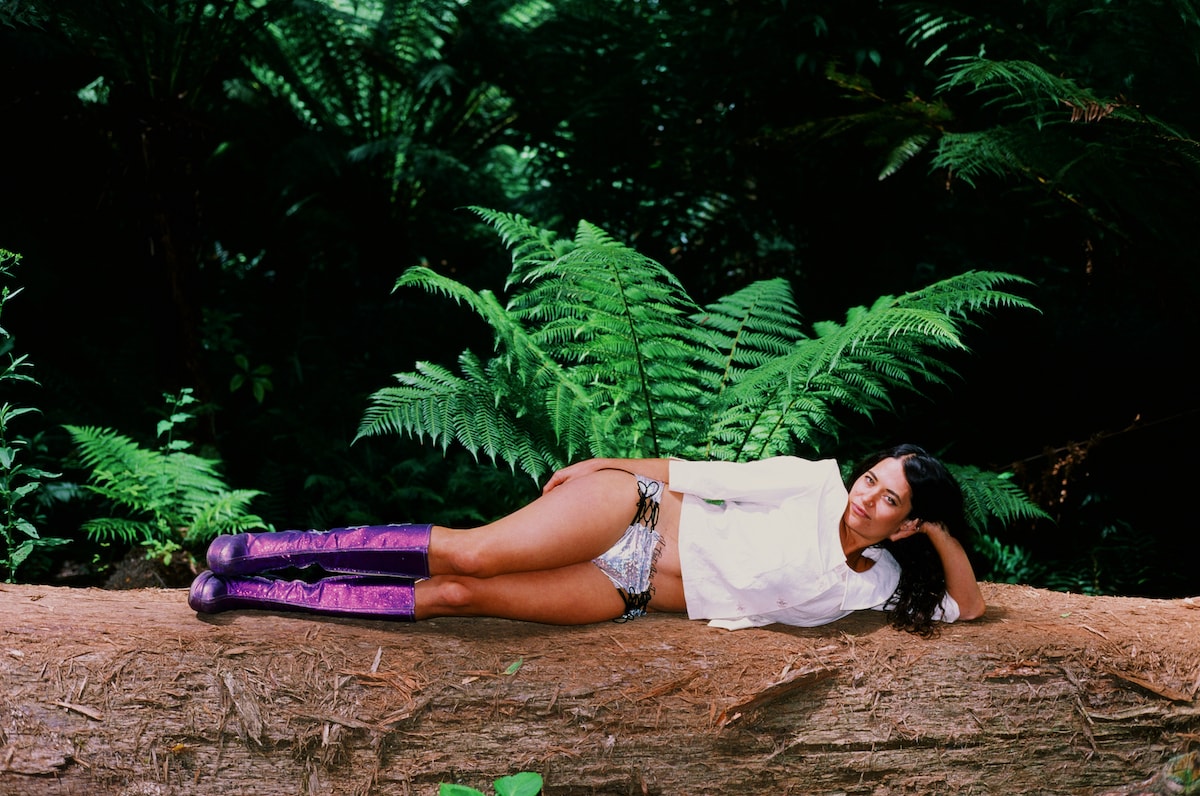 Maple Glider returns with new single 'Don't Kiss Me'
Photo by Bridgette Winten
May 16 2023
PRAISE FOR Maple Glider
'Don't Kiss Me' is out now via Pieater / Partisan Records, buy/stream it here.
Today we welcome back Maple Glider with a new track 'Don't Kiss Me', the first new slice of original music from the Naarm/Melbourne-based artist since her breathtaking debut album To Enjoy is the Only Thing (Yes, there will be a new album in '23). LISTEN + WATCH HERE.
'Don't Kiss Me' takes Maple Glider's sneaky-catchy psych-folk and turns it into a powerhouse slow-builder, and was written as a counterattack on unwanted sexual attention and the objectifying gaze ("I was just a baby until you made me into a lesson to be learned"). Those in Australia who've seen Maple Glider play live will remember the song as one of the most moving moments in the set – moved to feel sad, angry, and empowered all at once.
She adds: "I didn't think much of this song when I wrote it. I had a terrible recording of it on my voice memos where I wailed out of key, and it got buried somewhere in there for two years or so before I uncovered it again. I felt so connected and ready for it when I found it again that I started playing it regularly at shows. It's a song about consent, and the experience of being predated on by older men as a girl/young woman. I think many of us are aware of that strong urge to say 'fuck off' and be left to our own."
Inspired by 60s – 90s fantasy and gothic films, the accompanying video is a comedy-horror shot on handycam, co-directed by Maple Glider and Joshua Tate. It follows Maple Glider on a journey to find some time and space to be alone in peace. There's a little turbulence along the way, but thanks to her goth-witch doll pal, anybody who gets in the way of her dream is LASERED with superpower-laser-eye-beams. Featuring members of the Maple Glider live and recorded band as "villains", it's a playful lo-fi visual accompaniment to the song.
The project of singer-songwriter Tori Zietsch (pron. like 'peach' with a z), arrived with her 2021 debut LP, To Enjoy is the Only Thing, compiled of striking vignettes from her life; growing up in a restrictive religious household, falling in and out of love, cross-country and international travel, longing, alienation, and more. Full of brittle intimacies and effortlessly balanced instrumentation (not a note wasted), brought to vivid life by the beauty of Tori's artistry and wry sense of dark humour.
Maple Glider's debut earned her over 22M steams, a performance on NPR's Tiny Desk, Stephen Colbert's #PlayAtHome series, as well as praise from Pitchfork, NPR Music, Paste, KCRW, Gorilla vs Bear, Consequence, VICE, triple j and Double J, NME, Rolling Stone, Frankie, 10 Magazine amongst others including Album of the Week placements nationally. Her music has been described as "hypnotic" (Pitchfork) and "sublime" (PAPER), and as Stereogum has put it "some voices in indie just hit home". Earlier this year Maple Glider also released a hypnotic cover of Shania Twain's classic 'You're Still The One'.