MAY-A announces Don't Kiss Ur Friends East Coast Tour
TICKETS AVAILABLE NOW FOR MAY 2022 SHOWS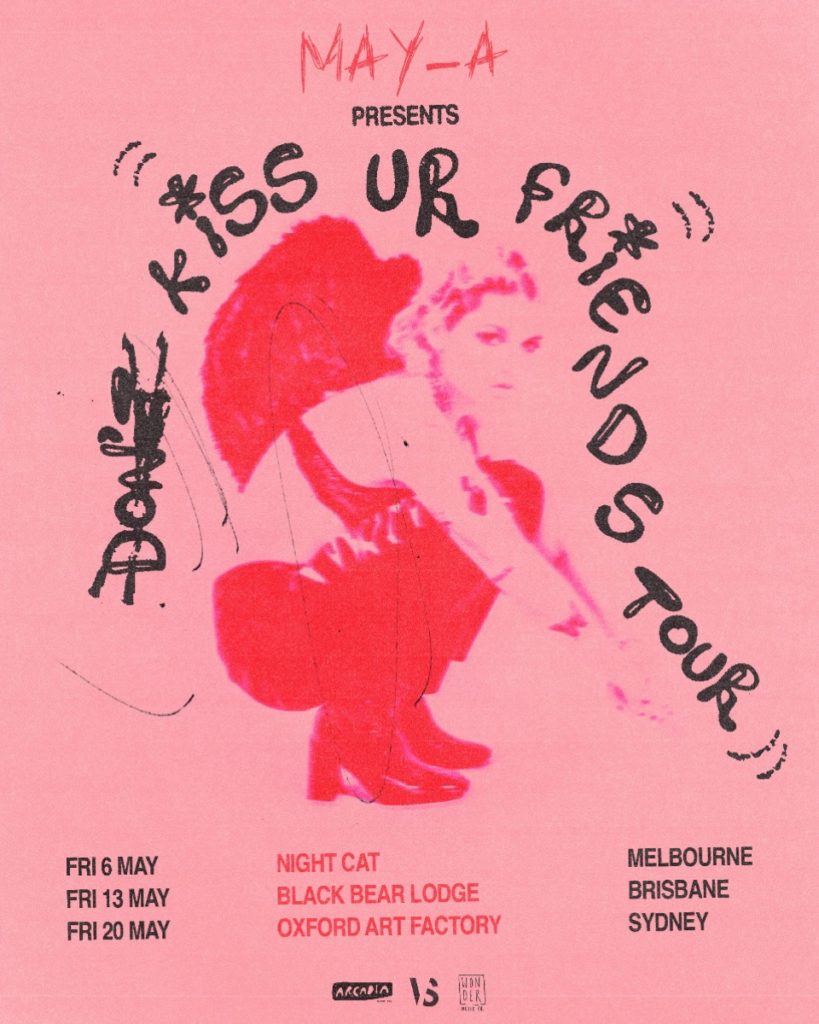 PRAISE FOR MAY-A
"A proper pop whiz"
triple j
"Rising pop talent"
Billboard
"MAY-A is moving full force"
PAPER Magazine
"One of Australia's promising new talents"
Gaytimes
"Euphoric track 'Apricots', which sees May-A tell the story of
her first same-sex relationship should be part of
a coming-of-age film soundtrack"
Vogue Australia
"Welcome to your new fave artist"
DORK
Capping off a breakthrough year that has culminated in her first ARIA nomination, fast-rising star MAY-A today announces the Don't Kiss Ur Friends Tour, performing across Australia's East Coast in May 2022. BUY TICKETS HERE.

The past twelve months have seen Maya Cumming, PKA MAY-A, ascend with each release. Her debut EP, including key releases 'Central Station', 'Swing Of Things', 'Time I Love To Waste' and 'Apricots', is a sweeping years-in-the-making debut, from an artist who has been writing since the age of 12 but has only, over the past 18 months, begun to share her once private creative trove with the wider world.

Don't Kiss Ur Friends brims with the elated rush of these formative years, but is tinged below with the hurt that so often accompanies them. Plaudits for MAY-A's generational songwriting have flowed from far and wide in due course, racking up tens of millions of streams, amassing over 250k YouTube subscribers and heralded as "glorious" by Variety, the mark of a "proper pop wiz" by triple j and "a soon-to-be-star" by GayTimes, "your favourite new artist" by Dork Magazine, amongst others.

This May 2022, MAY-A takes Don't Kiss Ur Friends on the road, following feverish anticipation and her sold out, debut headline tour last March, supporting performance to The Veronicas, collaborating with Budjerah on 'Talk', a limited edition capsule merch collection with Fragile Minds for Depop, alongside her feature in Vogue Australia's Sound of Now profile on the next generation of Australian musicians and much more. On stage, MAY-A will give the intimate life moments threaded across her debut EP, the live girl band experience. Support acts TBA, see all tour details and ticket details BELOW.

Don't Kiss Ur Friends EP is out now, buy/stream it here.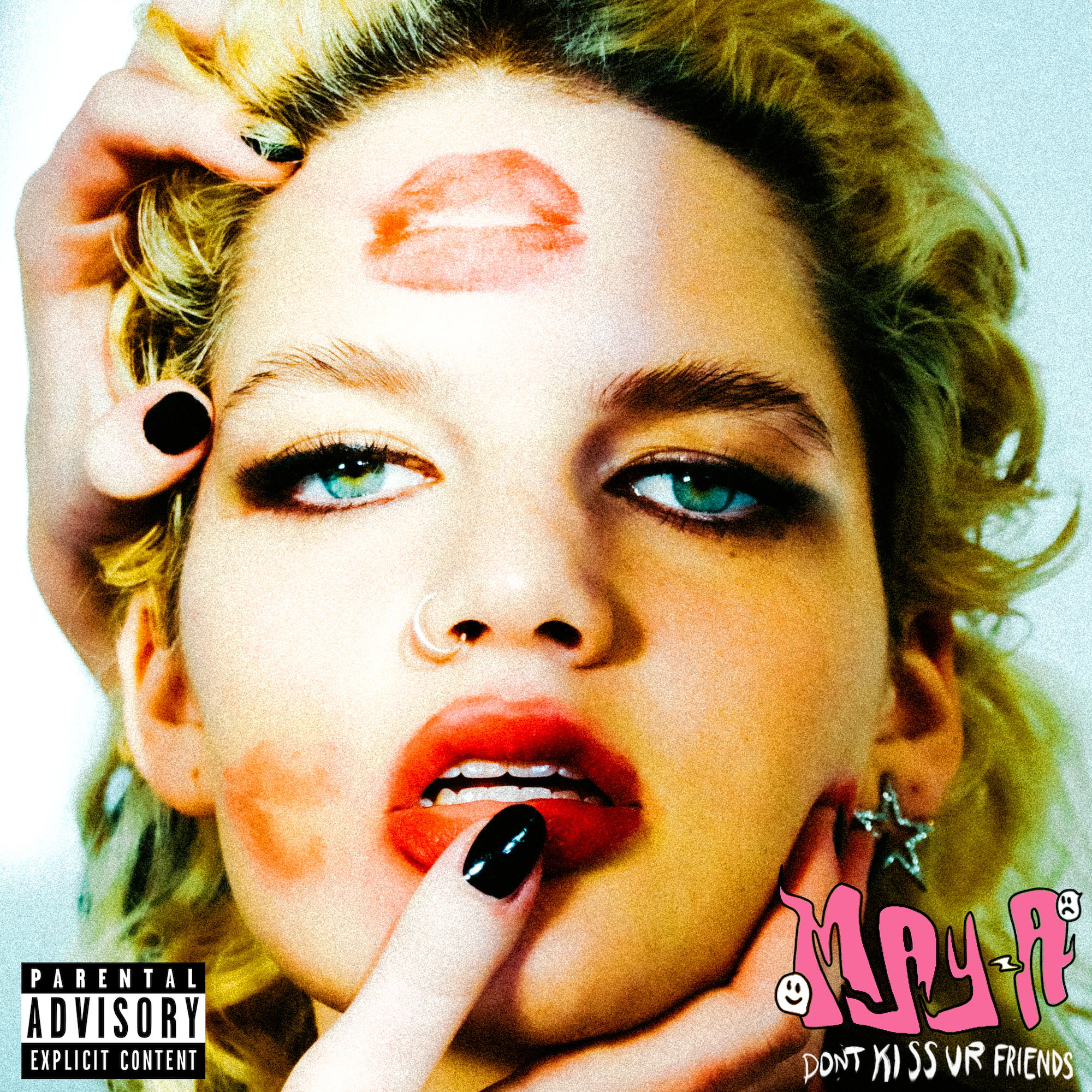 TOUR DATES
Jan 1 – Field Day at The Domain – Warrang / Sydney
Jan 18 – Sinclair – Shawmut / Boston, MA
Jan 20 – Webster Hall – Lenape Land / New York, NYC
Jan 21 – Union Hall – Nacotchtank Land / Washington, DC
Jan 22 – Foundry – Coaquannock / Philadelphia, PA
Jan 25 – Lee's – Tkaronto / Toronto, ON
Jan 26 – A&R Bar – Erie, Kiikaapoa, Shawnee Land / Columbus, OH
Jan 27 – Metro – shikaakwa / Chicago, IL
Jan 28 – Turf Club – Dakhóta Land / Minneapolis, MO
Jan 29 – Record Bar – Kansa Land / Kansas City, MO
Feb 01 – Marquis – Apache, Ute, Cheyenne, Comanche, Arapahoe Land / Denver, CO
Feb 02 – Soundwell – Pi'a-pa / Salt Lake City, UT
Feb 04 – Crocodile – Si'ahl / Seattle, WA
Feb 05 – Aladdin – Chinookan Land / Portland, OR
Feb 08 – GAMH – Ohlone Land / San Francisco, CA
Feb 09 – Lodge Room – Tongva Land / Los Angeles, CA
Feb 11 – Crescent Theatre – Hohokam Land / Phoenix, AZ
Feb 15 – Antone's Club – Tonkawa Land / Austin, TX
Feb 16 – Club Dada – Commanche Land / Dallas, TX
Feb 18 – Basement East – Creek, Yuchi, Chickasaw, Choctaw, Cherokee, Shawnee, Seneca Land / Nashville, TN
Feb 19 – Vinyl – Creek, Cherokee Land / Atlanta, GA
May 6 – Night Cat – Naarm / Melbourne
May 13 – Black Bear Lodge – Meeanjin / Brisbane
May 20 – Oxford Art Factory – Warrang / Sydney
Tickets are available HERE.
Stay connected with MAY-A:
Facebook | Instagram | Youtube | TikTok
ABOUT MAY-A
Songwriting since age twelve, Maya Cumming has honed a brand of lyricism that marries the classic pop structures and storytelling of the parental favourites that permeated her childhood home, together with the nonchalant Gen Z cool of Clairo, and the suburban poetry of Lorde.
With her poignant, elliptical storytelling, clear-eyed observational lyricism, and songwriting full of musical left-turns, as MAY-A she interrogates the realities of youth with clarity and maturity beyond her nineteen years to global acclaim.