Michl Shares Cathartic 'Self'
FORM FOLLOWS FUNCTION OUT JUNE 2022
PRAISE FOR MICHL

"cult indie electro artist"
Paper

"pushes the envelope by blending heavy bass wubs with guitar plucks and dashes of piano chords"
Billboard

"emotional, thoughtful, almost introspective lyrics"
Complex

"perfectly articulates the whirlwind experience of falling in love"
Line of Best Fit
Though rarely interviewed or choosing to step into the spotlight, LA born & raised artist, Michl, already has fans worldwide: 100M streams on his debut single, collaborations with Mura Masa, Tove Lo, among others, and a loyal following awaiting his next move. Today he shares a follow up to "Digital Parallax", with the reflective new track "Self", co-produced by Ritt Momney. Listen HERE and watch the accompanying visualizer HERE.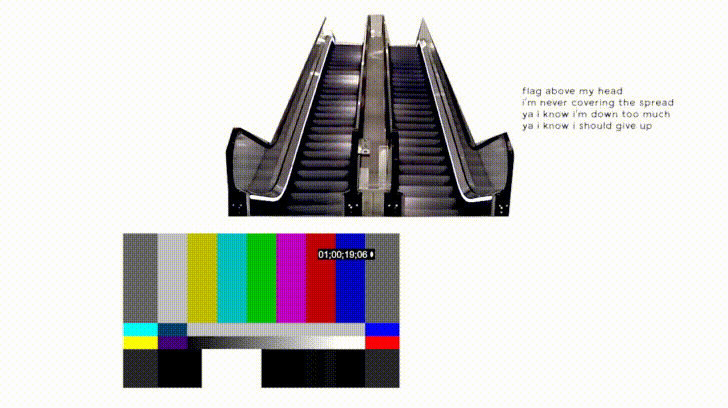 On "Self", Michl blends pop, electronic, and R&B, exploring the possibilities and results of making himself a name, sharing "I could make myself a name and lose myself." Offered with a minimal yet compelling visual he created himself, Michl gives listeners a look inside his head: an escalator depicting the up and down emotions he's always tried to level out, and a childhood photo from his first day of school as a reminder to not lose himself in the industry and in his life. In the past, he has kept himself hidden from the public eye, but with this new chapter, he's opening up about his fears, leaving his architecture degree behind, and showing who he really is behind the screen.
About "Self", Michl shares, "I've always found it hard to navigate being in the music industry. I tend to shy away from the spotlight, it's been my personality since I was a kid. I sometimes wonder if I had a different personality if I'd be more successful or not, and these are the thoughts I have about it all."
Michl was raised in LA to Bolivian-Mexican parents on the varied sounds of James Taylor, Cat Stevens, Simon & Garfunkel, mariachi groups, and more, all of which deeply influenced his widely acclaimed self-titled debut EP. He dove head first into music after a complete career-change, using the knowledge he gained while acquiring a degree in architecture to build enticing and entrancing visuals to accompany his sounds. He's played alongside Billie Eilish, Mura Masa, BROODS, Tove Lo, and has since garnered +200 million streams, as well as key fans at Billboard, Complex, Paper, Wonderland, Line of Best Fit, and more. Now, Michl is straying away from his mysterious online persona and giving fans a deeper insight into who he is… a more comfortable, reborn form of himself.
"Self" is out now, buy/stream it here.
Stay connected with Michl:
Instagram | Website | Facebook | Twitter | YouTube