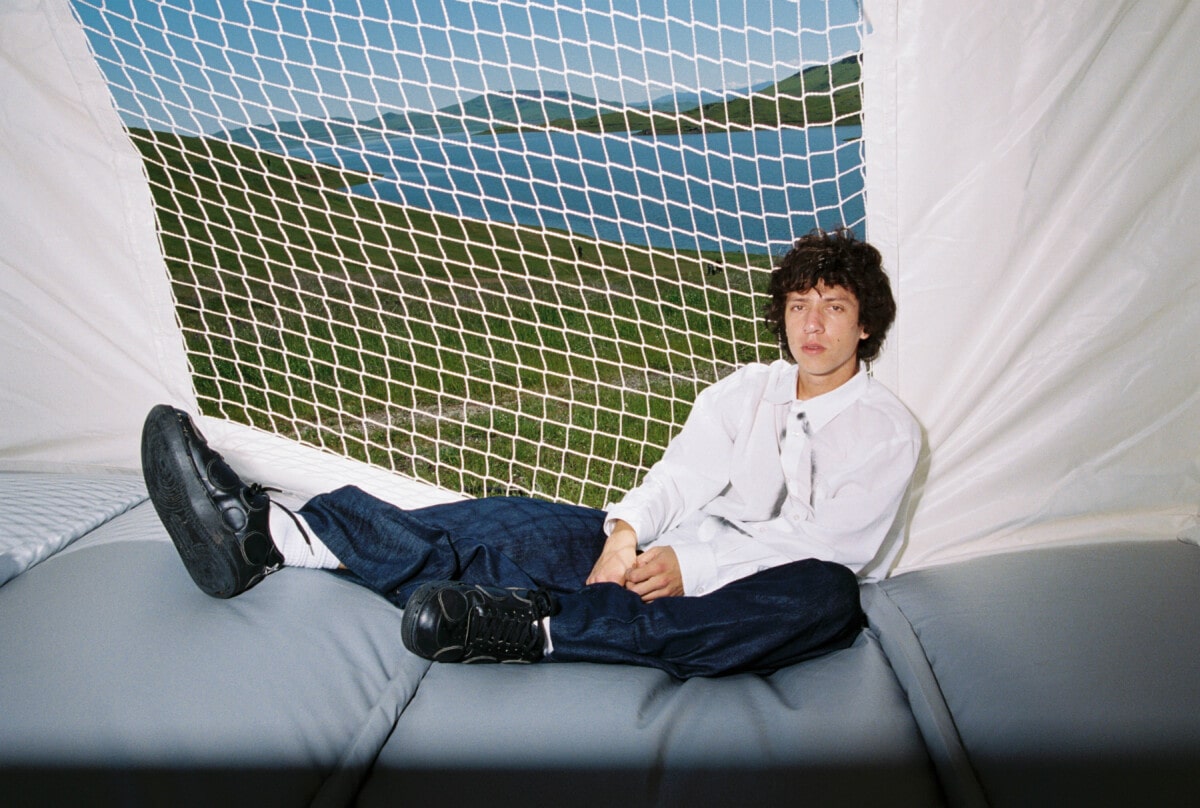 Postcard Boy (aka carwash) shares glistening debut album: Somewhere On A Hillside
Photo by Gabriella Hughes
July 28 2023
PRAISE FOR carwash / Postcard Boy
Somewhere on a Hillside by Postcard Boy is out now, buy/stream it here
LA-based songwriter, producer, and all-around artist Postcard Boy (aka Garrett Seamans, aka carwash) today shares his long anticipated debut album Somewhere On A Hillside. He'll perform the whole record tonight at a release event in Los Angeles, complete with the mailbox bounce house, vintage postal truck, handmade envelope kite, and so much more – info below. Listen to Somewhere On A Hillside HERE.
Each track is a lyrical journey as Postcard Boy delicately weaves the heart-rending lyrics and soul-stirring acoustic, early 2000s (like a reinvigorated Postal Service – an unintended coincidence), indie melodies with groovy undertones of 2-step garage and hyperpop, elevating the music to new heights of expressive beauty. His vocals come right up through the mic, above the controlled cacophony of guitars, synths and energetic drum beats, with a clarity so crisp and intimate you feel as though you are right there with him in that big bounce house. The album glides between the joy of falling in love and the brink of heartbreak, through finding a sense of self purpose and a lack thereof. Through it all, the album opens its palm to an unknown future.
Of today's focus track, "Horizon," Postcard Boy says, "Horizon is about a love for someone that is infinite. Endless, never ending. No distance too far, no time apart too long. It's in every direction. A part of your existence that's core to being alive itself. I think the opening verse is probably my favorite thing I've ever written. This song for me captures that feeling of fragility, and how vulnerable it is to love someone fully, and be so openly broken without feeling like a burden. I feel grateful to have had that kind of love in my life. I knew it would be the last lines I would say. 'I still crumble when I see you, like sandcastles pile up on beaches.' Through it all, I always come back to you. Figuratively, I also love that the album ends at the horizon. It's both the end, and the beginning of whatever comes next."
Of Somewhere On A Hillside, he says, "The title "Somewhere On A Hillside" is inspired by the reflections of the houses on the hill, sparkling right before dark. Where only for that brief moment does where you stand line up exactly where you should—in relation to those windows, the sun at the time of a day, at the time of year. These reflections are happening all the time, every second, if you are in the right spot to receive them. My whole life this has been happening and I could care less, but now every single time I see one of these reflections I notice it. The idea grew into that if you are looking for it, you can find it. From a sense of hope and a feeling of comfort and predictability, to a longing to pause a moment and the realization of its passing, these slices of light expanded themselves into all sorts of ways for me while writing the album.
Postcard Boy and carwash are the two musical projects of San Diego born, 22-year-old multidisciplinary artist Garrett Seamans. In high school he was the kid who always had a camera in his back pocket, shooting surf movies with his friends, and dreaming of becoming a filmmaker. Wanting to soundtrack a video of his own, he began making and self-releasing music under the name Postcard Boy in late high school. By the end of 2019, after several single releases, Garrett finished recording Postcard Boy's EP, Limbo, and he began to explore a more rock-influenced sonic space with his secondary project, carwash. To Garrett's surprise, carwash's debut single "striptease" racked up tens of millions of streams online. Garrett rolled with the acclaim, expanding the carwash universe with several singles and debut EP, soap water, and an accompanying short film, soap water: the movie. After an east coast run of carwash shows in the Fall of 2022 as well as two New Zealand shows supporting Fazerdaze, Garrett is returning as Postcard Boy, after a years of writing letters to fans, with new music and a whole world on a glittering hillside.