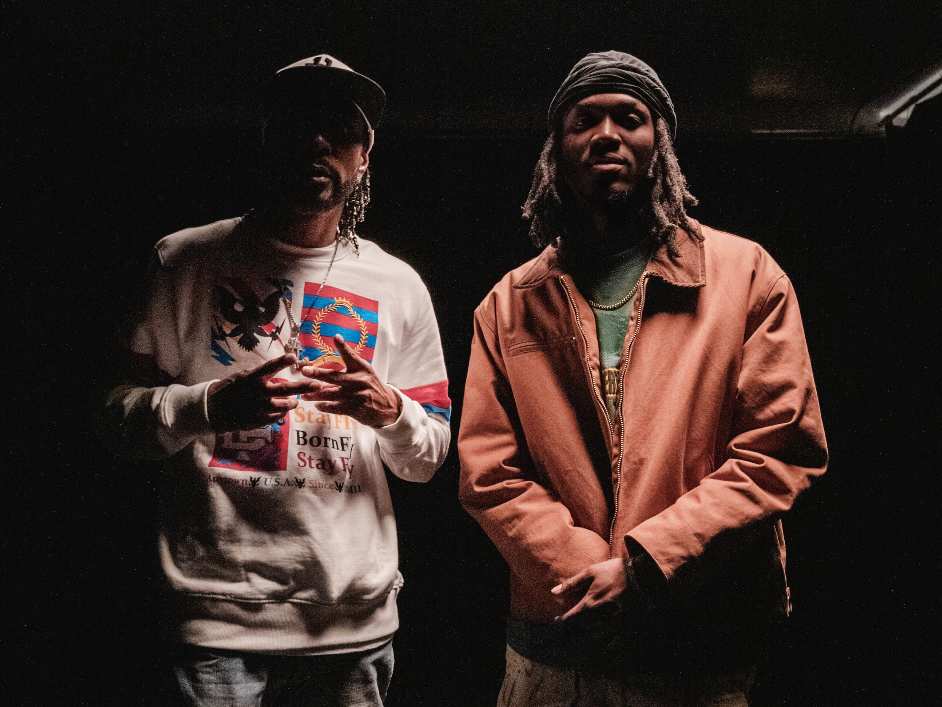 Saba and Krayzie Bone reunite for new 'Come My Way' video
HIGHLY PRAISED FEW GOOD THINGS LP OUT NOW
PRAISE FOR SABA
"His most affecting tracks celebrate nuance; they often manage to be joyful and tragic,
triumphant and anxiety-inducing, all at once"
Rolling Stone
"Through Saba's inner turmoil, he finds his most powerful and diaristic" storytelling."
Pitchfork
"Sell-out shows have been a long time coming for the rapper,
who's been a streaming success with Australian listeners"
Acclaim
"In mining such intensely personal subject matter Saba has found that
the more honest he is with his own life and experiences, the more people connect"
FBi Radio
"A beautiful project with so much replay value it's astounding"
The AU Review
"Tremendously gifted"
Stereogum
"Lush and funky"
Consequence
"Honesty and humility knows no bounds"
Best Before
Fresh off the release of his highly praised third studio album Few Good Thingsand its accompanying short film, Chicago rapper-producer Saba today releases the official video for 'Come My Way' directed by City James and featuring one of his idols, Cleveland rapper Krayzie Bone – of the trailblazing GRAMMY Award-winning hip-hop group Bone Thugs-N-Harmony – and appearances by Saba's own Pivot Gang crew. WATCH HERE + LISTEN HERE
This week the independent artist also earned his first RIAAcertification for the 2016 gold-selling Bucket List Project single 'Photosynthesis' (feat. Jean Deaux), which to date has surpassed 100 million streams on Spotify alone.
"When I think back on first discovering Bone Thugs-N-Harmony as a child, it immediately stood out to me as unique,"Saba recently said of the legendary group. "I started paying attention and really learning how to rap from listening to them and trying to recite it. It felt honest and completely true to themselves — authentic in a way that doesn't come around very often and in a way that will be impossible to recreate. Their mix of melody and rhythms that I had never heard is what connected with me in a way that other music just didn't. It inspired me to be more creative."
Watch: Saba ft. Krayzie Bone – Come My Way (Official Music Video)
Beginning on April 11th, Saba embarks on the North American leg of his headlining Back Home Tour with support from Charlotte-bred Dreamville rapper Lute and Los Angeles artist Amindi. The tour then heads to Europe and the U.K. in September and features support from English rapper, singer, and songwriter ENNY on U.K. dates and Dutch-Sudanese R&B singer-songwriter Gaidaa throughout the rest of Europe. Tickets are available at sabapivot.com/tour.
Saba's third studio album,Few Good Things, marks another seamless offering from the Chicago polymath. The "meticulously arranged" (The New York Times) record features notable collaborations with Pivot Gang, Black Thought, Krayzie Bone, 6LACK, Smino, Mereba, Fousheé, Benjamin Earl Turner, and more and includes new standout, 'Still' (feat. 6LACK and Smino), in addition to the previously released singles, 'Survivor's Guilt' with fellow Chicago rapper G Herbo, the Krayzie Bone-assisted 'Come My Way', the hard-hitting solo track 'Stop That', and the funk-laden 'Fearmonger' with Daoud.
"The concept of 'Few Good Things' is the realization of self after a search for exterior fulfilment," shared Saba on the inspiration behind the album's title. "It is the satisfaction and completeness you gain by simply living a life that is yours. Few is a small number, but few is not lonely. In the face of all adversity, a few good things is recognizing and accepting blessings. Few is to count them, one by one – an empty glass is full of air, an empty bank is full of lessons., and an empty heart is full of memories. Few good things is to grow comfortable with the empty, and despite that, finding your fullness."
Produced by Partizan in association with SoundCloud and Pogi Studios, the poignant and touching accompanying Few Good Things: The Short Film is directed and written by award-winning filmmaker C.T. Robert and explores the roots of Saba's desire for exterior fulfilment and his recognition of the fulfilment he's already felt by simply living a life that was meant for him with those he's loved. Using Few Good Things as the sonic backdrop, the short film weaves together a few selected tracks from the album with the collage of sounds one might expect to hear making their way through Saba's hometown in the West Side of Chicago.
The album and film successfully tie in themes of generational dialogue, reflection, community and ownership, with an emphasis on Black ownership. Between the short film, Supervsn Merch Capsule, and the Saba-curated Preme Magazine issue dropping next week, Saba's Few Good Things campaign intersperses film, art, and fashion that ultimately tie back to the meaning of the music itself: to hold close the things that matter most to you.
With the release of Few Good Things, Saba continues to push musical boundaries on his climb to rap's upper echelon.
Few Good Things LP is out now, buy/stream it here.
Stay connected with Saba:
Website | Instagram | YouTube | Twitter | Soundcloud
ABOUT SABA

 A successful Black independent artist, Saba has rooted his career in authenticity and musicality that's made him one of his generation's most important and unique voices. The Chicago polymath is preparing for the release of the follow-up to his critically-acclaimed 2018 album CARE FOR ME, for which he earned honours as one of the Chicago Tribune's Chicagoans of the Year and has performed 100+ shows worldwide.

CARE FOR ME is a significant and devastating release that finds Saba grappling with the aftermath of his cousin John Walt's 2017 murder. "The specificity with which Saba renders his personal inventory of survivor's guilt, toxic relationships and internal struggles while swimming against a rising tide of systemic injustice, elevates CARE FOR ME from mere tragedy to living tribute," said NPR, naming the release their #1 Hip-Hop Album of the Year.

Saba began making music at age 8 and was writing and producing songs by early adolescence. Building a recording studio in his grandmother's basement on the Westside of Chicago, he and a group of neighbourhood friends formed Pivot Gang and began taking trains across the city to join creative youth organizations and perform at open mics. These experiences sharpened his writing and performance skills, and he has continued to build home studios where he is self-taught on a variety of musical instruments.

In 2019, J. Cole tapped Saba for his Revenge of the Dreamers III project, where they featured together on the powerful closer 'Sacrifices' – the track recently attaining RIAA certified Gold status. He also teamed up with frequent collaborators Noname and Smino to form the Midwest music collective Ghetto Sage. With new music on his slate for 2021-22, Saba is prepared to continue pushing musical boundaries on his climb to rap's upper echelon.