Saba recruits fellow Chicago rapper G Herbo for latest Few Good Things single 'Survivor's Guilt'
FEW GOOD THINGS OUT FEB 4
TRACKLIST INCLUDES COLLABORATIONS WITH PIVOT GANG, BLACK THOUGHT, 6LACK, SMINO, MEREBA, FOUSHEÉ + MORE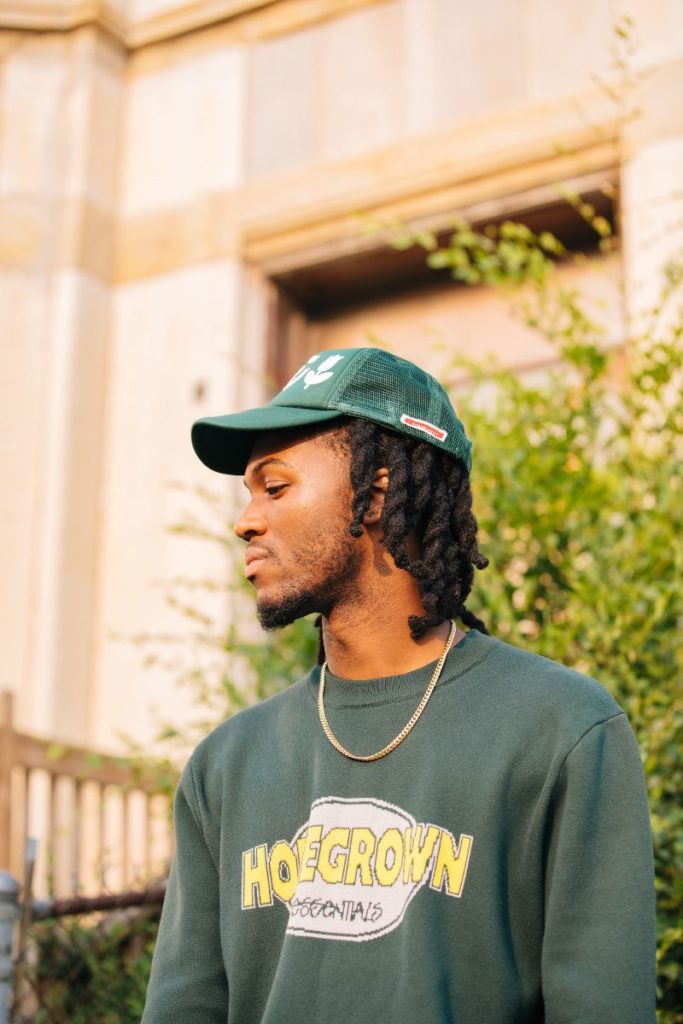 PRAISE FOR SABA
"His most affecting tracks celebrate nuance; they often manage to be joyful and tragic,
triumphant and anxiety-inducing, all at once"
Rolling Stone
"Through Saba's inner turmoil, he finds his most powerful and diaristic" storytelling."
Pitchfork
"Sell-out shows have been a long time coming for the rapper,
who's been a streaming success with Australian listeners"
Acclaim
"In mining such intensely personal subject matter Saba has found that
the more honest he is with his own life and experiences, the more people connect"
FBi Radio
"A beautiful project with so much replay value it's astounding"
The AU Review
"Tremendously gifted"
Stereogum
"Lush and funky"
Consequence
"Honesty and humility knows no bounds"
Best Before
Gearing up for his highly anticipated Few Good Things album release next Friday, Feb 4, acclaimed shikaakwa / Chicago rapper-producer and Pivot Gang Co-Founder Saba has recruited fellow Chicago hip-hop artist G Herbo for new single 'Survivor's Guilt'. LISTEN TO SURVIVOR'S GUILT HERE.
Co-produced by Daoud and daedaePIVOT, 'Survivor's Guilt' is the fourth and final single to be released prior to the arrival of Few Good Things. The 14-track LP is the follow up to Saba's critically acclaimed 2018 record CARE FOR ME and is set to feature collaborations with Pivot Gang, Black Thought, Smino, 6LACK, Mereba, Fousheé, Benjamin Earl Turner, and more. 'Survivor's Guilt' follows previously released singles 'Come My Way' – featuring Krayzie Bone of influential GRAMMY Award-winning hip-hop group Bone Thugs-N-Harmony – the hard-hitting 'Stop That', and the funk-laden 'Fearmonger' with Daoud.
Prior to the release of the album, on Monday, Jan 31 and Tuesday, Feb 1, Saba will present Few Good Things: The Short Film. The premiere screening event will take place via the premium social live media platform Moment House and will be followed by a conversation with Saba and film director C.T. Robert and moderated by veteran multi-media journalist Brandon "Jinx" Jenkins. The screening event will be broadcast to various regions around the world including North and South America, Asia, Australia & New Zealand, and the UK, Europe and Africa. See below for live stream dates and times by territory, and visit Moment House's website for further information. Tickets are now on sale HERE.
Additionally, Saba announced tour dates for his headlining spring 2022 Back Home Tour for North America and Europe/U.K. The tour launches in Europe and the U.K. with support from English rapper, singer, and songwriter ENNY on U.K. dates and Dutch-Sudanese R&B singer-songwriter Gaidaa throughout Europe. The North American leg includes support from Charlotte-bred Dreamville rapper Lute and Los Angeles artist Amindi. Complete tour dates and tickets are available at sabapivot.com/tour.
FEW GOOD THINGS: THE SHORT FILM
LIVESTREAM DATES + TIMES
31 Jan – 6pm ET / North + South America (East)
31 Jan – 6pm PT / North + South America (West)
1 Feb – 6pm JST / Asia + Australia + New Zealand
1 Feb – 6pm GMT / Europe + UK + Africa
'Survivor's Guilt' is out now, buy/stream it here.
FEW GOOD THINGS
by Saba
4 February 2022
PRE-SAVE / ORDER HERE.
TRACKLIST
Free Samples (feat. Cheflee)
One Way
Survivor's Guilt (feat. G Herbo)
An Interlude Called Circus (feat. Eryn Allen Kane)
Fearmonger (feat. Daoud)
Come My Way (feat. Krayzie Bone)
Still (feat. 6LACK & Smino)
Simpler Time (feat. Mereba)
Soldier (feat. Pivot Gang)
If I Had a Dollar (feat. Benjamin Earl Turner)
Stop That
Make Believe (feat. Fousheé)
2012 (feat. Day Wave)
Few Good Things (feat. Black Thought & Eryn Allen Kane)
Stay connected with Saba:
Website | Instagram | YouTube | Twitter | Soundcloud
ABOUT SABA
A successful Black independent artist, Saba has rooted his career in authenticity and musicality that's made him one of his generation's most important and unique voices. The Chicago polymath is preparing for the release of the follow-up to his critically-acclaimed 2018 album CARE FOR ME, for which he earned honours as one of the Chicago Tribune's Chicagoans of the Year and has performed 100+ shows worldwide.

CARE FOR ME is a significant and devastating release that finds Saba grappling with the aftermath of his cousin John Walt's 2017 murder. "The specificity with which Saba renders his personal inventory of survivor's guilt, toxic relationships and internal struggles while swimming against a rising tide of systemic injustice, elevates CARE FOR ME from mere tragedy to living tribute," said NPR, naming the release their #1 Hip-Hop Album of the Year.

Saba began making music at age 8 and was writing and producing songs by early adolescence. Building a recording studio in his grandmother's basement on the Westside of Chicago, he and a group of neighbourhood friends formed Pivot Gang and began taking trains across the city to join creative youth organizations and perform at open mics. These experiences sharpened his writing and performance skills, and he has continued to build home studios where he is self-taught on a variety of musical instruments.

In 2019, J. Cole tapped Saba for his Revenge of the Dreamers III project, where they featured together on the powerful closer 'Sacrifices' – the track recently attaining RIAA certified Gold status. He also teamed up with frequent collaborators Noname and Smino to form the Midwest music collective Ghetto Sage. With new music on his slate for 2021-22, Saba is prepared to continue pushing musical boundaries on his climb to rap's upper echelon.