Spacey Jane share dreamy "Hardlight" from Here Comes Everybody LP out June 24th
NYC, BOSTON & MORE SOLD OUT ON DEBUT US OCTOBER TOUR
PRAISE FOR SPACEY JANE

"feels like rediscovering the best summer of your youth."
NPR Music
"Building on the band's signature warbly, psych-tinged indie-rock, the new song shines with cleaner, more layered production, delicate synth accents and a soaring chorus."
NME (Aus) on 'Sitting Up'
"life-affirming"
The Guardian
"captures the lively spirit of the summer heat"
SPIN
"The magic Spacey Jane formula: raw emotion and honesty, delivered with warmth and vibrancy"
triple j
"'It's Been A Long Day'… finds the quartet mining heartache for rousing melodies"
American Songwriter
Breakout Australian 4-piece, Spacey Jane, today share "Hardlight" – first played by BBC Radio1's Jack Saunders – from their forthcoming album, Here Comes Everybody out June 24th, 2022. On the heels of their first time touring the UK, the band is gearing up for a headline Australian run before making their North American debut this October with already sold-out dates in NYC, Boston, Toronto, and more.
LISTEN/WATCH 'HARDLIGHT' + PRE-ORDER/PRE-SAVE HERE COMES EVERYBODY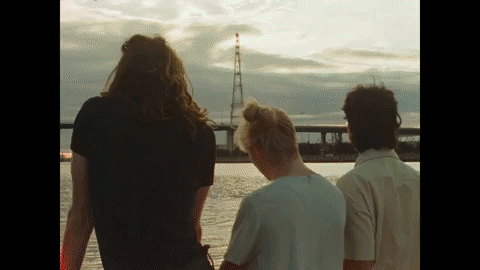 "Hardlight" is another Spacey Jane epic, telling a story we all know in some capacity or another. Set to a backdrop of pristine drums pushing wandering guitars along a briskly, uplifting pace, the backing vocals are like the air you're forced to breathe in a little deeper while running, dancing, kissing, crying… Of the new track, guitarist Caleb Harper shares, "I wrote this song about how I was feeling like my life was a bit like one of those nightmares where you're at school with no pants except I used the metaphor of being on set and forgetting all of your lines (because it felt less silly). I guess it's about anxiety but also just having no idea what I'm doing even though I want it to look like I really do."
The music video, directed by Nick McKinlay, shows the band spending a day cruising along the Yarra River in Melbourne on a ferry boat. The result is another sweeping, kinetic, joyous visual that shows off the band's live chops.
Spacey Jane's forthcoming album, Here Comes Everybody, is a nod to Wilco's beloved album, 'Yankee Hotel Foxtrot'. It was the working title for the record and Jeff Tweedy himself wrote to the band with his blessing to borrow the phrase. Frontman Harper says he wants this album to be, "for youth persevering and thriving emotionally under the weight of our generational burden," citing COVID and climate change as two things trying to hold young people back. With songs written across 2020, the band then held sessions where they are from in Western Australia with Dave Parkin as well cross country in Brisbane with Konstantin Kersting (Mallrat, The Jungle Giants, Genesis Owusu).
Here Comes Everybody sounds and feels like an album that has truly been lived in. Whether it's on the sprightly indie-pop of single 'Lunchtime', the aching ballad 'It's Been A Long Day' or the atmospheric 'Not What You Paid For', every note is imbued with hard-earned wisdom now being passed down to a new generation. "You shouldn't have to pretend that you're in control or have it figured out when you're 18," Caleb says of 'Bothers Me', a glistening album highlight that reflects on the process of leaving school and realizing your whole life is ahead of you. "Anyone who says otherwise can get fucked."
"Hardlight" is out now, buy it/stream it here
Pre-order/pre-save Here Comes Everybody
Standard black vinyl is available in the US & UK web stores + a limited edition translucent blue vinyl LP with signed art card is up for pre-order in the Australian web store with shipping worldwide (while supplies last). Visit the Spacey Jane Official Store for the vinyl LP's, CD's, cassettes and new 'Here Comes Everybody' merchandise.
SPACEY JANE LIVE
Australia
Aug 5 – Perth Arena, Perth *AA
Aug 12 – Big Top, Sydney 18+
Aug 13 – Big Top, Sydney *AA
Aug 18 – Fortitude Music Hall, Brisbane *AA
Aug 19 – Fortitude Music Hall, Brisbane 18+
Aug 24 – The Forum, Melbourne *AA
Aug 27 – The Forum, Melbourne 18+
US
Oct 10 – The Axis Club – Toronto, BC *SOLD OUT*
Oct 12 – Bowery Ballroom – New York, NY *SOLD OUT*
Oct 13 – Bowery Ballroom – New York, NY
Oct14 – Brighton Music Hall – Boston, MA *SOLD OUT*
Oct 15 – Union Transfer – Philadelphia, PA
Oct 16 – Black Cat – Washington, DC
Oct 18 – Lincoln Hall – Chicago, IL
Oct 19 – Fine Line – Minneapolis, MN
Oct 20 – Reverb Lounge – Omaha, NB
Oct 22 – Gothic – Denver, CO
Oct 23 – Metro Music Hall – Salt Lake City, UT
Oct 25 – Neumos – Seattle, WA
Oct 26 – Rickshaw Theatre – Vancouver, BC
Oct 27 – Doug Fir Lounge – Portland, OR
Oct 29 – The Chapel – San Francisco, CA
Oct 30 – Teragram Ballroom – Los Angeles, CA
Oct 31 – Constellation Room – Santa Ana, CA *SOLD OUT*
Nov 1 – Belly Up – Solana Beach, CA
Nov 2 – Crescent – Phoenix, AZ
Nov 4 – Dallas Studio at Factory – Dallas, TX
Nov 5 – The Parish – Austin, TX
Nov 6 – Houston Warehouse Live: Studio – Houston, TX
Nov 8 – Basement East – Nashville, TN
Nov 9 – Terminal West – Atlanta, GA
Stay connected with Spacey Jane:
Instagram | Facebook | Twitter | Website