Tasman Keith + Genesis Owusu share venomous new single + video 'CHEQUE'
DEBUT ALBUM A COLOUR UNDONE OUT JULY 8 + REGIONAL NSW TOUR DATES THIS MONTH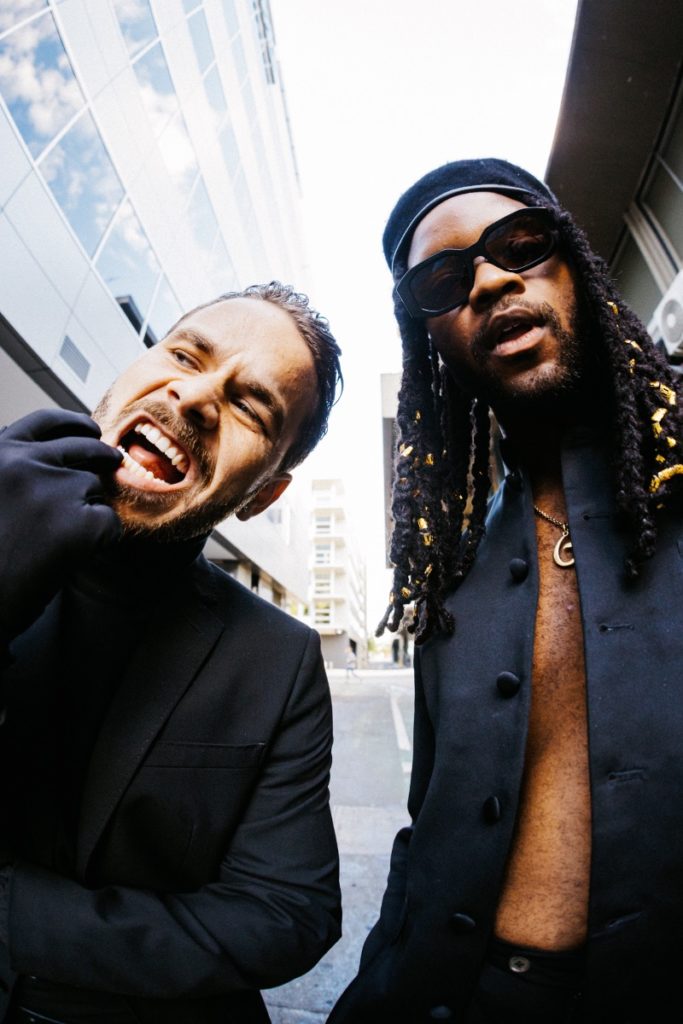 ACCLAIM FOR TASMAN KEITH

"A man on a mission"
triple j

"Tasman Keith's career is showing no signs of slowing down"
NBN News

"His sights are firmly set on global superstardom"
NME Magazine

"All up, the rapper was on stage for barely five minutes all night,
but that was all it took for him to steal the show"
The Australian

"Razor-sharp lyrics, effortless flow and a staunch pride for his hometown"
triple j Unearthed

"…Keith's career appears ready to lift off"
Billboard

"One of the best examples of pure Australian hip-hop we've been treated to"
Complex

"Meet the Australian Rapper Lending a Voice to the Voiceless"
VICE

"A formidable voice in hip-hop"
Red Bull Music

"Determined to use his platform to give a voice to the voiceless"
Acclaim Magazine

"He's taking no prisoners"
Life Without Andy

"Tasman Keith is taking control of the narrative"
FBi Radio

"Making waves"
Monster Children

"One of the most exciting voices in hip hop in Australia right now"
Purple Sneakers

"Tasman Keith is unstoppable"
Pilerats
Star on the rise Tasman Keith today shares 'CHEQUE', a noxious collaboration with six-time ARIA Award winner Genesis Owusu, lifted from Keith's upcoming debut album A Colour Undone out this July 8 via AWAL. LISTEN + WATCH HERE.
'CHEQUE' picks up the boastful swagger of previous release '5FT FREESTYLE', which saw Keith debut one of two personas whose journey will unfold through A Colour Undone. 'CHEQUE' sees the reappearance of an insolent, devilish ego that thrives on self-indulgence and conceit. What begins as a stripped-back gospel service rapidly snaps into fury – ruminating on the need for a saviour, for "someone that's going to come down to this earth and just do something for us," salvation arrives through a steadfast beat-switch. Here Tasman and Genesis share a wrath as unapologetic and vicious as Pusha T and No Malice, be it Keith's remark "I told her watch em ego trip, I bust their ego lip" or Owusu's "You put your name next to mine, the audacity."
In Tasman's words, "CHEQUE' is the continuation of the character introduced in '5FT FREESTYLE' split into two parts, the abrasive ego and then the controlled version of that ego. Lyrically it's just having something to say over some crazy production. I called Genesis and told him I had a joint for him to talk his shit on… a few weeks later he rolled through and locked in the verse."Genesis Owusu shares, "Tasman specifically told me to flex. Talk that talk. The weirdo shit is cool but it's time to rap."
The visuals of 'CHEQUE' are made up of two parts; The first represents the suppression of an abrasive ego and the elimination of superficial tendencies through destroying facades and false perceptions of one's own individualism (the destruction of the television & the burying of Tasman's ego). The second explores accepting one's individuality through success and revelling in it (showcased in the laissez-faire, stylistic direction during the second half of the video).
Of the video, director Zain Ayub shares, "Tasman is so committed to his craft and his vision that it was an amicable and exciting discussion we had to explore the ideas for Cheque; his openness allowed the idea to flourish. After brainstorming independently, the idea of burying Tasman alive was born and we filmed the destruction of the television and the grave shot on the same day we filmed 5FT Freestyle in Bowraville. Initially, I wrote a narrative-driven concept that would showcase both Tasman and Genesis in a new light: confronting their own alter-egos, in a darker setting, however, this evolved into a simpler approach to the video. Instead of tackling a narrative/conceptual idea, I felt it was apt to lean into the 'fun' nature of the sonics. Focusing on a playful yet serious direction that showcased more personality complimented both artists in this piece. Tasteful, simple and bold."
'CHEQUE' arrives on the heels of 'LOVE TOO SOON', a soulful jam from Keith immediately embraced by iHeartRadio, The Edge 96.1FM, triple j, Rolling Stone, NME, MTV, RAGE and clamour to the local music industry alike, including appearances at the Sydney Kings half-time show at Qudos Bank Arena and the Mulubinba / Newcastle Entertainment Centre supporting Midnight Oil last month. Earlier this year, '5FT FREESTYLE' accumulated fever from Complex, Billboard, The Guardian, NBN News, Acclaim, Sniffers, Life Without Andy, Pilerats and many more. Plus this April, Tasman will embark on a series of regional tour dates around the East Coast of so-called Australia. To find peace at COLOUR LIVE: THE ALBUM EXPERIENCE, see all tour routing details + ticket links BELOW.
Tasman Keith's debut album A Colour Undone carries itself with a self-assured sense of its own gravity, ambition and purpose. Granted the full canvas of the album format, experimentation and emotional nuance find room to thrive, and Tasman's stylistic horizons move outwards while his lyricism narrows. With the majority recorded over six days and executive produced by Tasman and Kwame, A Colour Undone is the product of irreproducible mind space, deft in its embrace of imperfection and devoid of overthinking.
Through metaphor and his lived experience, A Colour Undone ruminates on love, loss, trauma, healing and ego; as dexterous, clever and linguistically adventurous as it is moving. Tasman pulls himself apart, atomising the sensitive and difficult terrain of his undoing and the subsequent piecing back together again. As he unspools the threads of his own self, Tasman uncovers an emotionality and a sense of openness that has previously lain dormant within his work. At its centre, A Colour Undone revolves around a doomed romance, one that slows and, ultimately, brings low the unhealthy ego that defines the record's opening stanza, propelling Tasman Keith toward self-reflection, reconciliation and, at last, clarity.
'CHEQUE ft. Genesis Owusu' is out now via AWAL, buy/stream it here.
A COLOUR UNDONE
The Debut Album from Tasman Keith
Out July 8 via AWAL
PRE-ORDER / PRE-SAVE HERE
A COLOUR UNDONE TRACKLIST
WATCH UR STEP
SHARKS
CHEQUE (feat. Genesis Owusu)
POLITICS AS USUAL
FIND U
LOVE TOO SOON
HOW 2 LEAVE (feat. Thandi Phoenix)
IDK (feat. Phil Fresh)
PROUD
NOT 4 SAFETY (feat. Kwame)
5FT FREESTYLE
WELCOME HOME
HEAVEN WITH U (feat. Jessica Mauboy)
TREAD LIGHT
COLOUR LIVE TOUR DATES
Thu 21 Apr – Transit Bar – Ngunnawal Land / Canberra, ACT (TIX)
Fri 22 Apr – La La La's – Dharawal Land / Wollongong, NSW (TIX)
Sun 24 Apr – Cambridge Hotel – Mulubinba / Newcastle, NSW (FREE)
Thu 28 Apr – Mo's Desert Clubhouse – Ngarang-wal Land / Gold Coast, QLD (TIX)
Fri 29 Apr – Eleven Dive Bar – Gubbi Gubbi Land / Maroochydoore, QLD (TIX)
Sat 30 Apr – Thirsty Chiefs Brewery – Yugarabul Land / North Lakes, QLD (TIX)
All tickets available via tasmankeith.com/shows
Stay connected with Tasman Keith:
Soundcloud | Instagram | YouTube | Twitter | Facebook | Website
ABOUT TASMAN KEITH

Tasman Keith inherited music. Since first appearing on stage at age eight alongside his pioneering father, Tasman channeled adolescent listlessness into the outlet of hip hop – crammed with six cousins in a makeshift studio at their local youth centre. While he may have been born into music, the sense of surrounding community was the true birthplace of Tasman Keith as an artist. Determined from a young age to only ever run his own race, imbued with a singular desire to occupy a boundaryless territory of his own, between debut EPs, collaborative mixtapes and wins across triple j and Australian Independent Record Awards, and National Indigenous Music Award nominations, Keith has traversed stages across the country, including a reputation for stealing shows "in all of five minutes" (The Australian) alongside national icons and his contemporaries, Midnight Oil, Jessica Mauboy, Kwame and many more. Needless to say, so-called Australia is beginning to see in Tasman what he and his cousins did, back in that Bowraville studio with stained carpet hung on walls for soundproofing.

With his eyes firmly set on the globe, today Tasman Keith steadies for game day, ready to claim the championship win for his own. In recently announcing his signing to AWAL Digital Recordings, he joined the ranks of global stars Little Simz, Genesis Owusu, Spacey Jane, and more, together with the legendary catalogues of Beyoncé, Tyler, the Creator, The Beatles, and many others at Sony Music Publishing. follows his landmark support alongside Midnight Oil's first live performances in two decades and collaborative release 'First Nation' on their #1 ARIA Album The Makarrata Project, and the recent victory lap of 'ONE', a joint release with Kwame. With each release, Tasman has maintained widespread fever across national press, including the NME Magazine, Acclaim, Complex, Rolling Stone, VICE, Sydney Morning Herald, The Australian, and more; alongside his TV debut performances on ABC's The Sound and The Set as well as making an appearance alongside Peter Garrett on The Today Show, with playlisting from triple j, Unearthed, FBi Radio, RAGE, and MTV. Today, tomorrow, this year, one thing remains certain – Tasman Keith did not come to play.