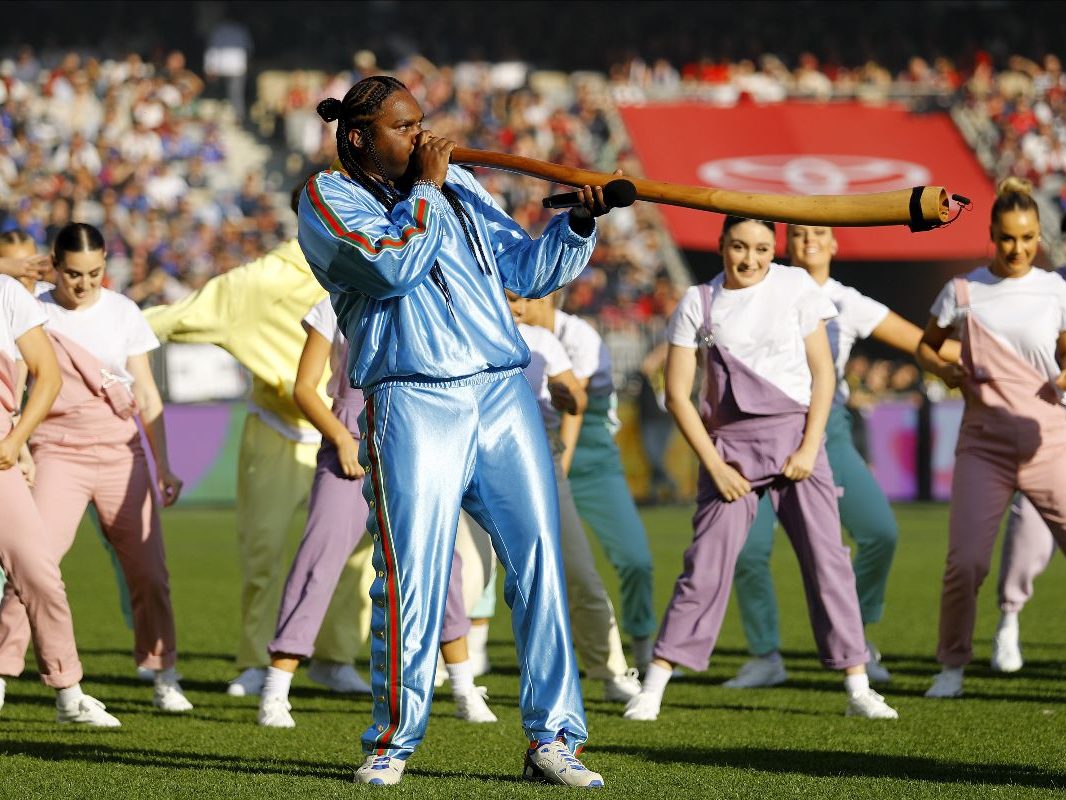 The Aussie BBQ At SummerStage Returns To NYC June 18th Showcasing Australia's Vibrant Music Scene
WATCH SETS IN CENTRAL PARK FROM BAKER BOY, PEKING DUK, G PLIP, HAIKU HANDS, ELECTRIC FIELDS, YOU AM I
On Saturday June 18, 2022 from 3-10PM, Capital One City Parks Foundation SummerStage and Sounds Australia will present THE AUSSIE BBQ for the first time in three years to showcase a new class of undeniable Australian talent (in association with the Australian Consul-General, New York and the Department of Foreign Affairs and Trade).
Since 2020, lockdowns and travel restrictions have kept American audiences particularly deprived of live music from Australian performers; FADER says, "it's undeniable that Australia has more artists at the forefront of global music culture than ever before." Now that the country is once again able to export a line up showcasing the breadth, diversity, and history of Australian music, attendees will see sets from Baker Boy, Electric Fields, G Flip, Haiku Hands, Peking Duk and You Am I.
For more than ten years, Sounds Australia has provided an integral platform for introducing the international music industry to the best new Aussie music. THE AUSSIE BBQ SummerStage made its debut in 2019 and saw almost 5000 New Yorkers turn up to see A.B Original, Hermitude, The Teskey Brothers, WAAX, San Cisco and Tkay Maidza perform.

Of this year's much-anticipated upcoming event, Erika Elliott, the Executive Artistic Director at SummerStage, says, "We are thrilled to have THE AUSSIE BBQ return to SummerStage this year. International artists are a key aspect of our festival, as we seek to offer the best music from around the world to New Yorkers each summer. Our partnership has allowed us to give platform to a crop of diverse and exciting talent from Australia that we expect people to be able to say they saw here first!"

Australian Consul-General in New York, Nick Greiner, says: "The Australian Consulate General in New York is proud to be supporting THE AUSSIE BBQ this year at SummerStage in Central Park. We are thrilled that the Australian community in New York is coming back together to see performances by this diverse selection of outstanding Australian artists."

This year's AUSSIE BBQ showcasing artists feature the deftly talented six-time National Indigenous Music Award winning and six-time-ARIA-nominated rapper Baker Boy, dance music duo Peking Duk who continue tokeep the party going after bursting onto the scene with their bootleg remix of Passion Pit's 'Take A Walk, bonafide powerhouse artist, producer & drummer G Flip fresh off a US tour with Fletcher & KFlay, Haiku Hands touted by NME as "Australia's most electrifying pop prospect," the self-described "feminine brothers" Electric Fields bringing their arena-ready glam, and last but not least, one of Australia's all-time essential rock n' roll bands, You Am I.
Stay connected with Sounds Australia:
Instagram | Facebook | Twitter | Youtube
About Capital One City Parks Foundation SummerStage:

Capital One City Parks Foundation SummerStage is one of New York's most beloved, broadly accessible, free outdoor performing arts festivals. SummerStage presents free concerts in parks throughout the five boroughs. With performances in genres that represent the cultural fabric of New York City ranging from jazz, hip hop, Latin, global, indie and contemporary dance, SummerStage fills a vital niche in New York City's summer arts festival landscape. Since its inception nearly 40 years ago, more than six million people from New York City and around the world have enjoyed SummerStage. In 2020, Capital One City Parks Foundation SummerStage Anywhere was launched in response to the global pandemic, presenting free digital performances, spanning all genres, available to viewers around the world.