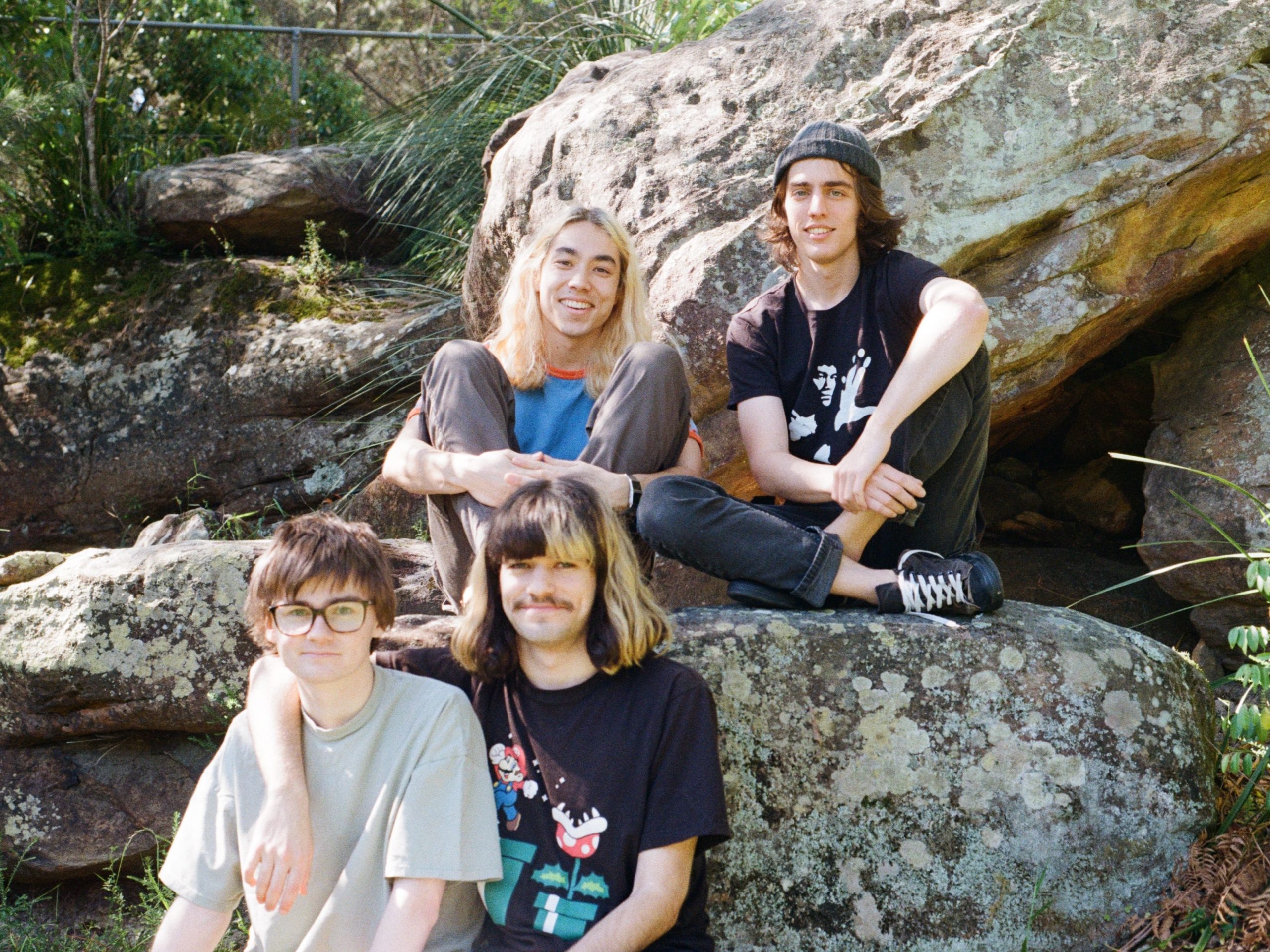 The Lazy Eyes are back with 'Fuzz Jam'
ANNOUNCE DEBUT ALBUM SONGBOOK + SUPPORTING THE STROKES JULY 2022
ACCLAIM FOR THE LAZY EYES

"Honest-to-god really good"
V Man

"Indie's next generation prove ready for a much bigger stage"
Sydney Morning Herald

"A phenomenal blend of modern sensibilities and classic experimental pop"
American Songwriter

"The makings of a psych giant"
NME Magazine (4 Stars)

"If Brian Wilson joined Tame Impala for a day"
DIY Magazine

"Their music retains a youthful freshness that, rather than recycling, reinvigorates the ingredients they have taken from their heroes"
Monster Children

"Breath-taking"
Life Without Andy
Today, soaring Australian psych-rock outfit The Lazy Eyes have returned, with the news of their debut album SongBook, tour support with The Strokes next year, and release of their latest cut 'Fuzz Jam'. LISTEN HERE + WATCH HERE.
The act of improvisation has come to be part and parcel with The Lazy Eyes, established through their cult live following, and 'Fuzz Jam' is no different. The group channel the prolific with their latest release, kicking off with an unassuming, White Stripes like bass and drum chug that slips into a wave of synths and rhythmic strut. Before one can catch and follow the beat, it mutates into a muscular sludgy jam and then further again into wonderful disarray. "I wrote 'Fuzz Jam' to use this instrument that Itay bought live," Harvey recalls. "It's this Hohner Pianet T, and we wanted a more hard track to play on it, instead of just singing songy ones."
Watch: The Lazy Eyes – Fuzz Jam (Official Video)
'Fuzz Jam' is The Lazy Eyes at the height of their powers, without compromising that feeling of stumbling upon that viral footage of 'Half Full Glass Of Wine' and wishing you had witnessed a band destined for stadium glory. These are the sights The Lazy Eyes set with their debut album, SongBook, a world unto itself. Including a collection of the best The Lazy Eyes songs written over the course of their first five years of infancy but like every good fantasy world, it abides by its own logic. Step inside: the colours are a little brighter; things move a little slower, but they're liable to get inordinately faster in the blink of an eye. Suddenly you're in a garden in full blossom, and you didn't even notice; you walked a mile without taking a single step.

SongBook is strange like that — all journey and all destination, a decidedly modern marvel of psych-rock that's unpretentious in construction but precious where it counts. Since their undeniable breakthrough in 2020, The Lazy Eyes have become emblematic torchbearers of the next generation of Australia's psych-rock scene, their reputation and talent spreading like word of mouth wildfire across projects, EP1 and EP2, including the hits 'Where's My Brain???' and 'Cheesy Love Song'. From selling out numerous East Coast shows and the debut of their own music festival Lazyfest, acclaim has clammered both locally and globally for the band, across Complex, KCRW, BBC 6 Music and Radio 1, SPIN, triple j Unearthed, FBi Radio and countless more, including their place in the NME 100 for 2021. Step inside, but be warned: Once you're in The Lazy Eyes' world, you might not want to leave any time soon.
'Fuzz Jam' is out now, buy/stream it here.
THE LAZY EYES TOUR DATES
Tue 26 Jul – The Strokes w/ The Lazy Eyes + The Chats – John Cain Arena, Melbourne
Thurs 28 Jul – The Strokes w/ The Lazy Eyes + The Chats – Hordern Pavillion, Sydney

Stay connected with The Lazy Eyes:
Instagram | Facebook | Twitter | YouTube | triple j Unearthed