The Lazy Eyes share latest single 'Starting Over'
AHEAD OF DEBUT ALBUM SONGBOOK OUT APRIL 22
PRAISE FOR THE LAZY EYES
"Honest-to-god really good"
V Man
"Indie's next generation prove ready for a much bigger stage"
Sydney Morning Herald
"A phenomenal blend of modern sensibilities and classic experimental pop"
American Songwriter
"Australia's renowned psych-rock scene has become the envy of the world,
and the Sydney band's glistening debut album continues to
push the sound into charming new places"
NME Magazine
"If Brian Wilson joined Tame Impala for a day"
DIY Magazine
"Their music retains a youthful freshness that, rather than recycling,
reinvigorates the ingredients they have taken from their heroes"
Monster Children
"Breath-taking"
Life Without Andy
Fiery psych-rock outfit The Lazy Eyes today share the latest offering from their debut album SongBook (out April 22), by way of their latest single, the charming 'Starting Over'. LISTEN + WATCH HERE.
With rhythmic piano, choral harmonies, swirling guitars and jangling harpsichord, 'Starting Over' is a vivacious single that continues to prove the band's ability to make the "old", exciting and brand new. Channelling a hybrid of the washed-out choral harmonies of Mild High Club with the wavy soft rock of Connan Mockasin and the catchy piano-led jams of Drugdealer, The Lazy Eyes illustrate no stone unturned into their encyclopedia of inspiration, keeping us guessing on which yellow brick road they'll lead us down next.
Built from a jam that turned into a Garage Band demo, the song is emblematic of The Lazy Eyes' future sound – all baroque flourish and striking melody. Inadvertently charting the band's fast-changing sound, Itay sings "Times are changing, people stranger than before, who'd have thought?" In their own words, the band explain, "This song was written back in our high school days like the other songs are on the album. I remember having an inkling for the verse on acoustic guitar and thinking "meh" so I just left it be. After a while though, the song came back to me after jamming on the piano. I fleshed it out (admittedly with some pretty cringey lyrics back then) and whipped up a GarageBand demo for the boys. After that, we put it on Soundcloud and it was building some traction… soon after we wiped everything in the search for a new start, you could say we were 'Starting Over'."
Visually, 'Starting Over' sees the band return to their collaboration with Jesse Taylor Smith, who directed 'Where's My Brain???' and 'Nobody Taught Me'. Speaking to the creative behind 'Starting Over', Jesse shares "I was inspired by 80's portrayals of Ancient Rome and wanted to explore the concept of starting over using repetition and rhythm. The band were super receptive to my idea so I smeared a heap of Vaseline on my lenses, fired up a fog machine and prepared to start again and again and again." For The Lazy Eyes, it was a no-brainer. 
Through their upcoming debut album SongBook, the band pulls together each incremental breakthrough of their career thus far, including key releases from their first two EPs, 'Where's My Brain???', 'Tangerine' and 'Cheesy Love Song', alongside new tracks. Through 'Fuzz Jam', The Lazy Eyes reached a fever pitch, breaking triple j as the station's #1 Most Played Song upon release. Mainstream praise has continued to follow The Lazy Eyes every step, from Lauren Laverne as the Spotlight Artist on 6 Music and #24 on the Shazam charts, playlisting on BBC 6 Music's A List and continued acclaim from NME, SPIN, Face Melts, KCRW, Flood, Unearthed, RAGE, 2SER amongst many others globally.
Surveying the first years of The Lazy Eyes' existence as a band, SongBook emits youthful, creative exuberance, the sound of a band revelling in their own indulgences, influences and self-discovery, refracting formative touchstones through a contemporary lens in a process of coming into their own. The Lazy Eyes debut is a world unto itself, where swirling, constantly mutating tonal and textural choices open up rich, previously unexplored corners. Like every good fantasy world, it abides by its own logic – suddenly you're in a garden in full blossom, and you didn't even notice; you've walked a mile without taking a single step and earworms zip zorp past. Step inside, but be warned: Once you're in The Lazy Eyes' world, you might not want to leave any time soon.
SONGBOOK
April 22 via The Orchard
PRE-SAVE + PRE-ORDER HERE
'Starting Over' is out now, buy/stream it here.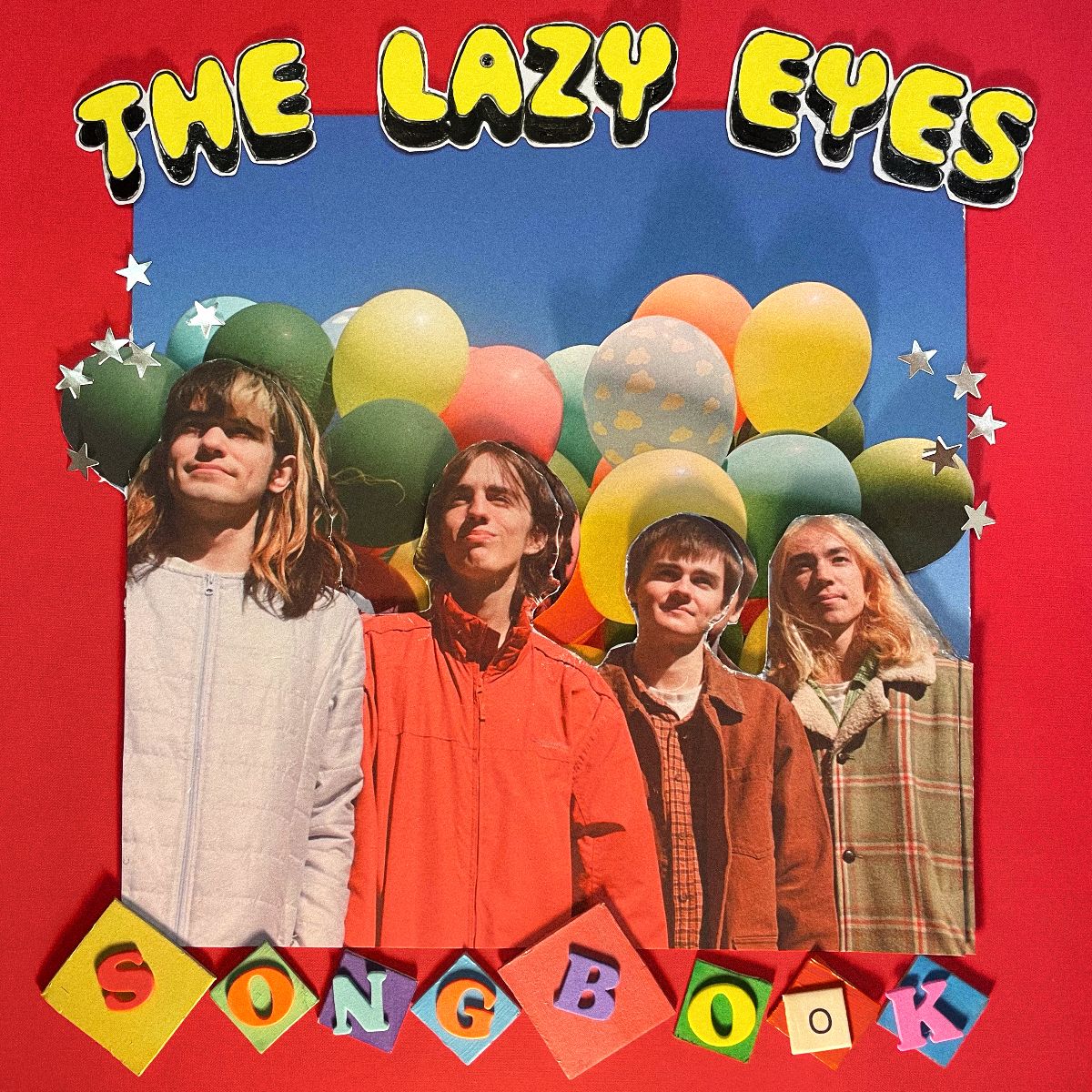 TRACKLIST
Intro
The Seaside
The Island
Tangerine
Hippo
Starting Over
Fuzz Jam
Nobody Taught Me
Trance
Where's My Brain???
Imaginary Girl
Cheesy Love Song
TOUR DATES
Fri 22 Apr – The Eastern – Wadawurrung Land / Ballarat, VIC
Sat 23 Apr – Northcote Social Club – Naarm / Melbourne, VIC
Fri 29 Apr – Black Bear Lodge – Meanjin / Brisbane, QLD
Sat 30 Apr – Solbar – Gubbi Gubbi Land / Maroochydore, QLD
Sun 1 May – Vinnies Dive Bar – Ngarangwal / Gold Coast, QLD
Thu 5 May – Shy Postie – Woolungah / Wollongong, NSW
Fri 6 May – Stag & Hunter – Mulubinba / Newcastle, NSW
Sat 7 May – Oxford Art Factory – Eora / Sydney, NSW
Sat 4 Jun – Crown & Anchor – Tarntanya / Adelaide, SA *NEW DATE*
Sun 5 Jun – Lucy's Love Shack – Boorloo / Perth, WA *NEW DATE + VENUE*
Mon 6 Jun – Mojos – Walyalup / Fremantle, WA *NEW DATE*
Fri 15 Jul – Transit Bar – Ngunnawal Land / Canberra, ACT *NEW DATE*
All tickets available here.
Stay connected with The Lazy Eyes:
Instagram | Facebook | Twitter | triple j Unearthed
ABOUT THE LAZY EYES
The Lazy Eyes are Harvey Geraghty (vocals, guitar, keyboard), Itay Shachar (vocals, guitar), Leon Karagic (bass) and Noah Martin (drums). At 15 years old, they met at a performing arts high school, growing a loyal word-of-mouth following for their magnetic live sets long before their official debut was even released. A little under two years from the release of 'Cheesy Love Song', The Lazy Eyes' debut LP arrives poised to consolidate their position as one of Australia's most exciting new breakout acts. Across their first two EPs, the fervour swirling around the young quartet has seen them sell out hometown headline shows, amass millions of combined online streams, curate and sell out their own festival (Lazyfest), place as the 17th most played artist of 2020 on triple j Unearthed, garner praise from KCRW, Complex, Spin, Bandcamp, V Man, Alt Citizen and more, and be tapped as an Artist to Watch in 2021 by Apple Music's Matt Wilkinson and NME.