The Terrys share rosy debut album True Colour out now via Domestic La La, listen to 'Good Day ft Esoterik & Scraps'
Photo by Jordan Coles
October 7 2022
PRAISE FOR The Terrys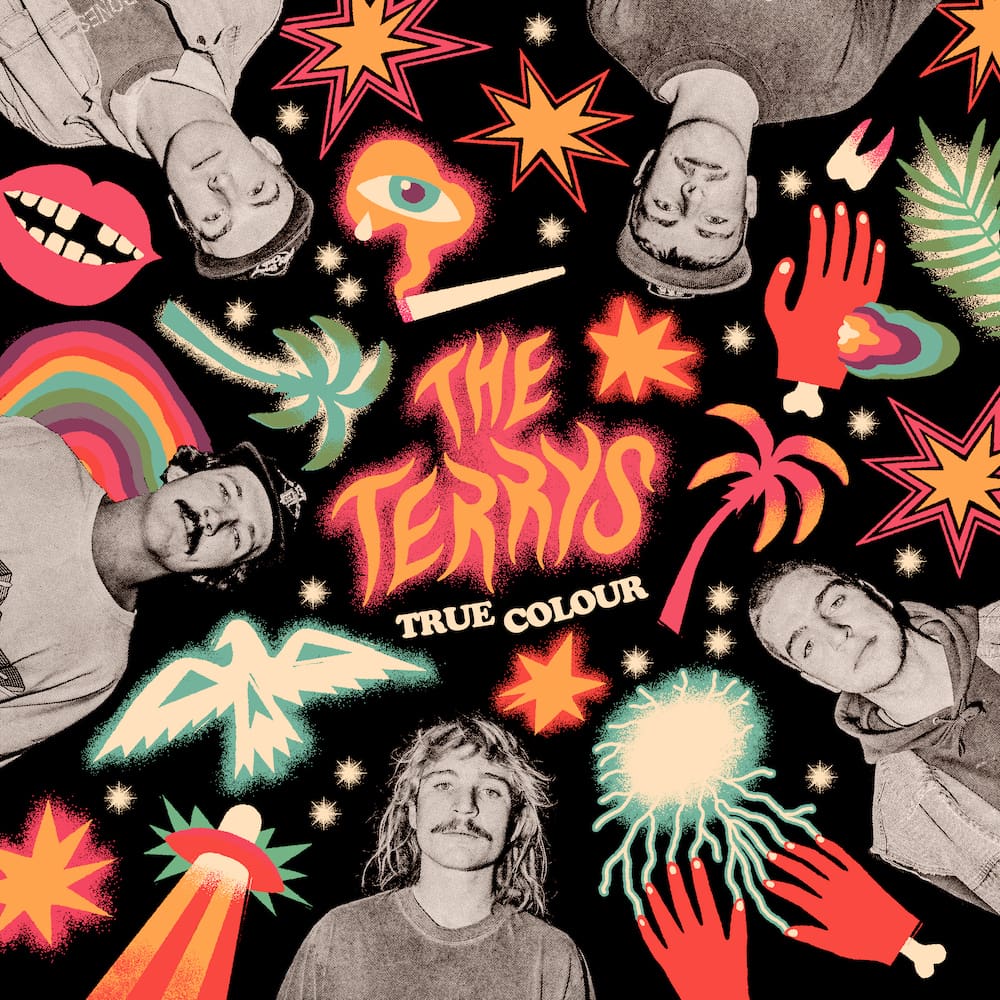 True Colour LP is out now, buy/stream it here.
In the thick of their fast ascent and recent appearance on triple j's Like A Version, surf-rock outfit The Terrys' debut album True Colour has arrived. LISTEN HERE.
Recorded at The Grove alongside Jack Nigro (Skegss, DMA'S, Julia Jacklin, Middle Kids), True Colour is fun, free-spirited and most significantly, creatively ambitious for the Gerringong outfit known for their easy-going, take-it-as-it-comes approach to life. "Our main thing was 'just don't overthink it and trust each other," says vocalist Jacob of putting True Colour to tape. "Musically, it was a huge learning curve," adds guitarist Lukas. "We all progressed so much as musicians… then we realised we're just little fish in a massive tank and there's a huge ocean out there to explore."
Lifting notes from The Vaccines, Wavves and The Wombats' festival-ready hooks and bright, fast-charged guitar lines, throughout their debut The Terrys' message is clear – a deeply contemplative release encouraging listeners to embrace the highs and lows as they happen; to find their true colours. "I hope they will listen to it and gain a sense that life is actually nice… that when they hear the record they can look outside and think 'Oh, today's going to be a good day',"Jacob explains. "I hope they get a sense of life and ultimately make their own decisions on what the lyrics mean to them… that's why it's True Colour. We want them to think "What's your true colour?"
Sanguine, empathetic and full of heart across twelve tracks, including their varied singles 'Situation 99', 'Rolling Stone', 'Waiting For You' and 'IDK', True Colour is a rich listen across genre and intent. Here they further their sun-dappled origins to expand their musical world into garage and DIY, psychedelia, funk and most boldly, hip hop through the Esoterik (Bliss & Eso) and Scraps featuring 'Good Day'.
Speaking of their collaboration, Eso shares "I actually met the boys on a plane… I was already seated and they walked on and instantly I was like ahh here comes a band, the amount of noise they were making. They didn't notice me until the end of the flight, I got up and they start yelling out "Oiiii Esso mate!!" Some business guy next to me started shooting me a look like who do you think you are, then one of The Terrys' leaned over to him and said "This bloke's only one of the most iconic rappers in the country!" We kicked it off from that moment onwards. The boys hit me up a while later asking if I wanted to be on their track, and I was like always down to listen… and here we are. Love the track, love the boys."
A rally cry for mates, music and good times, 'Good Day' boasts of the love and positivity that's "gonna shine through." Speaking to the release, The Terrys share "Man, this song is huge for us because I remember listening to this podcast that Eso did with a bloke named Josh Wade, and Eso just spat some serious knowledge on me. He pretty much said in the podcast you can do whatever you want as long as truly believe in yourself 100%. I took that on board and I would listen to this podcast, I reckon at least once a day, while I was mowing lawns and whipper-snippering and just working my little bum off. I would just dream about what I could do in my life.
Now fast forward five years and I've made a song with Eso! It's just insane to me. We've also got one of our best friends on, who I also used to look up to so much in high school with his rapping, Scraps.  He held his own and absolutely did the most banging verse straight after Eso which is pretty daunting but it didn't even worry Scraps whatsoever. This song is huge for us and we hope that you guys like it just as much as we do."
As a whole, True Colour is testimony to The Terrys' mastery in balancing the carefree and the considered. Sealing the auspicious fever that's followed the group since their share-house jam beginnings, True Colour seals the group's fate, positing their ambition as more infectious and cogent than many first thought. Experience The Terrys live across their national headline tour this October – November, joined by Nerve, Gold Fang, Dear Sunday and their inaugural Battle of the Bands winner Divers.