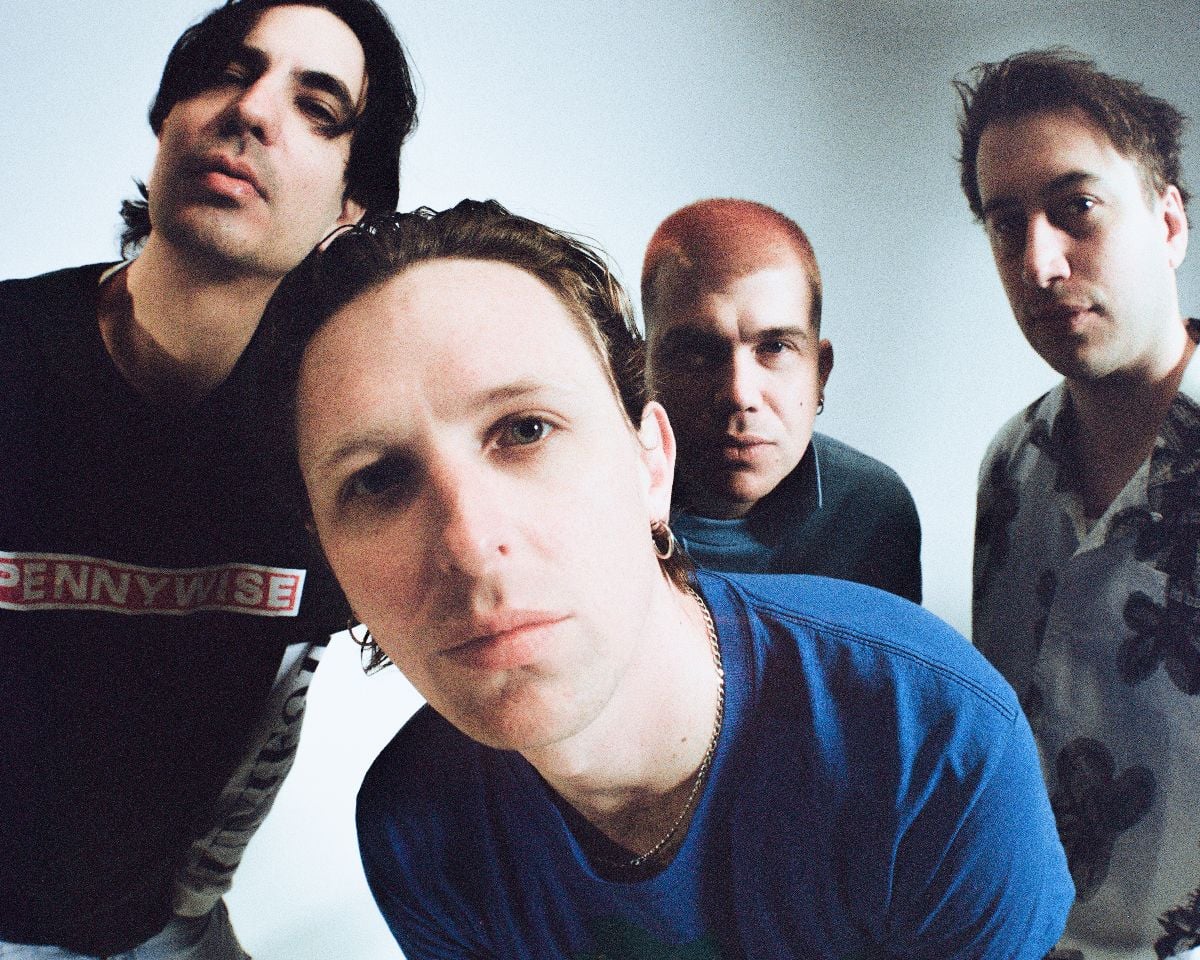 These New South Whales share new single + video 'Under The Pressure' drawn from forthcoming LP TNSW out Nov 18 via Damaged Records
Photo by Joshua Hourigan
October 20 2022
PRAISE FOR These New South Whales
'Under The Pressure' is out now, buy/stream it here.
Australian punk royalty These New South Whales today share a third taster of their incoming third album, TNSW, out November 18th via Damaged Records. This time it's the tumbling yet taut punk of 'Under the Pressure' getting an airing, which beneath hints of Iceage or Fontaines D.C. finds the band's Jamie Timony exploring ideas of performance and authenticity in his distinct Aussie drawl. LISTEN HERE + WATCH HERE.
"'Under the Pressure' is about recognising that you've been performing a version of yourself to please others – at work, at home, wherever" Timony offers, with perhaps a knowing nod towards These New South Whales' hit Comedy Central series, where the band performs an exaggerated version of themselves, "and realising that being yourself would be far easier. It's about that awesome sense of peace you get when there's space to be yourself, warts and all."    
"We wrote this song very quickly and naturally together in the room one night and it kinda surprised us cos it's not what we would usually write, funny time signature and stuff, but it felt like an authentic expression of something and we were stoked with it. The chorus really snaps like a broken bone!"
"An authentic expression of something," is an apt turn of phrase when viewing TNSW, the album, more widely, which finds them honing in on These New South Whales – the serious punk band – more closely than ever before. It's a far cry from the band's more tongue-in-cheek work across both their series as well as their talk show-style comedy TNSW Tonight! and exalted podcast, What a Great Punk, which has seen them chat to guests including Tame Impala, Adrian Grenier, Shame, Amyl and The Sniffers, and King Gizzard & the Lizard Wizard.
Over the years, the band's music has developed rapidly, evolving out of the realm of distinctly Aussie basement punk into a more sprawling, international space. Following the trajectories of bands like Ceremony and Turnstile from nuts and bolts basement punk to a more genre-defying sound, TNSW encompasses a broader range of influences. Blending the dark energy of their debut album You Work For Us and the CBGB's heyday of its follow-up I Just Do What God Tells Me To Do, TNSW is both downtrodden and uptempo.
It's still a post-punk record at heart, full of sonic depth and dejected storytelling but equally, it embraces their 90s alternative, hardcore and metal influences. Guitarist Todd Andrews found himself using references for certain guitar parts that he would never have touched on in the past (among them: Pixies, The Cure and Placebo), while Timony's lyrics take a turn towards the poetic. "I feel like they're honest songs," says Timony, who sees TNSW as the band's most definitive album to date. "I feel very connected to them, and that's probably a result of not trying too hard to force the album's hand."
TNSW marks a refined new era for the band and is comfortably their most sophisticated body of work yet: a 14-track tome of barrelling punk rock that polishes its heavier moments – heavier than ever – with sing-along choruses, sharp arrangements, and plenty of trademark irony and self-awareness. For every '90s alternative reference, there's a blast beat; for every big radio moment, a cursed instrumental aside.
'Under the Pressure' follows on from the album's two singles so far: the existential anthem 'Rotten Sun', which was inspired by a poem of the same name written by Ceremony's Ross. J. Farrar, and 'Bending at the Knee', an art-punk masterclass that found them pulling from the darker half of their palette. Between them, the singles have received acclaim and support from the likes of The Fader, NME, DIY, The Line of Best Fitand more. With the album due out in November, season three of their Comedy Central series in the works and tours in Australia, the UK and the EU lined up for early 2023, These New South Whales look set to continue confirming themselves as a once-in-a-generation Australian punk proposition.