Triple One share new single 'Loverose', the first from their debut album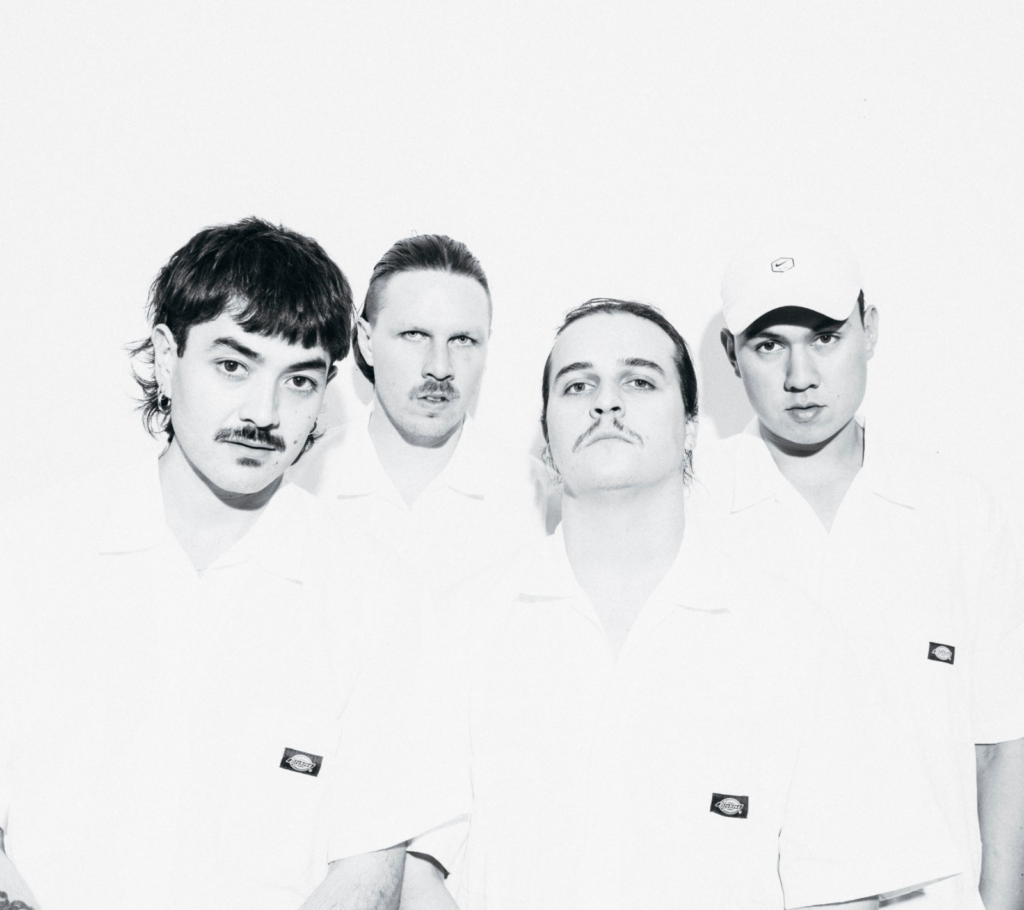 Sydney supergroup Triple One today share 'Loverose', the first single from their highly-anticipated debut album. Watch HERE and listen HERE.
After years of dominating the Australian hip-hop scene, Triple One has finally given fans a glimpse of their first full-length release. That comes in the form of 'Loverose', a reflective yet triumphant single that blends their preference for overcast melodies, venomous bars, and bombastic production. The song features pensive lyrics about sacrifice, the tentative nature of success, and what it means to achieve something in both their personal and professional lives; tying these real-life experiences with other-worldly space metaphors.
The atmospheric video was directed by Tyson Perkins and Marty Bugatti, and reflects the themes of 'Loverose' through a series of alien landscapes, resulting in a cinematic experience housed in an eerie, post-apocalyptic planet. Vocalist Marty Bugatti shares that "Loverose is a song about the flawed nature of intimate love. Humans are an imperfect creation and also mortal. This makes love a lot harder, but also a lot more beautiful." Producer Billy Gunns describes the track as about "being close to something that you've been wanting your whole life," addressing Triple One's undeniable ascension throughout the past few years.
Triple One's debut album is slated for release in the near future. The release of 'Loverose' follows three EPs and a torrent of standalone singles that have catapulted the foursome from underground buzz act to garnering national and international acclaim, including their ARIA Gold-certified mental health anthem 'Butter' and radio favourites 'So Easy' and 'Handyman'. Triple One's notoriously chaotic live gigs include a sold-out national tour in 2019, and show-stealing sets at Listen Out, Hidden, and Falls Festival. Along the way, they've impressed and surprised with their insatiable, all-consuming appetite to continuously venture into uncharted artistic terrain, and a rebellious desire to constantly fold new sounds and textures into their brand of unbounded, unclassifiable hip-hop.  
'Loverose' by Triple One is out now, buy/stream it here.
PRAISE FOR TRIPLE ONE
"The next-gen of voices in Aussie hip-hop who aren't afraid to broaden the definition of the scene they run in"
GQ Australia
"Triple One have been redefining the sound of Australian hip-hop"
Redbull Music
"They have this Brockhampton-style energy in the sense of free will and creativity"
Zane Lowe (Beats Radio 1)
"A versatile and creative force you can't take your eyes off"
Life Without Andy
"Unexpected – and groundbreaking"
Pilerats
Butter
ARIA Gold
ABOUT TRIPLE ONE
With one foot planted in Sydney's gritty underground rap scene, and the other in the sounds of Inner West indie, Triple One are a sonic experiment between hard, soft, beautiful, grimey and all the textures in between. The product of a porous internet generation, their music is rooted in hip hop but is animated by the group's fearless, restless creativity, exploring metal, emo, pop, punk and R&B in a fierce, blasphemous repudiation of genre barriers. It's a singular combination that makes Triple One impossible to categorise and even harder to ignore.
Having accumulated underground buzz for years through viral early singles 'Doozy' and 'Overflow' and their notorious live shows, Triple One broke into Australia's mainstream consciousness in 2018 with singles 'Showoff', 'Tarlo' and 'Valentine Kid' being added to high rotation on triple j. Profiles from Complex, GQ and Highsnobiety followed, as did a spot on Youtube's first-ever 'Artists to Watch' list and spotlights as triple j Unearthed'Artist of the Week', Apple Music's 'New Artist of the Week' and more. In 2019 they consolidated their takeover of Australian airwaves with pensive, mental health-centered, ARIA Gold-certified 'Butter', which scored rotation on triple j and FBi Radio; release their third EP, The Libertine 2, and their collaboration with Matt Corby and Kwame, 'So Easy'. 
Stay connected with Triple One:
Website | Facebook | Twitter | Instagram | Youtube