V**gra Boys announce new album Cave World
LISTEN AND WATCH 'AIN'T NO THIEF' OUT NOW
PRAISE FOR V**GRA BOYS
"Songs that match parody with precision"
Pitchfork
"A true and ferocious highlight"
NME
"One of Europe's best live bands"
The FADER
"Energetic"
The Music
Stockholm post-punk band V**gra Boys (**= "ia" because spam FILTERS) are announcing a new album Cave World due out July 8th via YEAR0001. The announcement of their third album coincides with the release of the first single 'Ain't No Thief' and its accompanying video. LISTEN + WATCH HERE.
The video, directed by SNASK, finds singer Sebastian Murphy, the anti-hero at the centre of all V**gra Boy's videos, stepping into the role of an Evangelical preacher reaching deep into the pockets of his congregation. Inspired by current events, the album aims to tear through the insanity and confusion the world currently finds itself in. Like sin-eaters if sins had to be ingested from a very small spoon, V**gra Boys have consumed the utterly incomprehensible chaos of our era and distilled it into the 12 immaculate tracks that make up Cave World.
Produced by past collaborators Pelle Gunnerfeldt (The Hives, The Knife, etc.) and DJ Haydn, the announcement of Cave World comes at the end of a sold-out US tour, and alongside the announcement of new US and EU dates that include a Fall 2022 US Co-headline tour with UK band Shame. Kicking off September 29th for two nights at Oakland's New Parish and wrapping on Halloween in Dallas, the twenty-three date tour will make stops in Denver, Nashville, Brooklyn, New Orleans and so much more (full dates below). The band will then head to the EU for an additional run of dates, making this their largest tour yet. More dates remain to be announced as well.

As 2021's Welfare Jazz was earning rave reviews from the likes of Pitchfork, NPR, GQ, NME, Stereogum, The FADER, and more locally from Double J, Monster Children, Grass Fires, 2SER and more, V**gra Boys were in the midst of rerecording what would become their followup. After putting together an entire album at the legendary Silence Studio in the town of Koppom, the band decided they could push harder. "We let it marinate for a while and then rerecorded absolutely everything," Murphy explains.

Some of the music made it through to what would become Cave World, but replacing the lyrics. In that iterative process, Murphy found himself returning time and again to a misconception with deeper roots: the idea that humanity is moving forward. After watching a video late one evening about a theory that suggests evolution involved trading in some cognitive abilities for others, Murphy began stewing on the fact that the result was mass shootings and science denial. "I just wrote down, 'Who is the true ape?'" he says. "People look down at apes as primitive life forms, but we're just this horrible, lazy society killing each other and starting wars, while they're able to love and feel. Does that make them the true ape or us?"
'Ain't No Thief' by V**gra Boys is out now, buy/stream it here.
CAVE WORLD LP
July 8 via YEAR0001
PRE-ORDER / PRE-SAVE HERE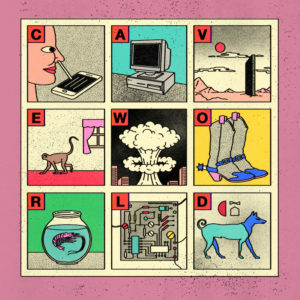 TRACKLIST
Baby Criminal
Cave Hole
Troglodyte
Punk Rock Loser
Creepy Crawlers
The Cognitive Trade-Off Hypothesis
Globe Earth
Ain't No Thief
Big Boy
ADD
Human Error
Return To Monke
Stay connected withV**gra Boys:
Official Website | Facebook | Twitter | Instagram