Westerman shares 'Your Hero Is Not Dead (Unaccompanied)'
Today, Westerman shares 'Your Hero Is Not Dead (Unaccompanied)', featuring a stunning piano performance from Westerman. The new version of the title track from Westerman's debut album retains the original's deft sense of song-craft, but puts a new emphasis on its delicate emotional undercurrents. Listen HERE.
Your Hero Is Not Dead, released earlier this year via Play It Again Sam is a graceful and self-reflective debut album that continues the artist's journey from pop maverick to one of the most vital voices coming out of the UK. The project includes previously released singles, 'The Line', the original 'Your Hero Is Not Dead', 'Waiting On Design', 'Think I'll Stay' and 'Blue Comanche' and is the follow-up to his critically-acclaimed Ark EP.
Westerman shares about 'Your Hero Is Not Dead (Unaccompanied)', "I started teaching myself to play the piano at the start of the first lockdown in the UK. It was helpful to have something new to try and occupy the mind in a period when too much free thinking time was proving damaging. This song closed my album and was meant as a personal call to arms for times of difficulty. It was written as a reminder to look for resilience and the admirable characteristics we pin on others in ourselves. My piano playing is, as you can hear, very basic and full of imperfection, but the point was to create, to meet that challenge in what way I could. It's important to remember that we can endure and that we learn through periods such as the one we continue to live through. I am happy to share it and would like to thank Fabian Prynn especially for his patience in sitting with me through many botched takes. With love from Will."
Earlier this week, Westerman shared a new t-shirt featuring the 'Big Nothing Glow' artwork designed by Bráulio Amado. Net proceeds from each sale will be donated to Shelter UK, whose mission is to help millions of people each year struggling with bad housing or homelessness. The track also comes on the heels of Westerman's recent release of Choupana, a collection of early sketches from Your Hero Is Not Dead that includes the early workings of a song that was not included on the final album, 'Above Average', and initial versions of some of the standout tracks from the project that released earlier this year – 'Blue Comanche', 'The Line' and 'Think I'll Stay'.
Listen to 'Your Hero Is Not Dead (Unaccompanied)' above, find further details on his debut album Your Hero Is Not Dead, including tracklisting and cover art by renowned New York via Portugal Graphic Designer Bráulio Amado below as well as on his website westerman.world
'Your Hero Is Not Dead (Unaccompanied)' is out now, buy/stream it here.
WESTERMAN
Your Hero Is Not Dead
Buy/stream it here.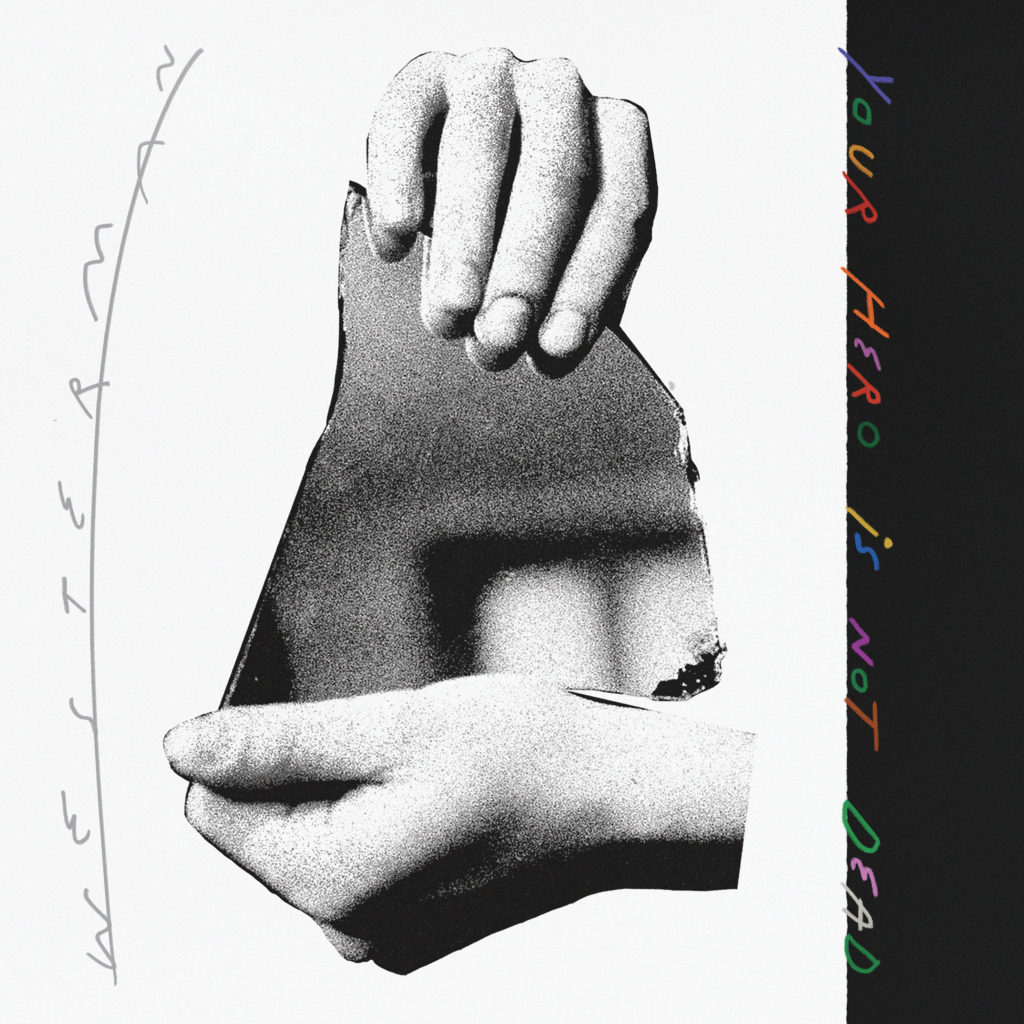 TRACKLIST
Drawbridge
The Line
Big Nothing Glow
Waiting On Design
Think I'll Stay
Dream Appropriate
Easy Money
Blue Commanche
Confirmation
Paper Dogs
Float Over
Your Hero Is Not Dead
PRAISE FOR YOUR HERO IS NOT DEAD
"The British songwriter's excellent debut mines the gentle and detailed sounds of soft rock's past, while his lucid yet uncomplicated lyrics interrogate the uncertainty of the present"
Pitchfork (8/10)
"Softly powerful alt-pop that feels like a warm hug"
The Guardian Guide
"One of the year's most beautiful albums"
Dazed
Stay connected with Westerman:
Website | Facebook | Twitter | Instagram